"Just saw an ad about this," wrote Mel to Manuel and me. "You two came to mind first thing."
A car show! That's something I haven't been able to attend since SEMA Ignited in Las Vegas 19 months ago. This one was only 25 miles away at Severance Community Park and entry fees went towards Respite Care, Inc., a nonprofit organization that provides short-term care for children with developmental disabilities.
Manuel and I didn't really know what kind of cars to expect, but we decided to bike over there anyhow. I rode over to Manuel's place, then we started pedaling west to towards Severance for a mile-and-a-half, and then—kaboom!—Manuel's rear tire tube exploded like a gunshot. Having had the same thing happen to my Huffy cruiser bike 100 miles into a 200-mile ride two summers ago, I knew exactly what had occurred. But fortunately in Manuel's case, the tube was salvageable and patchable. One glue-patch later and we were riding back to Manuel's so he could swap the bike for his new mountain bike. We then rode over to Severance (and back) largely without incident.
The very first car we saw when we arrived was this silver Shelby Cobra kit car that had taken the owner only a year to build. So far so good.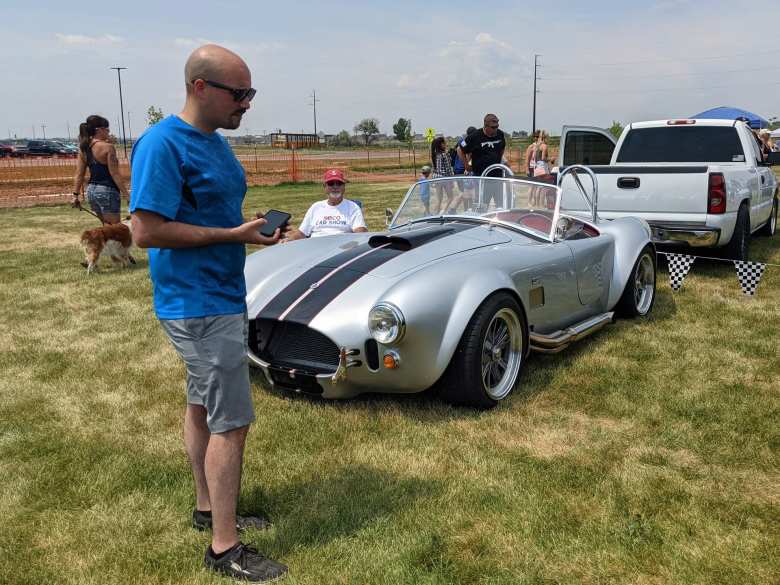 Next to or nearby was an air-cooled Porsche 911, contemporary MINI Countryman, 1990s Mazda RX-7, and 2000s Honda Civic Si Coupe with over 200,000 miles. If you can't already tell, the car show featured a great diversity of automobile types and years.
Of course there was plenty of classic American autos with acres of chrome or massive engines. There were quite a few pony cars too, with Mustangs making up the vast majority. Surprisingly, there were only two examples of what is perhaps the last true modern muscle cars—the Dodge Challenger, a car that has become a favorite of mine. I say surprisingly because the last few car shows, the Challengers seemed over-represented due to large turnouts by their enthusiastic owners.
Some might say the Corvette is a muscle car too, although I think of it more as a high-end sports car. Semantics aside, there were plenty of those too.
In addition to the Vettes, there was a McLaren and contemporary (second-generation) Acura NSX. Pricewise, the Morgan Plus 4 that was representing the vintage British sport cars (the other was a Sunbeam Alpine) is close to a Corvette, but technology-wise was decades apart!
There were even a couple of electric vehicles: a Tesla Model 3 and a BMW i8. Both looked fantastically futuristic, particularly the Model 3's interior and the i8's exterior.
Usually at a car show I try to decide what is my favorite—typically what I'd most like to own.
Of the older vehicles, Shelby Cobras are hard to resist. Otherwise, it's hard for me to look at anything older than a few decades as polluting, unreliable, high maintenance, less safe and inefficient nowadays. Technology is good.
I think I'd love the low maintenance, lower running costs, and zero emissions of an electric vehicle along with their instant torque. But I still appreciate the rumble, the drama, the theater of internal combustion engine-powered cars shifting through the gears and belching out a throaty exhaust note. Not to mention their convenient five-minute "recharge" times… er, fill-ups.
So for me the day was won by the contemporary American two doors: Challenger, Mustang, Corvette, and Camaro—not necessarily in that order. Eventually there will be a time when I will be pining to get an EV, but I'm not quite there yet.