A&W Root Beer of Lodi: Birthplace of a Classic
For an agricultural town of less than 70,000 people, Lodi, California has a remarkable number of claims to fame. Nowadays, for example, "livable, lovable Lodi" (its official motto) likes to dub itself the zinfandel capital of the world, being home to a number of cheap-but-good-tasting wines like Woodbridge, Mirassou, and Mondavi. Then there was the box-office hit movie Concussion in which the doctor promoting awareness of chronic traumatic encephalopathy (CTE), Dr. Bennet Omalu, was shown moving from Pittsburgh to Lodi. And of course, Credence Clearwater Revival (CCR) famously sang about how they would be "oh lord, stuck in Lodi again" in their song named after the city.
But before all of this, there was A&W Root Beer. In fact, the very first roadside root beer stand set up by Roy W. Allen—the 'A' n A&W (the 'W' would come from his business partner Frank Wright)—in Lodi in June of 1919. Six years later, Allen started franchising out A&W, establishing the first franchise restaurant chain in the United States of America.
Now, I will admit, when I grew up as a kid, I didn't care for the taste of root beer so much. It wasn't bad, but if I had to choose between soft drinks, I'd have chosen Coke, Pepsi, Sprite, or Dr. Pepper. I suppose so does the rest of the country as those brands handily outsell A&W Root Beer.
However, a friend in his 60s assures me that root beer was drunk "all the time" when he was growing up. I also have fond childhood memories of enjoying an occasional root beer float at friends' birthday parties, which is an ingenious combination of vanilla ice cream and root beer.
Andrea, my Spanish girlfriend, had never tasted root beer or a root beer float before, so I deemed it a must to visit an A&W Restaurant while we were in the States together. Sure, there is one in my hometown of Fort Collins, Colorado—in fact, there are still more than 625 of these restaurants in America. But as were going to visit my folks in Stockton, California anyhow, it made sense to visit one in the nearby Lodi in which A&W root beer was born.
Surprisingly, there is now only one A&W Restaurant in Lodi, located on 216 East Lodi Avenue. It's about the same size as any other A&W Restaurant in the nation, although several of the A&W branches (including the one in Fort Collins) were co-branded with KFC and Taco Bell, a result of Yum! Brands owning all three brands from 2002-2011.
The branch in Lodi does have a traditional carhop that is used for pickup of online orders in these COVID pandemic times. This "drive-in" features cartoonish characters hoisting A&W's so-called All-American food.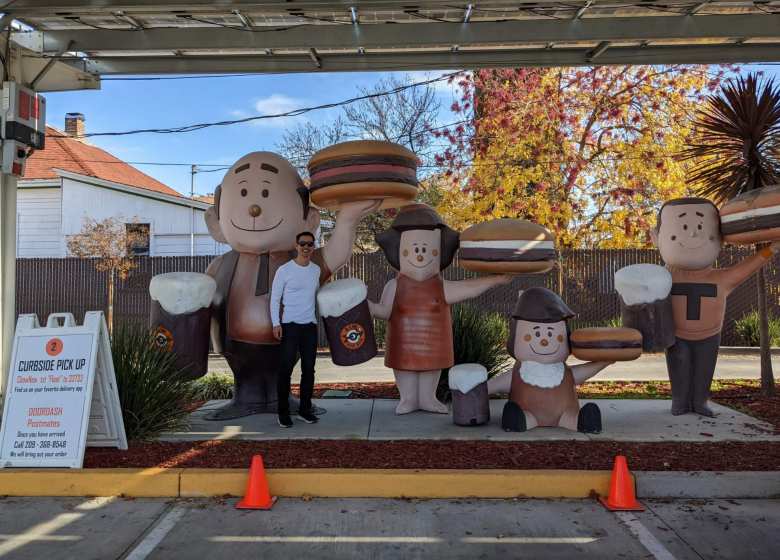 There were also signs commemorating A&W's 100-year history from 1919-2019.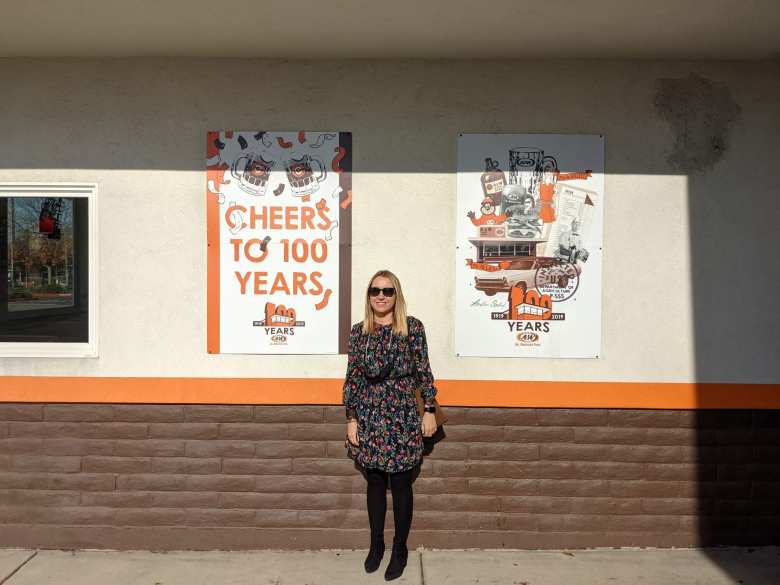 Inside, we ordered two medium ice cream floats. Initially, we were going to order one large ice cream float to share, but we were informed that only the medium-sized was available in a traditional glass mug.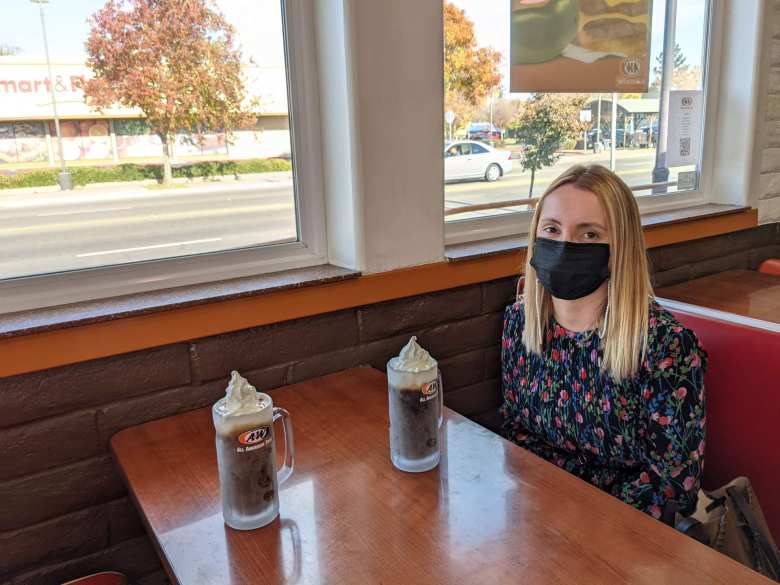 How was it? As good as I remembered. Andrea enjoyed it too.
For being the sole remaining A&W Restaurant in Lodi, you'd expect this to be something of a museum. This place could hardly be classified as one, but there is plenty of memorabilia displayed behind a glass case with an orange cruiser bicycle on top.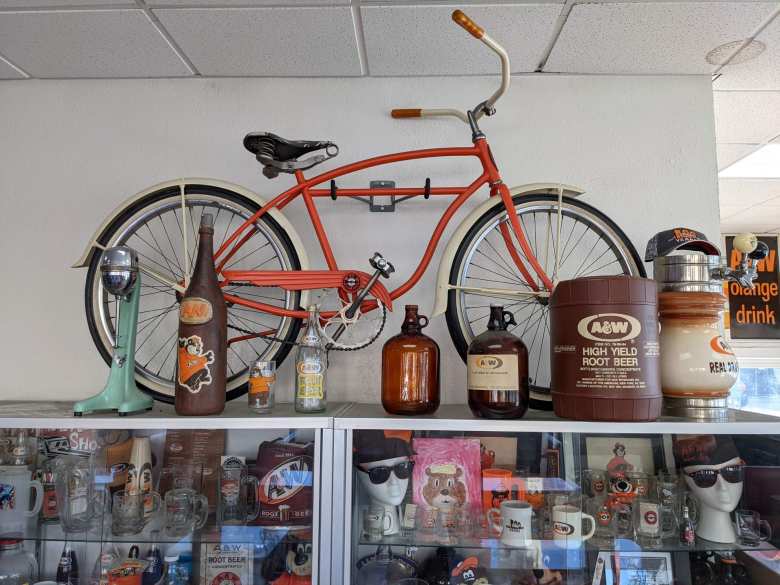 Otherwise, here was hardly a mention of A&W's history, and those wishing to learn more about it would be wise to visit A&W's official website of its history instead.
When looking for this location on my phone, I did notice that Google Maps noted the "birthplace of A&W Root Beer." So afterwards we headed a mile or two away to the location… with GPS leading us to a business for specialized skin treatments.
I would only find out later that the true original birthplace was just steps away at 13 Pine St. The location is even noted by a plaque on the sidewalk. If only we had been looking downwards!
In fact, the location of the plaque is visible in Google Maps Streetview, a few feet from a red fire hydrant.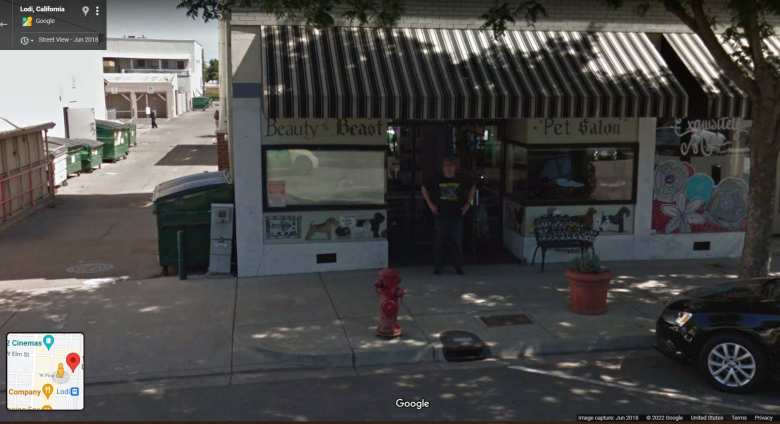 The plaque reads,
On this site
One hot day in June of 1919
Roy Allen
served the
1st frosty
mug of
creamy
A&W Root Beer
in Lodi, California

Dedicated to the City of Lodi, this 14th day of July 2001
Back in Fort Collins a week later, we were inside a place that my brother suggested we visit to experience more of Americana: Walmart. To my surprise, there was this ice cream float soda set on one of the seasonal shelves: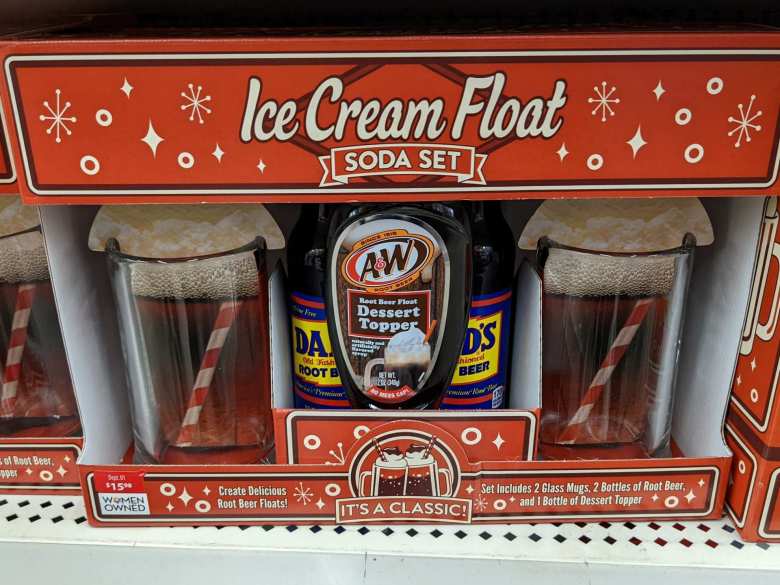 "It's a classic!" proclaimed the box. Indeed.