If there was only enough time for a day trip to either Nerja or Ronda from Malaga, Spain, which one would you visit?
Andrea posed this question to her friend Marina while we were in Malaga. Marina did not hesitate: Ronda. Her response surprised me because many people on the Trip Advisor forums mentioned Nerja. Unlike Ronda, it is on the coast—and who does not like being around crashing waves by a beach?
But Marina was a local, so we took her word for it and boarded a train for Nerja from Malaga (via Antequera) the next day. When we got off the train, we wondered if we had committed a mistake as rain fell out of the sky.
We ducked into a nearby coffee shop and drank café con leche as we waited out the storm. Forty-five minutes later, the skies opened up. The weather was pleasant the rest of the day.
We then followed an itinerary described by Voyage Tips. It was written up in November 2021 and was excellent. Thanks to that web page, we visited the following places in this order:
Plaza de Toros de Ronda
Ronda Viewpoint
The Puente Nuevo
Ronda's Mondragón Palace
Duchess of Parcent Square
An Unusual Visit: The Bandit Museum (we did not go inside)
Puerta de Almocabar and the Arab Walls
Ronda's Arab Baths
La Casa del Rey Moro
Plaza del Socorro
Our walking route is below. Unfortunately, I forgot to record the first kilometer from the train station to the Plaza de Toros de Ronda.
I saw one comment on Trip Advisor that the Puente Nuevo was overrated. Hogwash! This "new bridge" was lovely, even if the shockingly muddy waters beneath were not.
Just as stunning were the panoramic views from the bridge, the Paseo de los Ingleses, and the various miradors. I thought the vistas from Malaga were spectactular, but these were on an even higher level.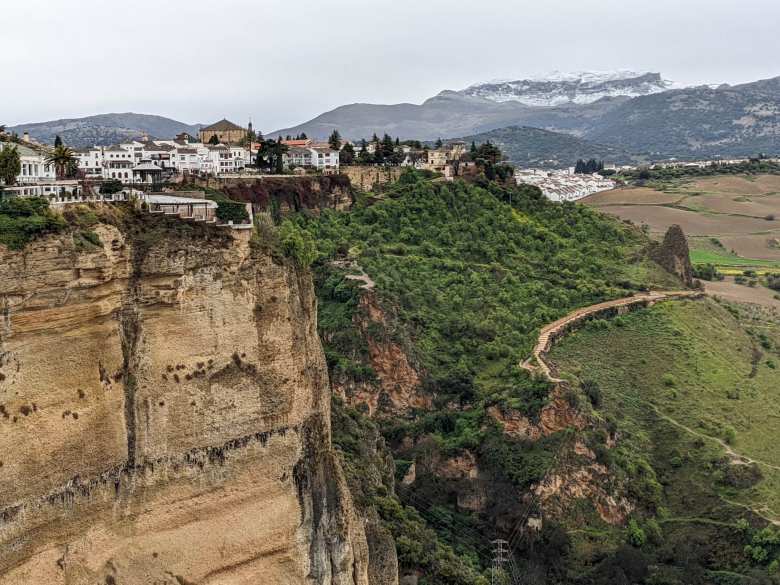 We were outside the Casa del Rey Moro when a young lady with an American accent exclaimed, "Going down the mines were totally worth it."
After hearing her endorsement, we bought some tickets and headed inside. It wasn't raining outside, but water was still leaking through the ceilings of this mine that descended at least 100 feet. Andrea and I opened our umbrellas.
"This is the first time I've needed to use an umbrella inside a building," I remarked. Still, it was very much worth it.
After doing the self-tour of Ronda, we enjoyed a lunch of chicken and potatoes, some sort of dish drenched in a red sauce, bread and beer at the Restaurante Don Miguel that was situated right next to the Puente Nuevo. We had a couple hours to relax and this was a perfect spot for it.
Marina was right. Ronda was a fascinating town that was more beautiful and delightful than Nerja, which went to the next day.