When researching potential day trips from Malaga on the Trip Advisor forums, there was one town whose name kept popping up: Nerja. In particular, the Cuevas (caves) de Nerja, the Balcón Europa, and the beaches were frequently mentioned.
It turned out the week we went there was not a good time for las playas. This is because it was raining mud.
Yes, mud.
What happened was calima—or dust from the Sahara Desert on the African continent—had migrated over to Europe, turning the sky orange. There was enough dust to saturate the droplets when it rained.
"This is the first time I got dirty just standing in the rain," I told Andrea. She assured me this does not happen a lot.
The video below depicts this phenomenon that affected not only the whole country of Spain but later Norway and Germany.
Considering the calima, it was good that the first thing we did was underground: the caves.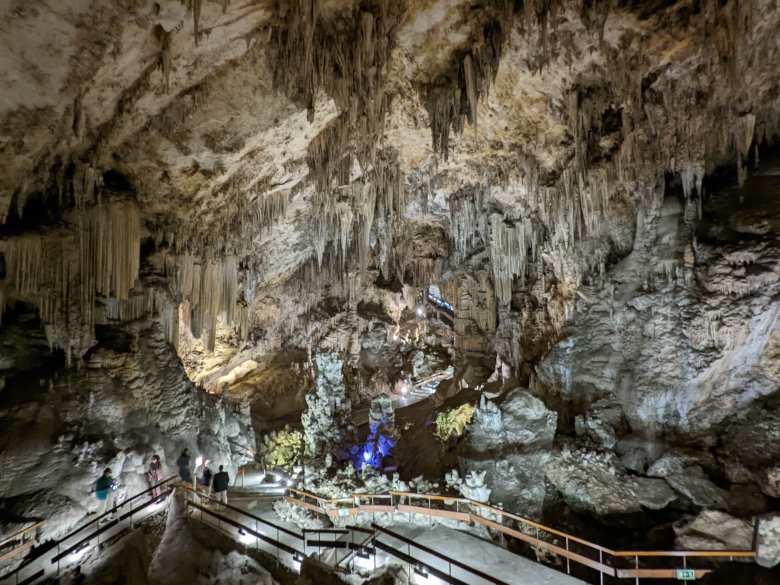 We then went to the Balcon Europa, which was having maintenance work done. I bet the views would have been amazing if the skies were not orange and opaque. I was surprised that there was a huge 1-star hotel next to it.
There otherwise wasn't that much to see, so we went to lunch. Ever since London, we have been on an Indian food kick. So we went to a highly rated Indian restaurant nearby called Mum's.
The menú was superb and almost made up for not being able to enjoy the beach here due to the haze.
Otherwise, this was kind of a "dirty" day due to the calima, one that was best spent inside. Luckily this is not a common occurrence or else all the buildings in Nerja would be orange or brown instead of white.