Completed 50 Marathon States, and then… Engaged!
Twenty-three years. That's how long it took me to run a marathon in every state in the USA. Looking back, that seems like a long time. It's longer than the time passed from being an embryo to a college graduate. It's nearly a quarter-century. During that time, America had five different presidents.
But actually, I finished a little ahead of schedule. My original goal was only to complete the quest in my lifetime. At some point, the goalposts got moved to "all 50 before age 50." I had come a long way from the very first marathon, after which I immediately–but mistakenly–said never again.
Ironically, it was the pandemic that sped things up further. No longer was I going to take for granted being able to participate in a marathon again. During the tail end of that, an overseas romance with a Spanish emergency room doctor blossomed. I think I became unconsciously aware that moving away from my birth country was a real possibility.
That motivated me to check off a bunch of states quicker, culminating in running four marathons in six days and eight marathons in one month.
Fast forward 17 months to September 2022, when I'd finish the final three marathon states. The 50th one–Alaska–could not have ended any better.
The race was the Kenai River Marathon. After years of doing 26.2-milers in non-ideal conditions–too hot, too chilly, too hilly, and even one indoors–I finally had a perfect race route. It was flat and uncrowded. I could hit all the tangents, and the course was not too long.
More importantly, the temperatures started in the high 30s and ended in the 40s (Fahrenheit). A race where I have to wear gloves but can still run in shorts is ideal. It was nice not being heat-limited for once.
The result was my fastest marathon time since 2014 and a second-place overall finish. The latter was made possible by having a small competitive field.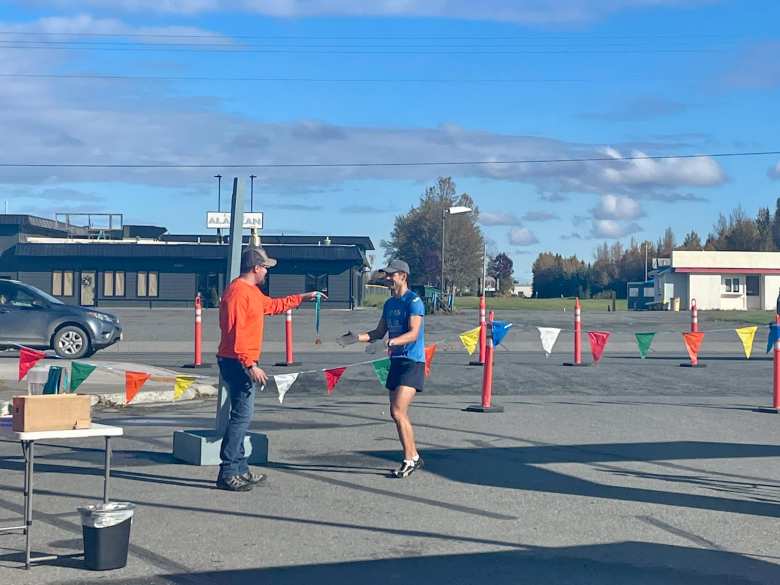 Happily, Andrea–with whom I had officially started living in Spain earlier in the year–was there with me, just as she had been at the previous two. She also was the first to know how the eight marathons before those went.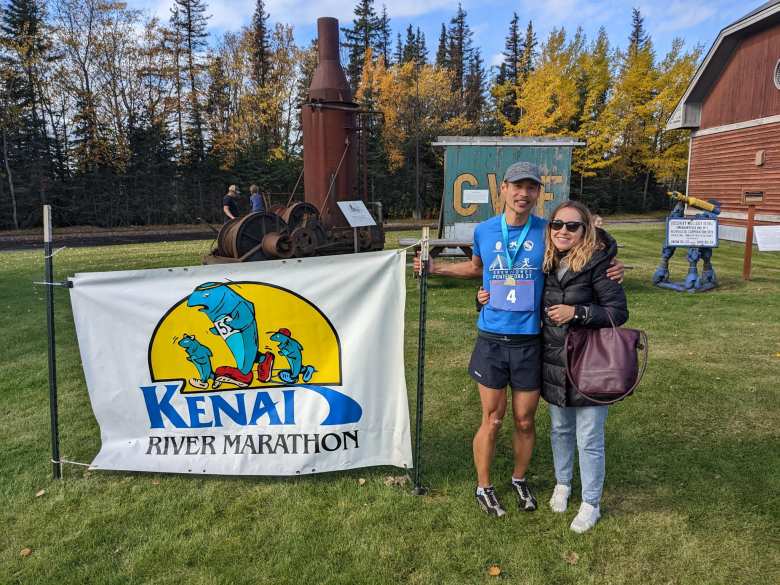 As cool as completing the 50 states goal was, something bigger was to happen later that day. After all, during our entire September vacation that took us through five states (and Portugal), I had been carrying a particularly precious stone, which I acquired in Madrid, in my laptop bag.
I had several ideas about where to present it. Good thing, because it turned out I needed all of them.
Plan A was to get down on a knee at the Russian River Falls near Cooper Landing, Alaska. But it turned out that the trailhead to the falls was closed, even to hikers. The ferry to it also had shut down a couple of weeks prior.
Plan B was to go to Juneau Falls, also near Cooper Landing. A bartender at Two Brothers Roadhouse had told us how to get there. However, the road he instructed us to take was closed. Google Maps had another way (Plan C), but the trailhead it brought us was overgrown with weeds and looked impassible without a machete.
"I'd rather not be surprised by a bear," we resolved.
Slightly discouraged but not defeated, I pivoted to Plan D. "There's a place that supposedly has nice views of Anchorage," I told Andrea. I read about it weeks ago in the TripAdvisor forums. "It's called Flattop Mountain." It was another two hours away from where we were, but at least it was en route to our hotel in the city.
We arrived less than an hour before sunset. At first, I was unsure where was the viewpoint that I had read about, but I got some directions from a hiker there.
Finally, the big moment! I carried along my GoPro, which Andrea thought was a little weird, but I assured her I wanted to take some video of the views.
We hiked 500 meters over to a nice spot with this vista: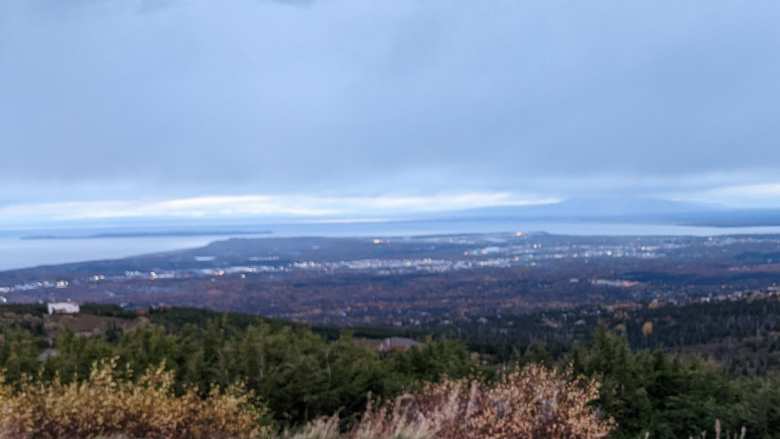 It seemed perfect and I had set the GoPro up. But then a whole group of tourists walked over.
"Go ahead and take your picture," they said. I didn't want to say, "well, this is going to take a few minutes," plus I knew Andrea wasn't going to want an audience. So I declined and walked us another 100 meters over to this viewpoint, where there were less people.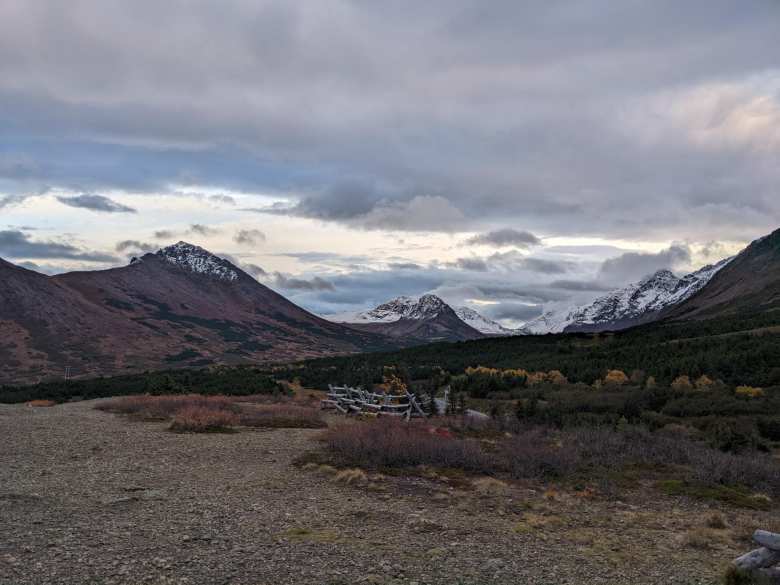 I then said a few things to Andrea in Spanish, followed by tengo una pregunta muy importante para ti. I took out a white athletic sock from my jacket pocket and fumbled with it while trying to take out the small turquoise case it contained.
Then I got down on a knee and proposed!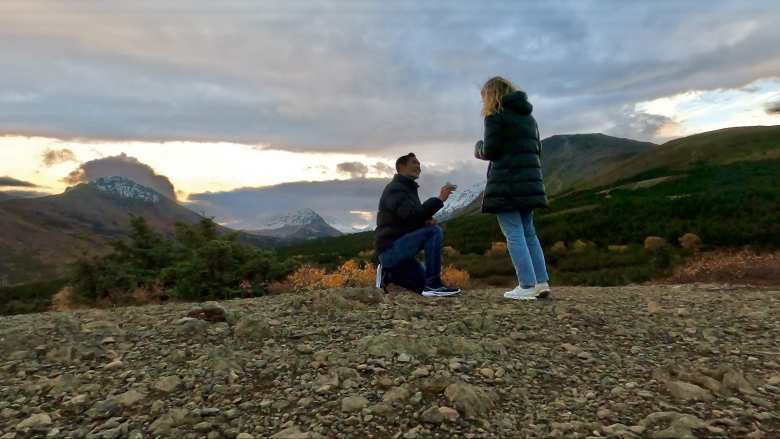 By that time Andrea had figured out what was going on, so she was already saying ¡sí! even before I popped the question. She would later say that she was in such shock that she forgot what I had said to her before the question, and asked that I repeat it so that she would always remember.
The diamond ring looked good on her hand as twilight approached. We took a bunch of photos before heading to the Lakefront Anchorage hotel and celebrated with a nice dinner.
I needed twenty-three years to complete the marathon states. It took twice as long to find the woman that I wanted to spend the rest of my life with.
Hopefully, I can stay healthy and the "rest of my life" is at least another half-century. Continuing to run consistently should help with that.