In 2021, I signed up for and ran the Rock 'n' Roll Madrid Marathon because of my friend Dave. He was going to run it too, but then got COVID only a few days before and had to cancel going to Spain altogether.
Happily, we were together at my next marathon one year later. It was in Kauai, an island of Hawaii. Remarkably, we weren't the only people who had once lived in Fort Collins, Colorado, who was at the race. In fact, the course record holder and multiple-year winner of the full and half marathons at Kauai, Tyler McCandless, was there too. He is now a board member of the Fort Collins Running Club, an organization where I had served as a director and webmaster for eight years. We met him at the Fun Run Tyler led the day before race day.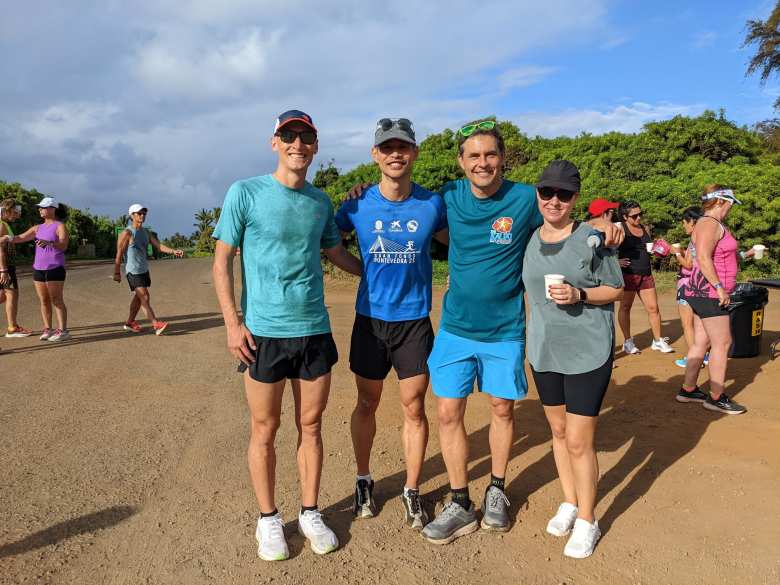 The 6:00 a.m. race start meant waking up at 4:10 a.m. to catch a shuttle from the Grand Hyatt Hotel. Fortunately, the race venue was only two miles away in Poipu, so the school bus ride wasn't long. Dave even chose to walk over since he was staying in a nearby condo instead of the Hyatt that Andrea and I were staying in.
The night before, I told Dave and Andrea that I was predicting a 3h47m finish. Dave was running the half marathon and anticipated completing the distance between 1h36m to 1h40m. He qualified for Boston at the California International Marathon in December, so I knew he was capable of such a time.
Despite our different distances and intended paces, I ended up running with Dave for the first five miles.
"If you can keep this up, you're going to kill it," he said at that point.
"I won't be able to," I replied. "It's too fast."
That was particularly true as the course got steeper. Dave got a 100-meter gap on me in the next 1.5 miles to the top of the half-marathon course, but I was able to keep him in sight until Mile 11. At that point, he turned left and continued descending whereas I had to turn right and ascend once more.
I completed 13.1 miles in 1h43m. So far so good. But the second half of the race was significantly harder than the first.
First, there was a lot more climbing. The hills particularly felt tough between Miles 15-19, and at one point I was barely running faster than walking pace.
Second, the temperatures exceeded 80F (27C). Worse than the heat was the 100% humidity.
Third, it rained. The precipitation helped cool me off but significantly reduced foot traction with my treadless minimalist Puma H. Streets. I never was in danger of sliding or falling, but the slippery conditions reduced push-off and stride length. There's a reason track athletes use spikes.
Nevertheless, I rallied towards the end of the race. I was able to significantly pick up the pace during the last four kilometers despite feeling absolutely sluggish only miles before. I was particularly feeling speedy as I weaved and occasionally elbowed my way through a crowd of half-marathon walkers. In fact, I was going at a mere 8:00/mile pace, but it was the fastest I had been going in the entire second half.
With 500 meters to go and the finish line nearly in sight, my left calf started to cramp. But I managed to stave off a full-muscle seizure by dorsiflexing the left foot. Curling the toes upward is what most sprinters do anyway.
With 25 meters to go, I saw Andrea taking photos on the left side of the course and I gave her a thumbs up. I was so happy she was there.
My final time was 3h45m20s, or two minutes before my prognostication.
Afterward
Dave was at the finish to greet me too. We fist-bumped and then I asked him what was his time. "One hour, 36 minutes," he replied. In fact, he finished 15th in a field of nearly 1500 runners or the top 1%. Amazing.
Once again, Tyler McCandless won the half marathon, this time by a margin of 16 minutes over the second-place person.
My performance was less world-beating but still good enough for 19th out of 261 marathoners.
I think the three of us represented Fort Collins quite well.
Race Data
Final time: 3h45m20s
Overall place: 19 / 261
Division place: 3 / 16
Official results