Rock 'n' Roll Madrid Marathon
After running eight marathons in four weeks, I didn't envision doing another marathon for the rest of the year. But then my friend Dave, who was planning to fly from the U.S. to Spain in September, sent me a text about the Rock 'n' Roll Madrid Marathon.
"I am ready to commit to marathon if you are in…can you confirm? If yes, I'll sign up then very quickly figure out travel plans."
Since I was planning to come back to Spain around that time anyhow, I wondered "why not?" I then responded in the affirmative to Dave and signed up online.
A couple issues came up that kind of answered the "why not?" question, if only in hindsight.
First, a couple of days after biking 200 miles to Walden and back, I went for a super easy run and my left plantar felt some discomfort after only one kilometer. This struck me as very odd considering how well the eight marathons went with no injuries. Whatever happened, being very cognizant of how plantar fasciitis has troubled friends for years after injuring the foot for the first time, I drastically cut back running during the next few weeks. I still got in weekly double-digit runs as marathon preparation but took two full days off after those and cut back speedwork.
By race week, the plantar felt perfectly fine and I was confident it would hold up for the race. But then Dave sent me some sad news a couple of days before he was scheduled to depart for Spain.
"I have a hang up," he wrote. "A student of mine tested positive for COVID-19 last week and I am a close contact. Additionally, I developed mild cold symptoms yesterday."
I talked with Dave on the phone a day later and even though he didn't feel horrible, he sure sounded sick. As a practical matter, it would have been tough getting through airport security like that even if he could test negative for COVID. He also didn't want to risk being forced to quarantine in Spain for two weeks if he showed any signs of illness. Therefore, he was out. Too bad because I was looking forward to catching up with him in Madrid!
The Race
All my previous marathons this year had started at 6:30 a.m. or earlier. The 9:03 a.m. scheduled start for my wave (Wave J, the 10th wave to start based off submitted predicted finishing time), was welcome as that meant that I wouldn't have to wake up at an ungodly hour. Fortunately, the host hotel (Novotel Madrid Center) allowed me to have a 2:00 p.m. check out time.
As I walked 1.5 miles over from the hotel to the race start, the 10k race was already underway. I was, however, one of the few people giving at least a half-hearted clap and cheer.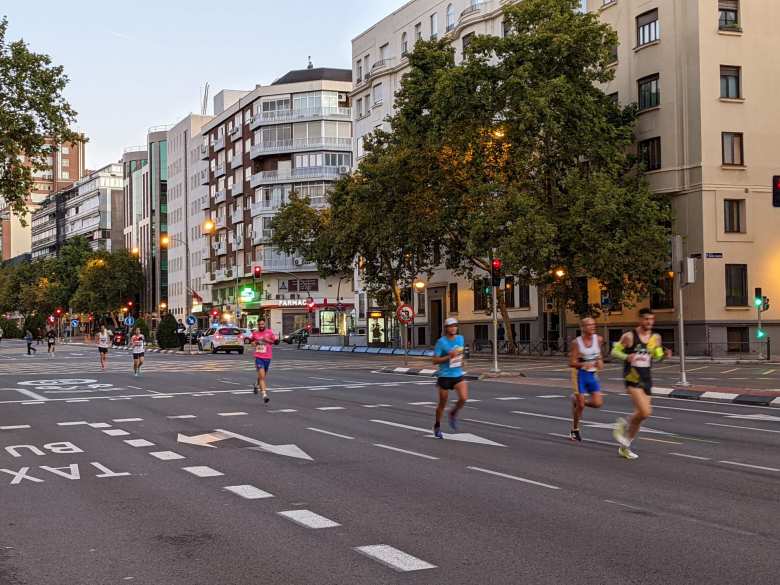 Then I waited in the Wave J corral until the scheduled start time. This being Spain, everyone was wearing a mask while waiting even though the vaccination rate had already surpassed that of the United States and there were less COVID cases per capita. But I was already fully accustomed to this from my July-August visit to the country and it was no big deal especially since no one was expected to run with a mask.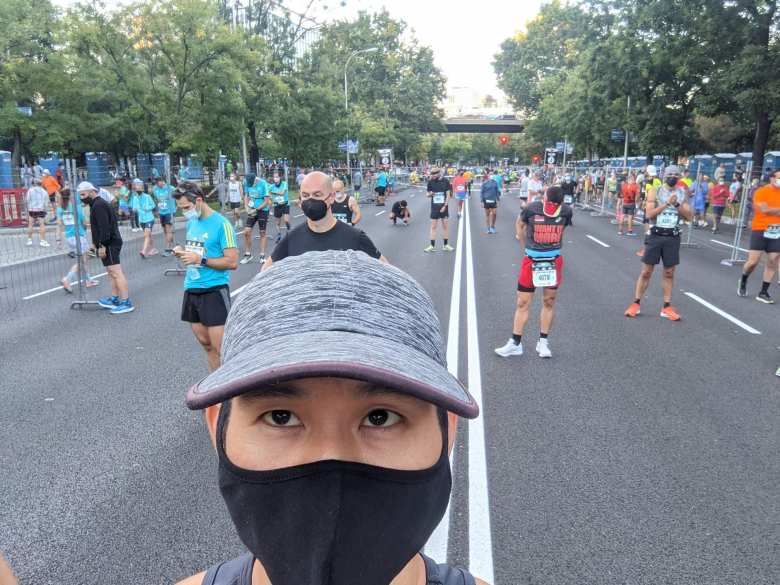 The race started punctually. I set my Garmin watch for a 3h44m target marathon pace. The first few kilometers were a slight ascent, so I didn't get very much ahead of this pace at first. But by the halfway point, I was ahead of the target by seven minutes.
A few things were apparent by this point:
Madrid has a lot of hills. They're not as steep as San Francisco's, but enough that I would classify this race more as a rolling course than flat.
The course was going to be longer than 26.2 miles.
The weather, despite the mid-morning start, was going to be cooler and hence better than any other marathon I've done this year.
One not-so-pleasant surprise was that the last five kilometers were uphill. It was during this stretch that I saw my "lead" on the target pace start going down. By the end, I was ahead of target pace (per Garmin) by less than five minutes.
Those five minutes were also offset by the course being half a mile too long. My finish time was 3:44:03. I was happy with that as it was better than I expected and was the sixth time I finished a marathon in under 3h45m this year.
I had a flight to Galicia to catch only a few hours later, so I couldn't hang around the finish for much time. As I started to walk back to the hotel, my left calf cramped painfully, but it released within 30 seconds and I was on my way.
This was my ninth marathon of the year, and it will almost certainly be my last one for 2021. But of course, that's what I thought after my eighth marathon in June, so who really knows?
Race Data
First half: 1:48:14
Second Half: 1:55:49
Final time: 3:44:03 (note: course was a half-mile too long)
Overall place: 1334 / 3813
Men: 1269 / 3416
Masters (?): 256 / 687
Official results