I was still nine miles away from the summit of Cameron Pass when I had a sudden realization. It was not a good one.
"This feels harder than when I was riding the one-speed, 44-pound Huffy cruiser two years ago," I thought while grimacing. The legs muscles were generating more pangs of pain than power.
This section wasn't particularly steep, but it was more inclined than most of the 50 previous miles of ascending. Moreover, I was Simply Out of Cycling Shape. Between the eight marathons in a four-week span in June, then 3.5 weeks of travel in Spain in July and August, I had done little biking. Certainly not enough for a ride like this. This was basically the Couch-to-200-Miles Training Plan, but with no training between 0 and 200.
Actually, this journey to and from Walden was the training. Training for what? The Triple Bypass, an iconic Colorado ride of "only" 120 107 miles but with twice as much climbing per mile than today's double century. In essence, it's the Centennial State's version of California's famed Death Ride. I never had done it. But now it would be in nine more days.
Happily, despite the uncooperative legs, I made it to Cameron Pass without having to stop and walk—something I was thinking of doing. Thankfully, the rest of the ride was much easier, with lots of downhill where I got to listen to the clickety-clack of the freewheel coasting a lot.
I even had a few moments where I was pedaling continuously for more than 60 seconds, at least until with 40 miles to go. That's when I noticed my rear tire was squishy. Odd, I thought. I didn't hear any tell-tale hisses of air or sealant spewing out in the tubeless tires.
That's when I realized: Oh crap, what if there's no more sealant in the tire, or it all dried out? It was at least a year since I last added any, and it was Hutchinson's latex sealant that I only got because of its no-mess injector bottle. I've been less impressed with this stuff than Stan's No Tubes sealant, mainly because it didn't seem to seal as well. But maybe it also dried out quicker? (As it would turn out, yes.)
The tire had flatted enough that the tire sidewalls wasn't sealing against the rim, and hence I couldn't use my handpump to inflate the tire. I used half a CO2 cartridge and was on my way. But eight miles later, the tire was squishy again, so I used the rest of the CO2 cartridge—the only one I had brought.
My plan now was to stop every six miles and pump up the tire with the handpump before the tire got too low on air and that would no longer be possible. I did this a few times. But finally, the tire couldn't even hold air for four miles.
It was Mile 187 and I still had another mile to go before being completely out of the Poudre Canyon. By this time night had fallen, and I was glad I brought multiple lights, including a headlamp. I stopped on a safe, wide highway pullout—a rarity on Colorado 14—and conceded that I was going to have to put in a tube in the tubeless tire. Fortunately, I had the sense to pack one at the last minute the night before.
That emergency tube got me home a whopping 16h41m after I started. That was still many hours sooner than on the Huffy two years ago, of course, but instead of arriving feeling positively ebullient like that time, I felt deflated and relieved to be done. I was hoping that, somehow, I would have ridden better, even though there was little rational reason to expect otherwise.
Let's hope this last-minute Couch-to-200-Miles training results in feeling at least a little stronger during the Triple Bypass.
Notes
At Mile 45, the highway was closed for 20 minutes due to a down powerline. All the other stops were to take photos, buy food and liquids, or deal with the flat tire issues.
Garmin Forerunner 645 Music watch was able to record GPS for 13h24m with 8% battery left before I decided to switch recording over to phone. So, the watch may be able to record for as much as 14h35m.
Ebuyfire bike taillight on Mode 3 ("breathing flicker") lasted for about 10 hours (manufacturer claim: 50 hours). After that I swapped out the light with a spare that I normally use on my Cannondale road bike.
Comparison to the Other Bikes for This Ride
Because I was out of biking shape, my moving average speed was only marginally better than when I rode the Reynolds Wishbone recumbent. Also, the total ride time was only four minutes quicker than when I rode the mountain bike.
Both of those bicycles are about 11 pounds heavier than the bike I rode today!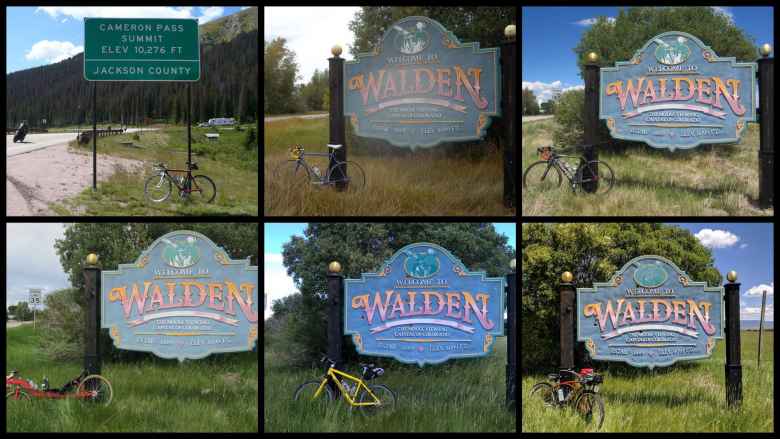 Ride Data
Distance: 202.4 miles
Ride time: 15h14m (13.2 mph average)
Total time: 16h41m (12.1 mph average)