It's been several years since a new machine on wheels had been added to the Garage Majal 2, but here it is: a 1984 Gitane Criterium. Yes, a bicycle even older than my '92 Cannondale 3.0. How did this come about, you might ask.
Well, I've developed an interest in vintage bicycles. You can blame it on the Beautiful Bikes thread on the RoadBikeReview.com forums and the departure of my MG, which left me without any restore-and-adore activities. And while I need a big-scale restoration project like a classic car like I need a bullet through my leg, I figured an old bicycle was both manageable from a time perspective and easy enough on the wallet.
So then there was the question of which bicycle. Most people would go for Italian steel, but being something of an afficionado of all things French, I wanted something that parle français. And what French bicycle manufacturer has had a more glorious history than Gitane? It has equipped more Tour de France winners with bicycles than any other company (including Trek and Pinarello), including Bernard Hinault, Laurent Fignon and Greg LeMond—all riders who raced while I was a kid.
Now, finding Gitanes isn't exactly easy, and I even tinkered around with the idea of creating a faux-replica of the bike LeMond won the 1983 World Championships on using a neglected lugged steel frame, Gitane blue paint and Gitane decals.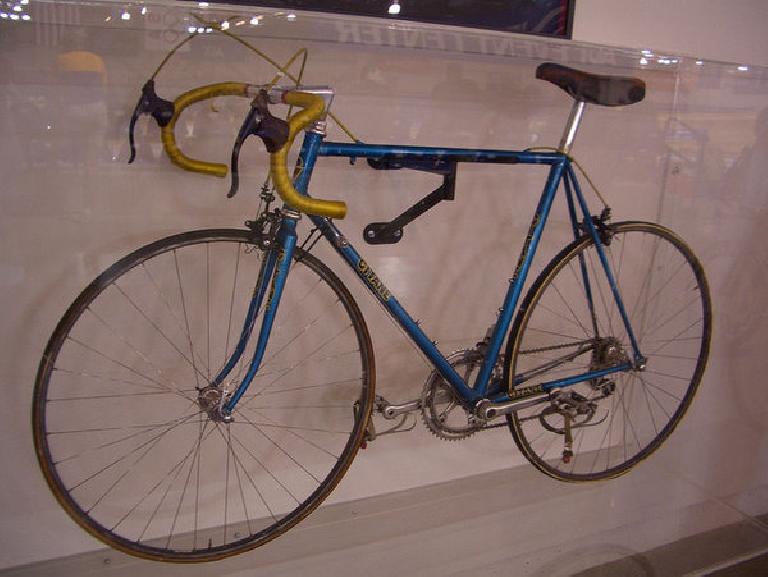 But then, in early December, I saw a 1984 Gitane Criterium in my size in almost completely original condition on eBay. No one bid on it except me so I got it for a reasonable, tidy sum. By mid-December it was on my doorstep, courtesy of FedEx.
I managed to get only one short ride in before my Guatemala trip, but it rode great! The friction shifters work much better than I anticipated; the drivetrain is silky smooth; and I got a feel for the "steel is real" ride quality that so many people rave about. It does seem to dampen out road chatter more than my Cannondale 3.0, although I haven't decided if I have a preference yet for the Cannondale's enhanced road feel or the Gitane's "classic" lively-yet-smooth quality.
The bike is even fairly light for its day: 21.0 pounds without pedals. That is about how much my Cannondale weighed when I bought it new in 1993, even though the 'dale's frame and fork is significantly lighter.
The Gitane's biggest deficiency is its braking power. The Wienmann brake levers and calipers have much less compared to today's components. They do the job, but the brake levers do require gorilla grip strength to squeeze from hoods.
The bike actually looks pretty good right now—especially for a 27-year-old machine—but I will be restoring it over time. It won't be just a beauty queen, however—I actually have some big plans for it this year ride-wise. More on this later in the next year.
[Update October 2011: The Gitane and I are now age-group course record holders of the Furnace Creek 508, Classic Bike Division!]
Naming the Gitane
As per tradition, the Gitane is a "she" and warrants a name. Right now her temporary name is Ginny. We'll see if that sticks.
OEM Components
It appears that 26 years after the bicycle was manufactured, I acquired her in all-original except for the handlebar tape, tires, and possibly the chain.
| Item | Component | Weight, pounds (grams) | Comments |
| --- | --- | --- | --- |
| Frame | Gitane Criterium, size 21-1/2″ C-T | | Lugged Super Vitus 983 double butted chrome molybdene main tubes, Vitus 181 stays; made in France. Gitane blue with clearcoat. Decal on seat tube that says, "Rainbow Jersey Bicycling & Ski Outfitters, Milwaukee." |
| Fork | Gitane | | Lugged Vitus 181 |
| Rims | Mavic Module "E" II Alloy | | Made in France; red label. |
| Front hub | Normandy Luxe Competition | | Made by Maillard; red label. |
| Rear hub | Normandy Luxe Competition | | Made by Maillard; red label; with plastic spoke protector (not shown in catalog). |
| Front quick release | Maillard Spidel | 85 (.19) | |
| Rear quick release | Maillard Spidel | 85 (.19) | |
| Spokes | 36 spokes per wheel, 3-cross | | Steel (magnetic); with a four-point marking (like a star) on their heads. 14-gauge? |
| Spoke nipples | steel? (magnetic) | | |
| Front wheel | with components above | 830 (1.83) | Rim+spokes+hub+rim tape; no quick release. |
| Rear wheel | with components above | 1475 (3.25) | Rim+spokes+hub+freewheel+rim tape; no quick release |
| Tires | Specialized All Condition 700x25c | 330 each (.73) | Non-original; wire-bead; 115 max. psi. OEM was listed as Michelin Bib TS 700x20c. |
| Crank | Stronglight 104, 42/52, 170 | | Forged alloy |
| Bottom Bracket | ? | | |
| Chain | DID Index | | Made in Japan; original was Sedisport? |
| Freewheel | 6-speed, 14-16-18-20-22-24 | | OEM was listed as Maillard 700 6-speed Helicomatic, 13-24. Also looked silver instead of black in catalog. |
| Front Derailleur | Simplex SJA102 | | Clamp-on; with circular clear Bernard Hinault decal. |
| Rear Derailleur | Simplex SX630T | | With circular clear Bernard Hinault decal. |
| Shfiters | Simplex SLJ5068 Retrofriction | | |
| Handlebars | Guidon Philippe TDF Alloy | | |
| Stem | Atax Aero Alloy* | | 9cm, negative rise. |
| Headset | | | |
| Front Brake | Weinmann 405 SRT Alloy Sidepull | | |
| Rear Brake | Weinmann 405 SRT Alloy Sidepull | | |
| Brake Levers | Weinmann | | Brown hoods. |
| Seat Post | Sugino SP-H Alloy Microadjust* | | Fluted. |
| Saddle | Selle Italia Turbo | | White; stamped with Bernard Hinault instead of Selle Italia |
| Pedals | Maillard Alloy CX 550 Aero | | OEM had metal toe clips and black straps. |
| Bar tape | yellow vinyl | | Previous owner said the tape was non-original. OEM seems to have been black. |
| Cable housings | black | | |
| TOTAL | | 21.0 without pedals | Catalog listed weight as 23.1, which was clearly conservative. |
*from literature (unconfirmed due to lack of markings)
From a 1984 Gitane Catalog