"I've gone to Walden and back on three different bicycles," I was telling a friend as my low-slung and long-neglected Porsche-red recumbent bicycle was staring back at me, forlorn. "I think it's time for a fourth."
Never mind that my aerobic fitness and training levels have hit 15-year lows. Despite not doing a serious ride on the Reynolds Wishbone ever since moving to the Fort, images of its former glory still remained in my head: a 13-hour double century in 2000 in Solvang; successful 4,000-ft accents of 4000-ft. Mt. Diablo, Mt. Hamilton, and Salsberry Pass; and the hilly 2001 Knoxville Double Century. I had gotten this machine to try something new, different and innovative in addition to adding an interesting new dimension to my passion of cycling, and while over the years I have returned to favor more conventional designs, this "lawnchair on wheels" still remained a capable machine.
So it was decided: a few days before departing for a six-week trip to Europe, I would wake up early and do what now has become an annual pilgrimage to Walden and back. After all, Henry David Thoreau did advise, "Cultivate the habit of early rising. It is unwise to keep the head long on a level with the feet."
Problem was my old-school Michael Graves alarm clock—usually capable of disturbing the entire neighborhood—failed to go off or—more likely—I failed to set it properly. Thus, I rolled out of the driveway 1.5 hours later than intended, well after the sun had risen over the horizon.
Then I encountered a lot of road construction—the pavement-setting crews of Larimer County sure have been busy lately—but otherwise made it into the Poudre Canyon without incident. Then I was climbing slowly but steadily, largely without issues until roughly one or two miles past the Poudre Falls and Big South Trail (Mile 60). There I was swarmed by some of the most agitating and surprisingly painful horse flies known to man, who would not leave me alone despite my constant swatting, erratic arm motions, and general cursing. There were hundreds of them that left bite marks still visible ten days later, and it wasn't until I finally crested Cameron Pass (Mile 70 and seven hours of riding) that I finally was able to build up enough speed and say "good riddance" to them once and for all.
The descent past Gould and into Walden was most welcome for that reason but also because my legs were thoroughly cooked, and it was apparent I was even further off my time goals. Lightning spanning the height of the sky looked ominous but beyond Walden, so I wasn't too concerned about that. At least not for the moment.
Meanwhile, when pulling into the parking lot of my designated Walden convenience store turnaround point, a couple in one of the tallest and largest SUVs manufactured (the Chevy Suburban) rolled down their windows and pleaded, "You really need a flag or something on that thing. Please." Apparently they were very startled and confused by the recumbent's presence on these backroads as they came up upon me in a curve. I thanked them and took their advice to note. But where would I get a flag?
I decided I wasn't going to worry about it when all of a sudden I passed by a whole row of irrigation flags in a field a couple miles out of Walden. I stopped, "borrowed" and mounted a bright orange one to the back of my seat, and was on my way. I also turned on my rear blinkers for increased visibility.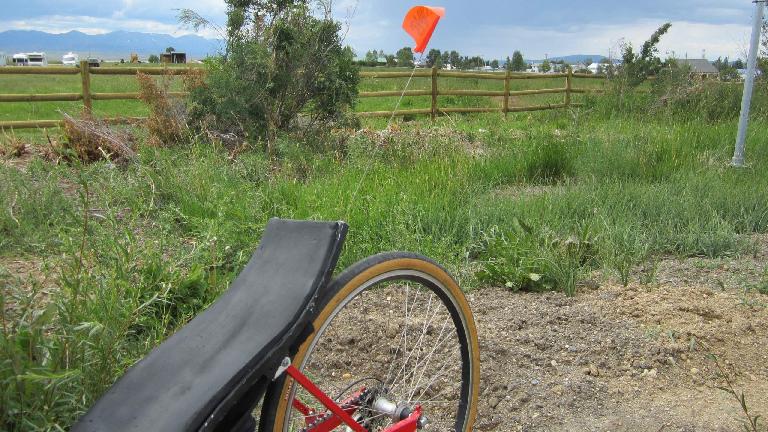 Turned out l would need as much visibility as I could get as then the thunder and lightning around me soon produced near-deluge conditions. Within minutes I was soaked and I was still a good twenty miles from cresting Cameron Pass. My estimated time of arrival back at Chez Félix was now looking closer and closer to midnight (instead of my way optimistic pre-ride projection of making it back by darkness), and I was almost decided that if someone in a truck offered me a ride over the pass, I would take it. No help was offered, though. And soon I was shivering and clothing-wise, ill-prepared. (It was the middle of July, after all, and the temperatures in Fort Collins were typically 95 degrees or so. There was no way I had imagined I would be freezing up here.)
I pondered calling a dear one from Fort Collins for a rescue, but then realized that it would require a 160+ mile, 3-hour round trip drive for my would-be savior—certainly not convenient. But as I was starting to shiver uncontrollably, I was beginning to evaluate other options besides staying tough and sticking it out for the next 6-7 hours.
And then I passed by a KOA campground. I briefly continued on, but as it started to rain harder, I turned back for it. I decided that if there was some sort of room or cabin available, I would stick it out for the night there and resume the next morning.
There was.
The cabin was going to cost $60, but the man behind the KOA counter took pity on me and without my asking, knocked down the price. "You biked a long way, it's cold and rainy, I'll give it to you for $40." Deal.
And there I slept—after a long, hot shower—on a sheet-less mattress, sandwiched in between two other smaller mattresses from the cabin's bunk bed to keep me warm as the KOA cabins do not come with blankets. This arrangement turned out to be good enough for sound sleeping until my 6:00 a.m. departure to finish up the final 80 miles of the ride.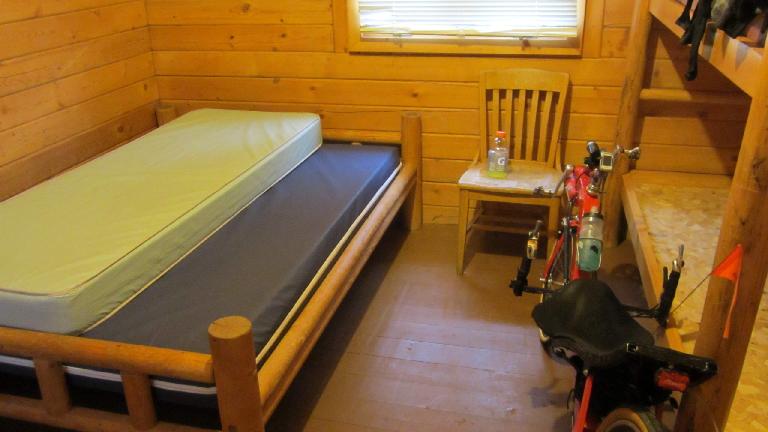 The first couple hours—including the return cresting of Cameron Pass—felt more like late fall or early winter in the 48-degree temperatures up here. But as I descended lower and lower, the temperatures rose, first into the 50s, 60s, then 70s. The nice thing about heading down the canyon in the early morning was the dearth of cars heading in the east-bound direction. So after the initial bone-chill of this day's ride, the rest was very pleasant.
By 11:15 a.m., I was home. But not before my Garmin Edge 500 cyclecomputer's battery died a mile before reaching there. Almost made it back and had the entire route logged.
But the data would reveal my actual ride time (minus all breaks and the long overnight KOA stop) was roughly 15 hours 10 minutes, which really was only about 40 minutes slower than the Super Bike's ride time from last year, and maybe just over an hour longer than the Cannondale or Gitane. Not bad for a bike that I cannot climb as well on. Some time was made up on the descents due to the recumbent's superior aerodynamics, and I believe it would have been possible to do the ride in the same amount of time as the other bikes had I been in better shape.
And if I had been better prepared for the bad weather and had gotten up in time. I will take Ralph Waldo Emerson's advice on early rising when I do another Walden pilgrimage on a fifth bicycle.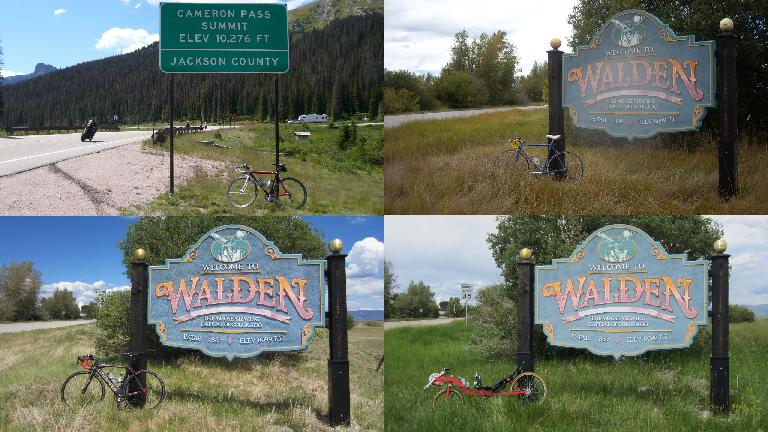 Ride Data
Start: 6:30 a.m.
Pause at Mile 118 due to rainstorm: 6:00 p.m.
Resume at Mile 118: 5:10 a.m.
Finish: 11:40 a.m.
Moving time: 15h28m
Average moving pace: 13.0 MPH
Strava Data
Rating
(Scale of 1-5, 5 = best)
Scenery: 5
Support/Organization: self-supported
Food: self-provided
Weather: 2
Relative Difficulty: 3
Overall Rating: 5