Fall Equinox Half Marathon
This morning, under the crisp September sky of northern Colorado, I took on the challenge of the Fall Equinox Half Marathon in Fort Collins. Over the recent years, I've seen my half-marathon times improving, reaching a peak of 1:34:04 in Pontevedra last year. I wanted to push my limits further.
My summer training was intense and consistent, featuring weekly long runs, interval training, sprints, and Zone 2 running. I had my eyes set on breaking the 1-hour 30-minute mark, a feat I had achieved only once, 14 years ago on a flat course in Fort Collins. It seemed that if the stars aligned, there was an opportunity for a remarkable performance.
Signing up for the Fall Equinox Half Marathon, I was drawn to its downhill course through the breathtaking Poudre Canyon. The early-morning start in September promised agreeable weather for the run. To gain an edge, I also invested in a pair of Saucony Endorphin Pro 3 shoes, known for their "super shoe" foam and carbon plate. I also incorporated beets into my diet, and on race morning, I drank beet juice and coffee in addition to eating my usual pre-race banana and oatmeal.
On race day, I rose at 4:00 a.m., allowing ample time for preparation before heading to Poudre High School. A yellow school bus took all half-marathoners to the race's starting point at Mishawaka in the Poudre Canyon. A quick visit to the porta-potty and a 10-minute warmup jog set the stage.
As the horn sounded the start, I set out confidently, meticulously navigating the course to take the shortest line. My Garmin kept me informed of my progress, while an external (armband) heart rate monitor provided valuable post-race data. Though a bit fast at the beginning–I was unwisely even ahead of a few elite women from the FCRC race team for a couple of kilometers–I was determined to maintain my pace.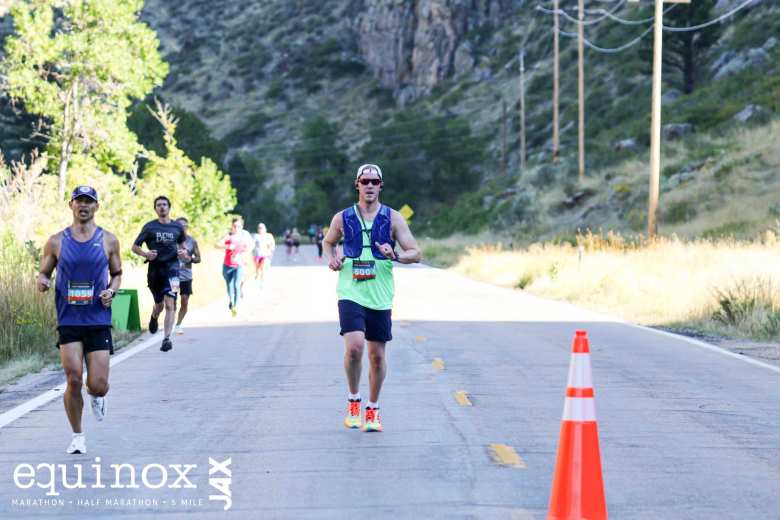 The journey wasn't without its challenges. As the kilometers passed, seasoned runners overtook me. My friend Bob–who has run a sub-3-hour marathon in each of the last four or five decades–muttered, "I'm getting too old for this" as he came around. I laughed and responded, "Same."
The shoes felt fine, but the discomfort of a toenail blackened from a previous training run flared up. The warming temperatures and sun's increasing intensity added to the test.
Despite a valiant effort, I fell short of my ambitious time goals. Indeed, I kept having to revise them during the race in the following order:
Finish in under 1 hour 30 minutes.
Maintain an average pace of under 7 minutes per mile, or finishing in 1 hour, 31 minutes, 42 seconds.
Achieve sub-1 hour 33 minutes.
Beat my time from the previous half-marathon in Pontevedra (1:34:04).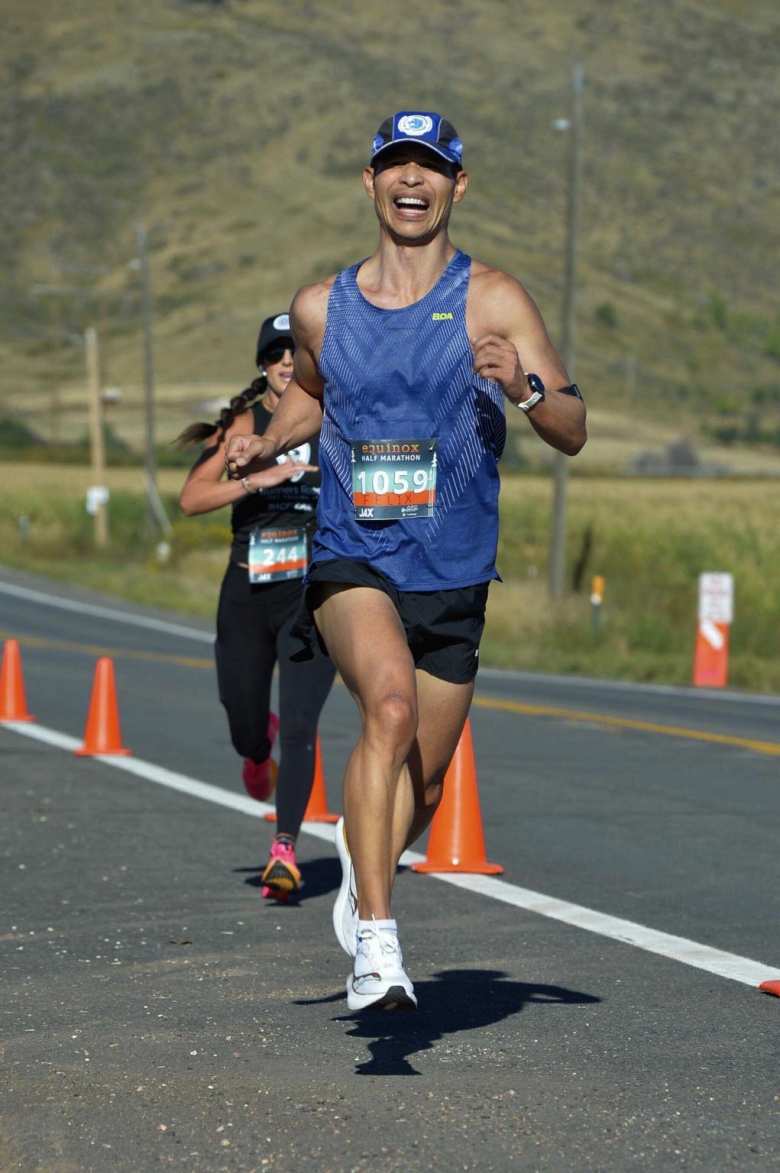 In the final 200-meter sprint, I found the strength to pass a couple of fellow runners, crossing the finish line in 1:33:03. While not achieving my primary objectives, I did manage to outdo my previous performance in Pontevedra. Or did I? I finished with the same pace (7:06/mile or 4:25/kilometer) because the Pontevedra course was slightly longer per the Garmin.
In the end, the race wasn't the "perfect storm" for a sub-1:30 marathon I had envisioned. But I can't complain since it was my best half-marathon time in nine twelve years. Every race is a lesson and a step towards bettering oneself, a reminder that the joy lies in the journey and the pursuit of improvement. Onwards to the next challenge!
Analysis
Yet again, the gradual downhill of the Poudre Canyon did not provide the type of time I expected or hoped for. Maybe the altitude–5900 feet at the Mishawaka–completely negated its advantage. There also was nearly 300 feet of uphill during this race–nearly as much as in the Medio Maratón de Pontevedra, which was otherwise at sea level.
The Saucony Endorphin Pro 3 shoes are supposed to be "fast" due to its Speed Roll technology, barely World Athletics-legal 39.5-mm stack height, carbon plate, bouncy foam, and low weight. They certainly felt different than my usual Saucony Kinvara 13 shoes, which are the same weight. I'm not sure, however, if they are any faster. I felt that, if anything, the Kinvaras are more responsive with its less, but still ample, cushioning.
I was disappointed with how I slightly slowed during the second half, but my heart rate increased to over 160 (from a race average of 156) during the last four kilometers. Considering my maximum HR is somewhere between 174 and 178 beats per minute, I was trying hard. The slowdown was not due to lack of effort! Granted, some of the HR increase might have been due to the rising temperature.
Race Data
Final time: 1:33:03 (7:06/mile or 4:25/km)
Overall finish: 59 / 935
Division: 2 / 25
Male: 39 / 335
Official results