Revitalizing Your White iPad Magic Keyboard: Stain Removal Techniques and Long-Term Durability
I'm fond of Apple's Magic Keyboard for iPad with its sleek floating design, providing both style and ergonomic benefits compared to traditional laptops or Microsoft Surface. The key feel and touchpad are superb, adding to the overall appeal.
When I made the purchase almost two years ago, I had my heart set on the white variant, appreciating its sharp, iconic look. White has that distinctive Apple vibe, reminiscent of the iPod or iBook from the early 2000s. Other users had reassured me that the white Magic Keyboard tends to show fewer grease stains compared to the black version.
However, over time, despite my efforts to use the keyboard with clean hands only, inevitable stains appeared. Particularly, the areas where my palms rested on the keyboard started to show slight discoloration after about half a year.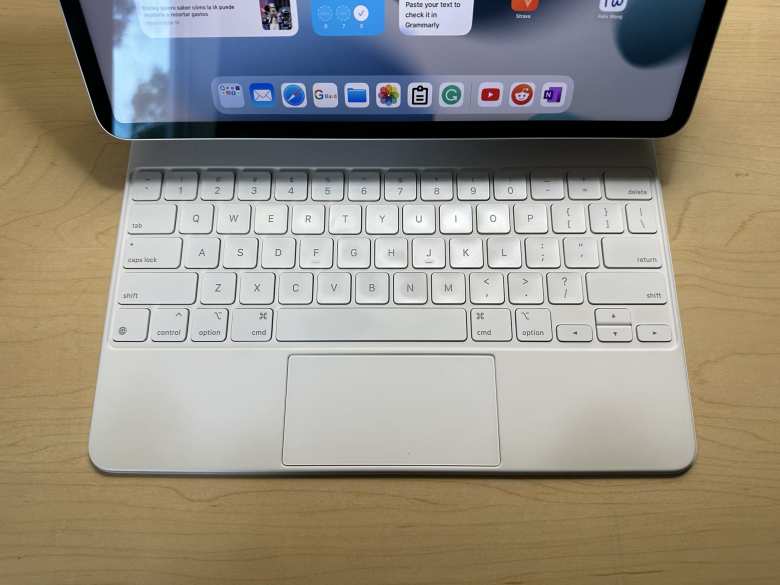 Now, maybe the staining in the photo above doesn't appear severe to you, but I confess, I'm quite meticulous about such matters. For instance, I wipe the screens of my iPad Pro and iPhone Pro at least once a day, utilizing water, a microfiber cloth, and my friend's Wipe My Screen app, to rid them of fingerprints. Glass is notably more straightforward to clean than plastic.
I've experimented with various approaches, even ones Apple discourages (e.g., hydrogen peroxide), in my quest to bring the keyboard back to its original, pristine condition. This article outlines my discoveries.
Apple's Official Recommendations
Apple says,
To clean your Magic Keyboard, first remove it from the iPad. Use a soft, slightly damp, lint-free cloth. Wipe the front and the inside with a soft, lint-free cloth. You may use a 70 percent isopropyl alcohol wipe or Clorox Disinfecting Wipes. Avoid getting moisture in any opening, and don't submerge your Magic Keyboard in any cleaning agents. Don't use window cleaners, household cleaners, aerosol sprays, solvents, ammonia, abrasives, or cleaners containing hydrogen peroxide to clean this product.

Avoid prolonged contact with other materials, as color transfer may occur.

Apple Support Pages
However, although Apple's advice to avoid submerging the Magic Keyboard in liquid is prudent, the remaining recommendations were totally ineffective in addressing the inevitable staining depicted in my photo above. I made several attempts using isopropyl alcohol and disinfecting wipes, yet saw no discernible visual improvement.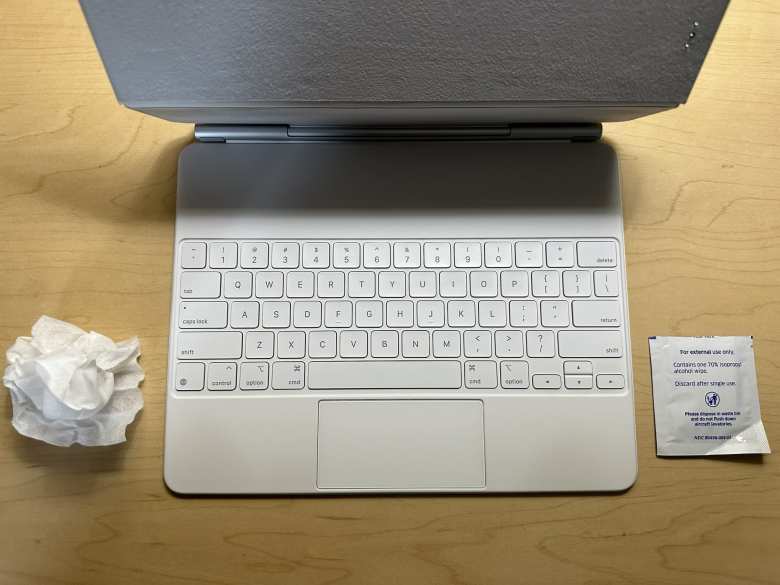 The stains eventually bothered me to the extent that I even attempted using hydrogen peroxide and sunlight to try to "bleach" them out. Although hydrogen peroxide didn't cause any damage, it also had no effect. So don't bother trying to retrobright the keyboard!
I did, however, finally come across a couple of solutions.
Method #1: Use a "Magic Eraser"
I had considered this solution previously, drawing from my firsthand experience with how effective a Mr. Clean Magic Eraser can be at restoring the white soles of my shoes to a like-new state. However, given that melamine foam, the "magic material" of Magic Erasers, is technically abrasive, I hesitated to try it on the $350 Magic Keyboard.
Kudos, then, to Reddit user Rahl001 for their boldness in trying a Magic Eraser on their keyboard. Below, you'll find a "before" and "after" photo showcasing how their Magic Keyboard looked after the cleaning with a Magic Eraser.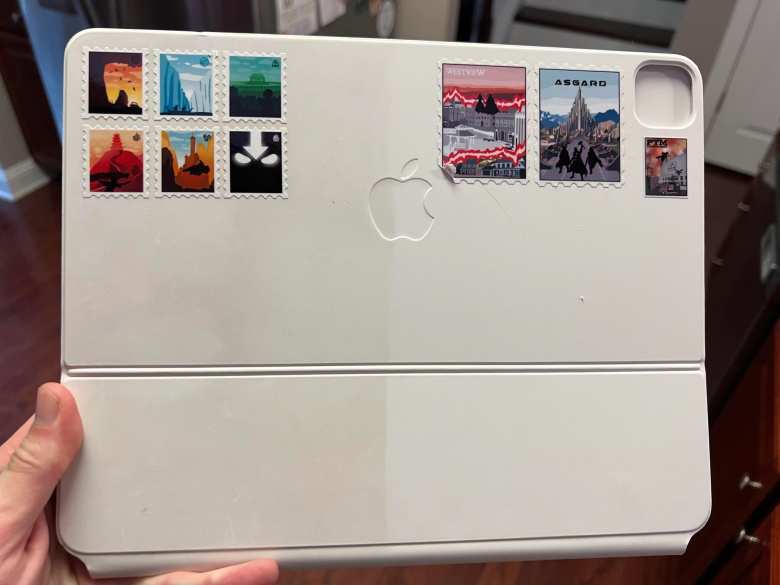 Inspired by Rahl001's success, I decided to give the Magic Eraser a try on my own keyboard. True to its promise, it effectively cleaned without leaving any scratches or damage. This has become my preferred method—it's rather fitting to clean a Magic Keyboard with a Magic Eraser!
Method #2: Use toothpaste and a toothbrush
If a Magic Eraser isn't readily available, fret not. I've had success using toothpaste and an old toothbrush—items you surely have on hand.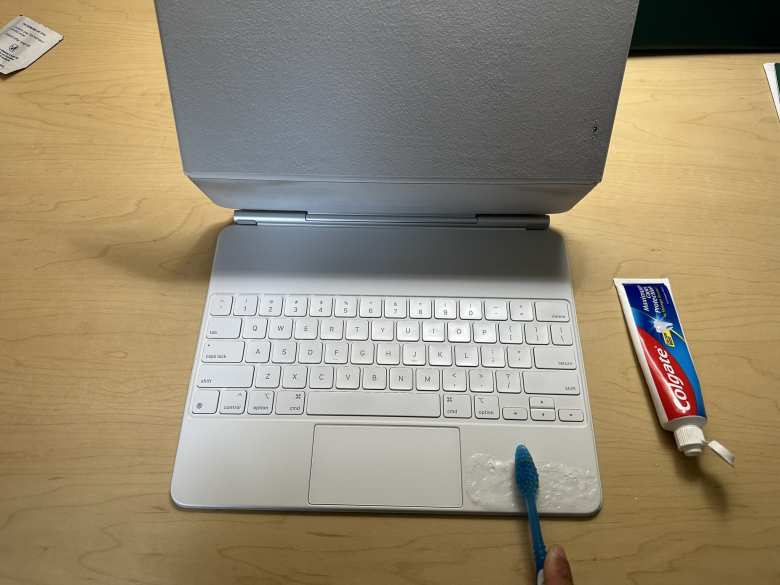 I personally used Colgate Maximum Caries Protection toothpaste, but any kind should do the trick.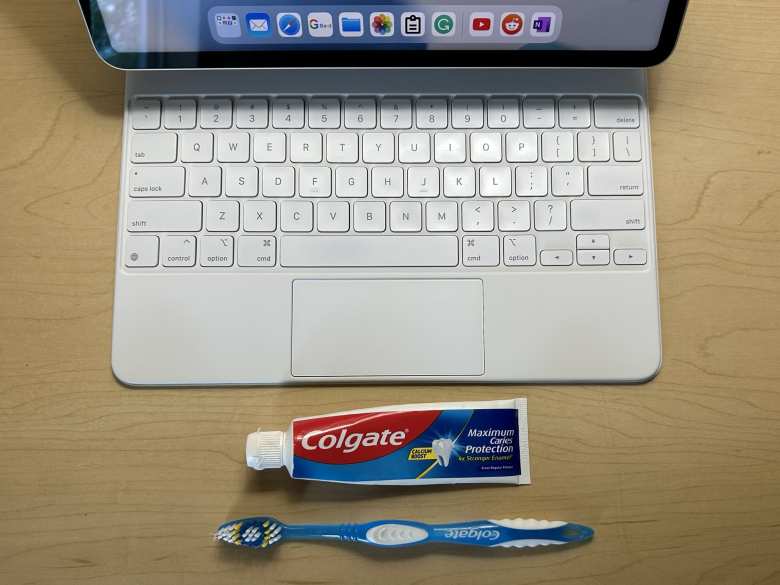 This toothpaste scrubbing method also proved effective on the textured interior of the back side of the Magic Keyboard, the side where the iPad attaches. Given its uneven surface, using toothpaste for scrubbing here is likely more effective than a Magic Eraser.
Durability of the iPad Magic Keyboard
In comparison to the keyboards of my previous Microsoft Surface devices, the iPad Magic Keyboard proves to be significantly more durable.
The Surface keyboards, for instance, often exhibited fraying resembling leather at the edges. Additionally, they appeared to have an external dye coating, whereas Apple's keyboard is crafted from a white-through polyurethane, ensuring uniform color throughout.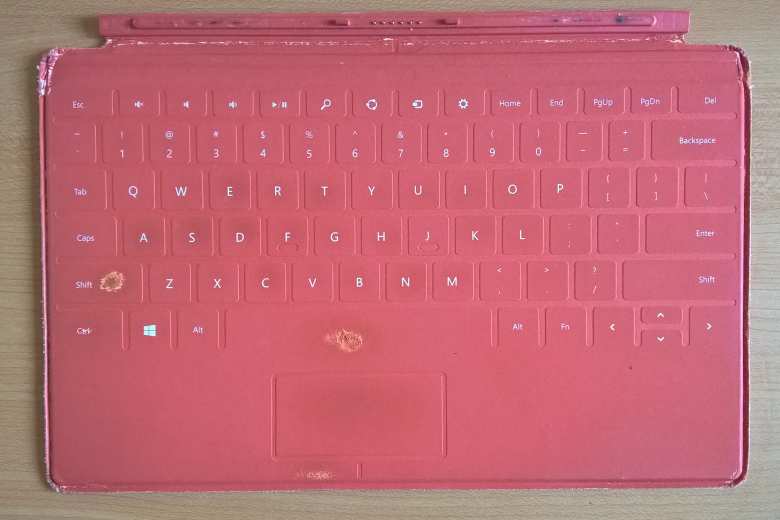 Cleaning the Microsoft Surface keyboards was a near-impossible task as well.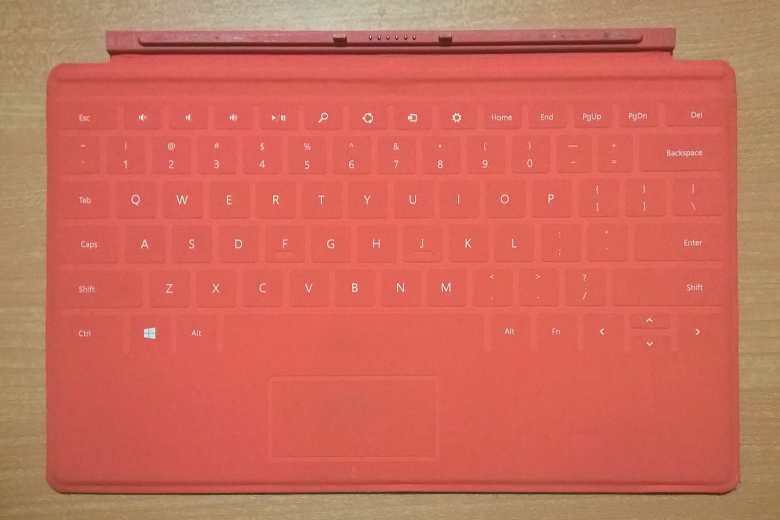 I'm uncertain if the Alcantara versions of the Microsoft Surface keyboards hold up any better, but I seriously doubt it.
Of course, you could point out that Apple's Magic Keyboard comes at a substantial price of $350, while Microsoft's options range from $129 to $159 USD. However, Apple's Magic Keyboard boasts longer-lasting durability and, in my opinion, surpasses in functionality (keyboard travel, trackpad usage, ergonomics, and even protection) in almost every aspect. As demonstrated in the photos above, it can be restored to a like-new condition with just a few minutes of cleaning using a Magic Eraser or toothpaste.