The 2023 Vuelta a España May Have Been the Most Exciting Grand Tour This Century
As a devoted follower of the Tour de France since Greg Lemond's incredible, nail-biting victory in 1989, I had never ventured into the captivating world of La Vuelta a España. But relocation to Spain in 2022 and the unbelievably stacked line-up featuring Primoz Roglic, Jonas Vingegaard, and Remco Evenepoel lured me into the thrilling spectacle that was the 2023 edition of Spain's three-week Grand Tour. It seemed the only general classification superstar that was missing was Tadej Pogačar.
The Vuelta burst into action with high drama from the outset in Barcelona. Rain and darkness marked Stage 1, bringing down riders like dominos. Stage 2 witnessed chaos as thumbtacks thrown on the road caused flat tires for 30 riders, and the stage was shortened at the last minute due to "dangerous" weather.
The unpredictability continued with a sabotage attempt on Stage 3, as Catalonian separatists aimed to spill oil on the road. Amidst the chaos, Remco Evenepoel emerged victorious. However, 50 meters beyond the finish line, he collided with a spectator and crashed onto the ground, leaving him with blood gushing from his face.
The high-octane drama escalated as the stages unfolded. Sepp Kuss, hailing from Durango, Colorado, was allowed into a breakaway while the GC contenders were content to duke it out behind. Kuss showcased his prowess on Stage 6, triumphing on a mountain top, high-fiving spectators, and even chugging cava in celebration, demonstrating how easily Coloradans can imbibe alcohol. This performance allowed him to snatch the leader's red jersey two days later and emerge as a force to be reckoned with.
Evenepoel, who seemed to have an array of amusing excuses and grievances throughout the week belying his great form, narrowly missed winning Stage 8. Later, he claimed he wasn't aware he and the others were sprinting for the victory. Post-Stage 9, due to a "cursed flight" that befitted the week's doomed aura, half of the cyclists didn't reach their hotels until 3:00 a.m., starving.
On Stage 13, Evenepoel faced a dramatic collapse, while Vingegaard, Roglic, and Kuss displayed dominance on the challenging Tourmalet, securing the top three spots on the acclaimed queen stage. Kuss's astonishing acceleration at one point even sparked allegations of mechanical doping, i.e., using a concealed electric motor. Vingegaard dedicated this stage to his daughter on her birthday, adding a heartfelt touch to the event.
The subsequent stages were defined by suspense and intrigue, further fueled by unforeseen incidents that amped up the overall excitement. The night before Stage 16, for example, a teammate from Jumbo Visma, Nathan Van Hooydonck, encountered a medical emergency back in Germany, leading to a multi-car accident and necessitating a medically-induced coma. In the face of this distressing situation, Vingegaard remarkably clinched the stage victory, dedicating it to his thankfully recovering "best friend." Meanwhile, social media lightened the somber mood with jests, suggesting that Vingegaard's strategic attacks were a tribute to various significant occasions–from honoring his daughter's birthday on the Tourmalet to paying homage to Van Hooydonck, with predictions of further attacks to "celebrate" the birthday of Sepp Kuss the following day.
The latter prediction turned out to be remarkably prescient when Roglic and Vingegaard seemingly did attack Kuss, their own teammate, on the crazy steep Angliru on Kuss' birthday. This left fans and the online community abuzz with discussion and despair. Some of the more creative nicknames they levied onto the Jumbo-Visma teammates included "Judas" Vingegaard, Jonas Vinegar, and Primadonna Roglic. Despite being a Vingegaard fan ever since he blazed by me in Pontevedra, the "Vinegar" moniker particularly made me laugh. Post-stage, "Vinegar" un-sourly expressed his desire for Kuss to have the overall victory, even though he himself was a trifling eight seconds behind.
Due to his Stage 13 collapse, Evenepoel relegated himself to stage wins only during the rest of the race, but he put on an entertaining show of daring long-distance attacks during several of the final stages. The drama of this incredible three-week event only came to an end on Stage 21, with Sepp Kuss etching his name in cycling history by becoming the first American since 41-year-old Chris Horner in 2013 to claim victory in the Vuelta a España. The sweep of all podium places by Jumbo-Visma added to the spectacle, showcasing their dominance across all Grand Tours this year.
My newfound enthusiasm for the Vuelta even extended to my indoor training, as I simulated stages using a Wahoo Kickr Snap smart trainer I acquired on eBay and ROUVY, a virtual cycling platform that's a rival to better-known Zwift. ROUVY has more realistic visuals and, more significantly, has a library of many Vuelta a España stages you can ride.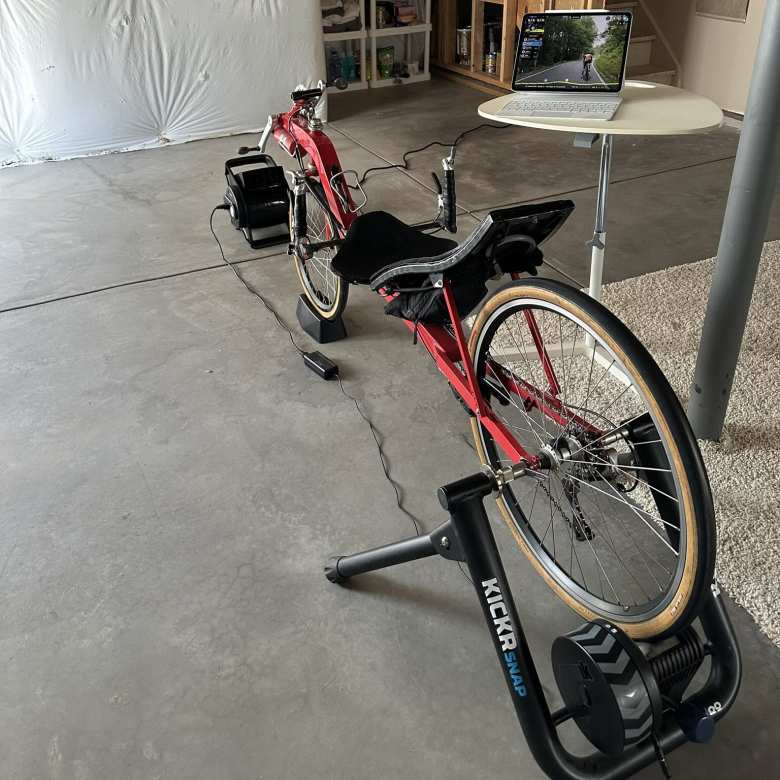 Riding virtually through past and present Vuelta stages allowed me to experience the thrill firsthand, bringing me closer to the essence of this extraordinary event. I was even able to ride virtually in Galicia, bringing the familiar roads of my Spanish region to my basement in Colorado.
The captivating appeal of the 2023 Vuelta a España came with its trade-offs, primarily the substantial daily time commitment it demanded to follow each twist and turn. Engaging with stage summaries through GCN Racing en Español's YouTube channel allowed me to refine my listening skills in Castilian Spanish–the official standard form of the Spanish language as spoken in Spain–without encountering spoilers. Despite the significant time investment required to follow each enthralling development, the lasting memories and the victory of a fellow Coloradan cyclist made it a worthwhile endeavor.
I intend to maintain the same level of avid following for the Vuelta a España in the upcoming years, just as I do with the Tour de France. Not only does it take place in my adopted country, but the shorter, more chaotic stages relative to the Tour de France make for incredibly entertaining viewing. Additionally, it serves as excellent motivation for training, particularly in the virtual realm!