Bicycling Up the Angliru (23%!)
"One question about your bike," Marcos asked in Spanish in a WhatsApp voice message. "What gearing do you have? 34 x 28, or do you have something taller (easier)?"
"My lowest gear is 34 x 26," I replied.
Marcos responded with a facepalming emoticon.
"The Angliru is a mountain pass very typical in Spain that you and I are going to do," he explained. "I am in a bike shop right now and they are recommending that you have 34 x 30 or 34 x 32 because there are grades that are very hard. That's why I ask.
"On Monday, I am going to bring my bike to the shop to change the cassette. It will cost 70 euros. I warn you because you might be interested in changing your gearing."
"Wow," I answered, "I am even more interested now! I would like to try that climb with my current gears. Maybe it will be a great challenge but the worst-case scenario is that I will have to walk a little."
Marcos laughed. "All of it will be a challenge."
Ultimately, neither Marcos nor I changed our gearing. He wanted an easier chainring/cog combo than his existing 34 x 28 but found out he would need a new chain, derailleur, and cassette. At least his lowest gear was lower than mine.
You could have considered me warned. But I didn't truly understand the magnitude of the challenge until I saw a picture of the Angliru in a hotel days later.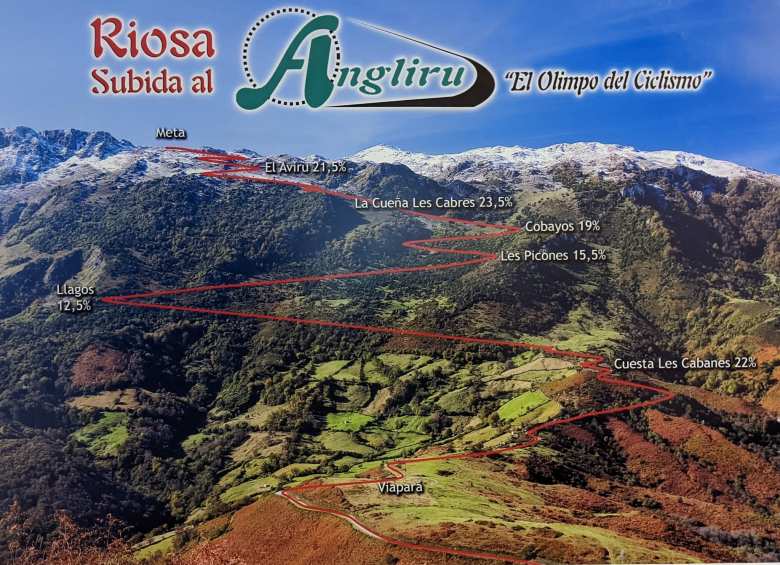 As you can see in the image above, there are many stretches on the mountain with grades over 20%. Worse still, they are all at the top after the legs had climbed many kilometers already.
"I don't think there are any stretches below 9%," Marcos said, "where we can rest our legs."
Suddenly, I had doubts. I have biked up grades over 20% on the Super Bike–even as recently as a month ago during 3 Picos Road Pontevedra. I've even biked up inclines that steep in a higher (32 x 23) gear in Berkeley on my Cannondale 3.0 road bike before. But I've never climbed something as long as the Angliru (13 kilometers) with sustained 20%+ grades.
In fact, one article called it the second toughest climb in all of Grand Tour Cycling.
"I'm not going to promise," I said, "that I won't need to stop and walk."
"Hopefully," I added, "I won't get a cramp."
"If we get a cramp," Marcos said, "it's over. It won't be possible to re-start up the hill!"
After getting a good night's sleep at the Mirador del Angliru, I looked out the window. There were clouds above us, but the weather looked fine. We got dressed in our cycling gear, aired up the tires of our bicycles with a bicycle pump available outside the Mirador, and then drove down the mountains towards Oviedo to Morcín-Santolaya.
We parked and rode a short distance to a cafe bar for breakfast. I ordered a café con leche for the caffeine. I try to keep my caffeine tolerance low so that helps me more during "emergencies," like challenging athletic events. I had already decided this would be one of those days.
Not long after, we started riding towards Angliru. Both of us were soft pedaling, even when the climb started. We were fully respecting the mountain. Best to conserve our muscles and energy for the truly hard parts ahead.
We were still pedaling easily even after passing the hotel a quarter of the way up the hill. It wasn't until halfway up that we hit the first 22% segment at Cuesta Les Cabanes. Marcos got a gap on me, and as I was intent on going at my own rhythm, I figured that would be the last I saw of him until we got to the top.
But the grade reduced to 12% and I caught back up to him. That wasn't so bad, I thought.
Marcos must have felt the same. He said his legs were feeling not feeling tired despite our previous adventures at the Lagos de Covadonga and Picos de Europa.
"I think we can do this," he said.
"Vamos," I replied.
Then, at last, we got to the sustained 20% grades. It was in this section that we caught up to another cyclist wearing a red jersey. Marcos got out of the saddle, crept up to him, and eventually passed.
Meanwhile, I was in my lowest gear, at first alternating between sitting and standing. Eventually, however, I had to stay out of the saddle. Then I even had to resort to weaving and using the full width of the road to reduce the grade a little.
Not only was it a workout for the legs, but for the arms. In particular, I had to keep the handlebars as straight as I could. The Super Bike has a short, responsive wheelbase, which causes significant toe overlap with the front tire when turning the handlebars while pedaling.
I maintained pace with the rider in red, who clearly had much lower gears than I did gauging by his pedal cadence. My shoe rotations per minute, in contrast, were about 35 RPM at the steepest points. I even saw the speedometer dip below 6 km/hr (3.7 MPH).
You can see the grades and the cycling action in this video I made below.
Closer to the top, I saw a sign that warned of a sustained 21-23% grade for 200 or 400 meters–I forget which. It was here that I finally passed the rider in red. Not long after, I crested the final 20%+ grades.
The road leveled out to a 5.8% grade for the final kilometer, which at that point felt like a downhill.
Made it to the top!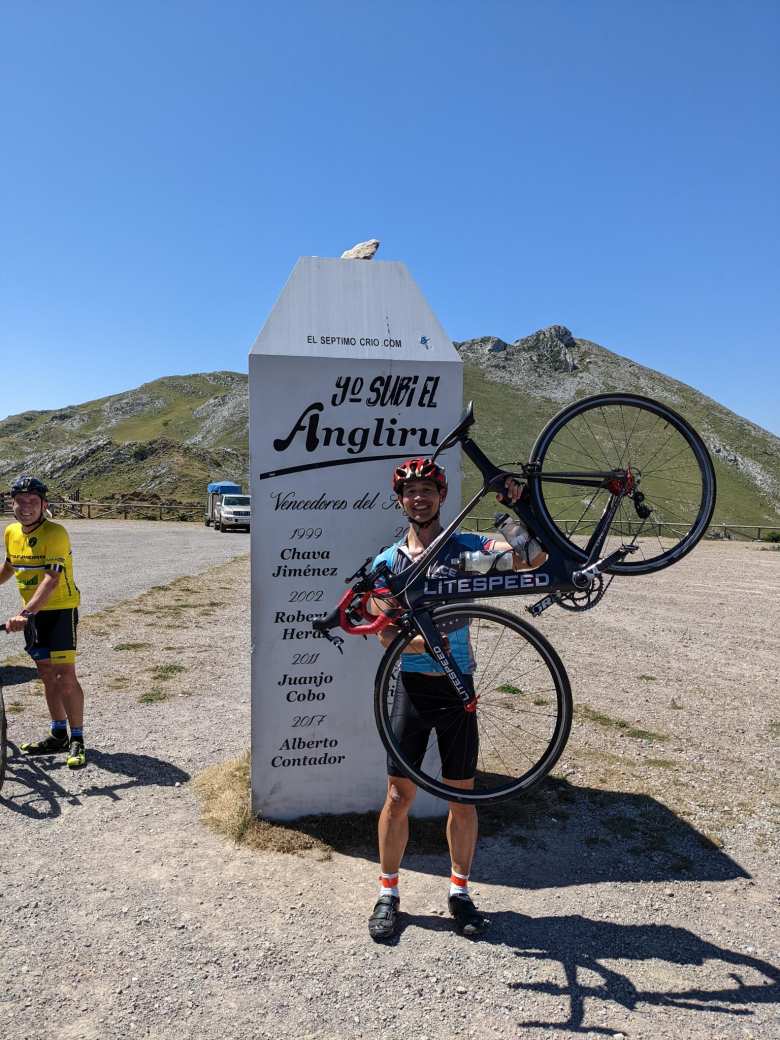 There were a few other cyclists and tourists at the top. Marcos told me that one of the former had a 34×32 low gear on his bicycle. He then told the cyclist that I had to climb the Angliru in a 34×26.
"Well of course he could," the rider said in Spanish, poking my belly. "He's both skinny and young!"
"How old do you think he is?" Marcos asked. The man guessed 12 years younger than I actually am. I laughed.
Before riding down the mountain, a woman admonished us to be very careful. She gets terrified, she said, even driving down the mountain.
So we took the descents very easily, stopping a couple of times to take in the view of the clouds below, and also to read about some of the histories of this legendary climb.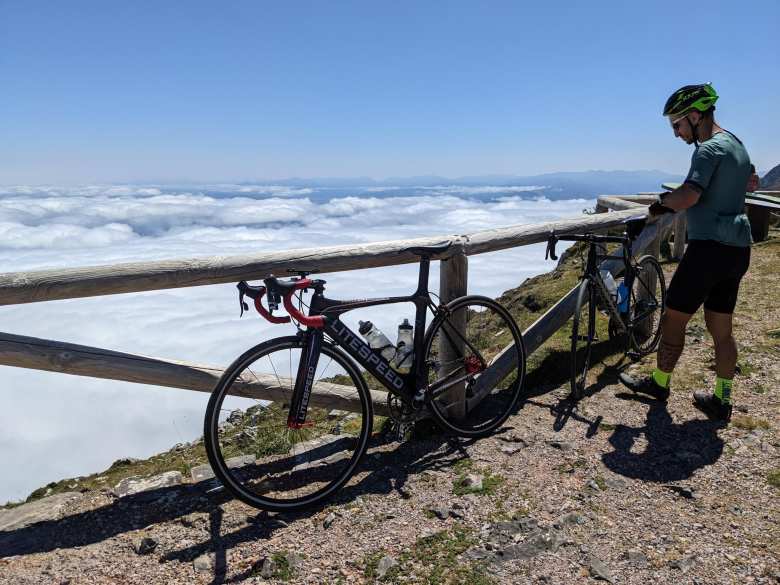 On the longest 20%+ section, there was a man walking his bike up. There was another cyclist walking his bike down.
We talked to the former. Marcos asked him if he wanted a push so he could start riding again, but he didn't quite understand since his native language was English. So then I talked with him.
Ultimately, he started back up the climb with Marcos giving him a push start so that he could clip into his pedals.
The rest of the ride was anticlimatic, of course. It had beautiful views, but that was not the best part of the ride.
The highlight, of course, was riding up this legendary climb that four-time Tour de France stage winner David Millar had once crashed three times on and protested the "inhumane" climb by retiring his race number one meter before the finish line. We were able to bike up the Angliru without stopping or walking, much less quitting before reaching the top. We did it!
Ride Data
Update May 2023
GCN rode up the three hardest climbs of the Grand Tours. They concluded that the Angliru is the most difficult!