World Triathlon Cup Pontevedra
Last year I was blown away that the National Sprint Triathlon Championship and Medio Maratón Pontevedra were held right in front of our home. This year, I was delighted when a run-bike duathlon and a gladiator race were here too.
Still, I was both surprised and thrilled when I saw this sign posted outside our condominium: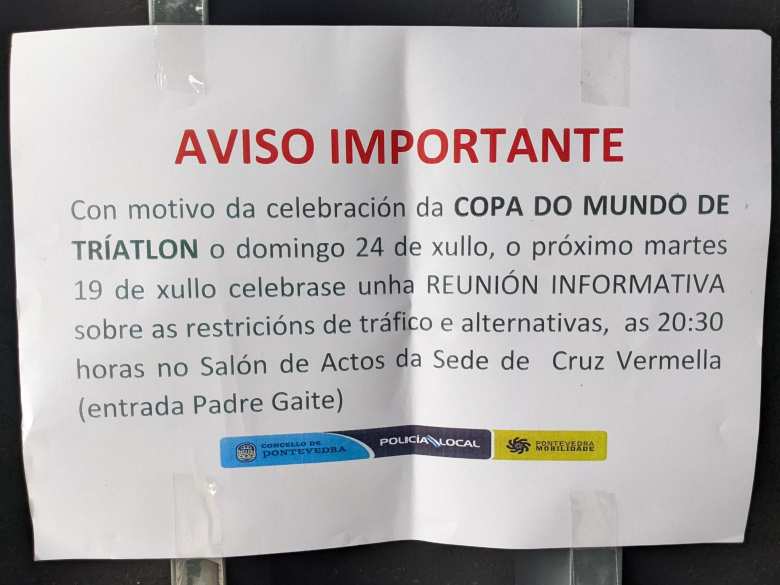 "The World Triathlon Cup!" I thought. That was a big deal.
How much of a big deal? The World Triathlon Cup is an international event for the best in the world. There are only a handful of locations. This race in Pontevedra was the fifth prueba (test) in the World Triathlon Cup after Haeundae (Corea), Osaka (Japón), Arzachena, (Italia) y Huatulco (México), and the only location in Spain. 
And it was happening on the other side of the street. We could look out the window and see the transition area.
At first, I thought I would miss the event due to an epic trip of adventures in Asturias with my friend Marcos. But we ended up coming back to Galicia a half-day earlier than planned. When I woke up, the elite men's race had yet to start.
It turned out the start of that race was at 1:15 p.m. I walked outside and watched the elites race from start to finish. Below is a video I took.
The field was international, as I mentioned above. Several athletes were from the U.S., Canada, Mexico, Ecuador, Columbia, the U.K., and other countries. Of course, Spain was well-represented.
The distances the elites raced were 1500m for the swim, 39.5k on the bike, and 10k for the run.
The eventual first two male finishers were from Spain, including local hero Antonio Serrat from nearby Vigo. Serrat trains with the former #1 triathlete in the world and Pontevedra resident Javier Gomez Noya.
The race was over in a couple of hours, but to our delight, there were still more races for non-elites. There were older folks, a few people packing a spare tire, etc. They did the sprint distance, including an 800m swim.
Next year there will be an even higher-profile event in Pontevedra: the World Triathlon Championship Finals, also known as the "crown jewel" of World Triathlon's annual calendar. At this point, I guess I shouldn't be surprised!