Cycling at los Lagos de Covadonga
Initially, I was thinking that 3 Picos Road Pontevedra would be my long and hard ride of the summer. But that was before my friend Marcos invited me on an adventure-filled trip to Asturias.
"Mira esta ruta!" he wrote.
Esta ruta was a classic cycle tourist route that was as long as 3 Picos Road but had even more climbing. It was 112 kilometers with 2000 meters of elevation gain. The most significant uphill would be between Kilometer 31 to 45. Other ascents would be between Kilometer 69-83, but they were much less steep and were broken up with downhill segments to recover your heart rate.
What Marcos did not mention, however, was that the big climb was one of the most frequented finish locations at la Vuelta de España. In fact, the ascent at Los Lagos de Covadonga was included in that Grand Tour in 1983 in order to rival Alpe d'Huez of the Tour de France and Montirolo Pass of the Giro d'Italia.
Los Lagos de Covadonga was also included in Stage 17 of last year's Vuelta. Its steepest grade is 15%, at Kilometer 7 of the climb dubbed La Huesera.
The entire climb was mostly closed to cars. However, there were many buses shuttling tourists to the lakes. There were also a lot of cows.
Having done little cycling training this year, the climb felt very long. However, I paced myself well enough that the legs did not blow up or suffer any cramps. There were also a couple of flat or downhill sections closer to the top that offered respite.
The return trip down the mountain offered gorgeous views of the asphalt snaking through the mountains and past the lakes. I could see why there were so many tourists here.
However, the sudden appearance of one of the buses on the narrow road caused a woman to crash. She had a one-centimeter scrape on her face by her mouth as a result but was mostly ok.
After the long descent, Marcos and I stopped at the Capilla de la Santa Cueva for a look and to refill our water bottles.
We also stopped by the Sanctuary de Covadonga.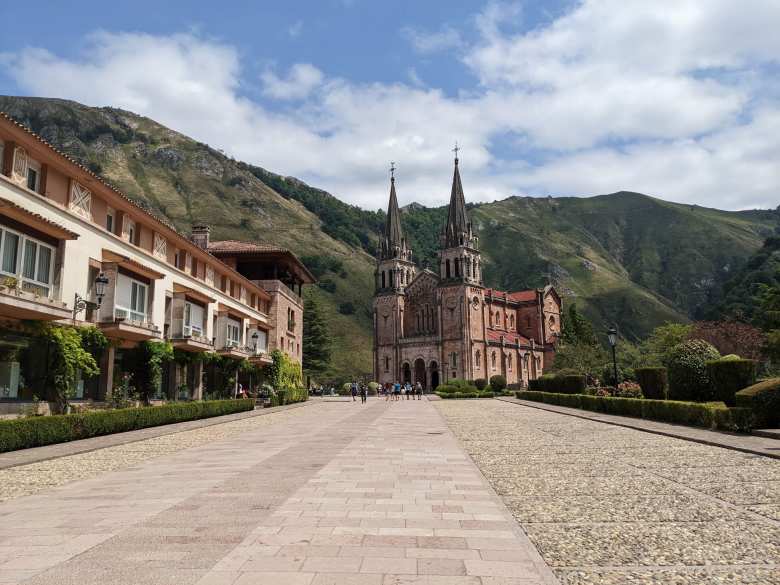 The hard part of the ride was done, but there was still some climbing left on a narrow road unfrequented by cars. But the climbs were much shorter than the ascent at los Lagos de Covadonga. They also offered lots of shade, lush scenery, and beautiful views.
Fifteen kilometers from the start/end of the ride, we stopped at a cafe bar to buy bocatas (small sandwiches) to go. We then ate them at a beach that Marcos had rock climbed before.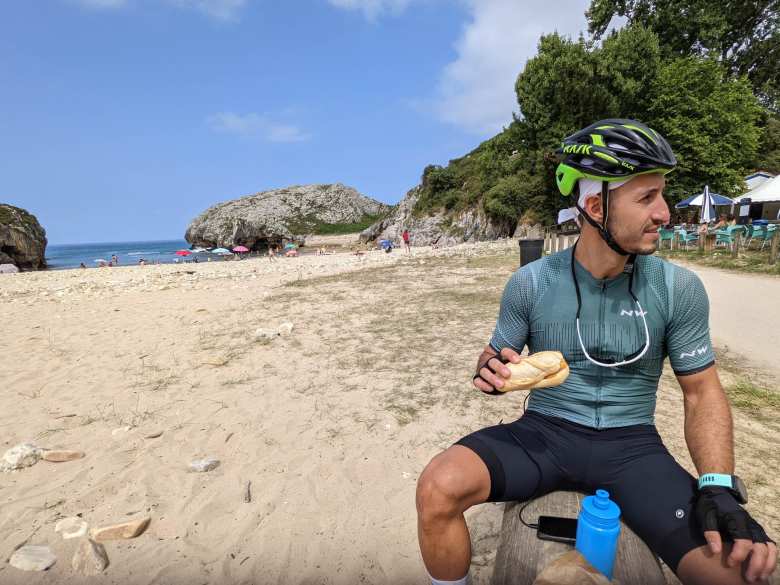 This was a great metric century to bike through Asturias, one that offered a taste of la Vuelta de España. It turned out that 3 Picos Road Pontevedra was good training for it.
Notes
We followed a route entitled Lagos de Covadonga on Wikiloc.
There is also an organized, annual gran fondo that was similar to our route but ended at the top of the Lagos de Covadonga climb.
Ride Data