A Cameo in the Kipchoge: The Last Milestone Movie
Earlier this year, my Spanish friend Antxon, who shares my passion for marathons, reached out to me. He had just watched a documentary about Eliud Kipchoge, the esteemed Kenyan long-distance runner universally hailed as the Greatest of All Time (GOAT) in marathoning. Antxon and his wife Vicky found the movie intriguing and thoroughly enjoyed it. Along with his message, he attached a picture from what seemed to be their TV.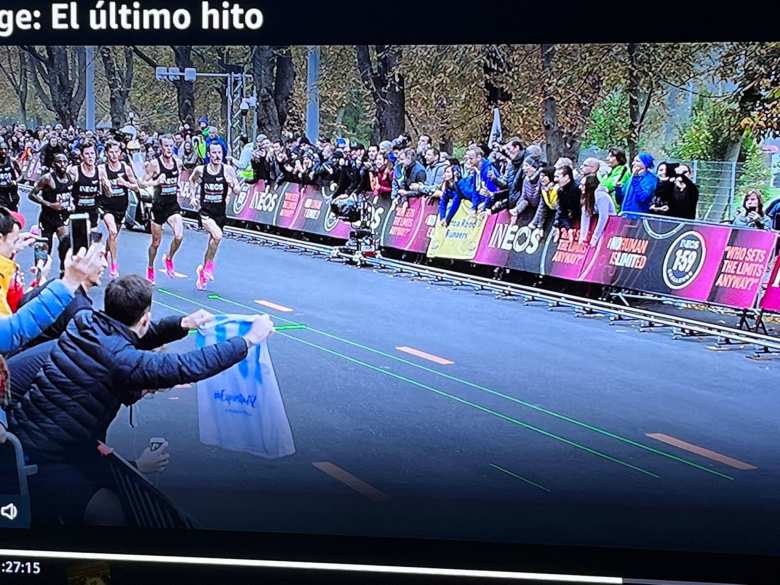 "That's me!" I exclaimed in Spanish.
Curious, I asked how in the world did he recognize me. He explained that he remembered where I stood in the photos I had posted from the 2019 INEOS 1:59 Challenge—an "exhibition" race in Vienna where Kipchoge attempted to break the two-hour marathon barrier. Antxon must have the eye of an eagle. Personally, I struggle to pick people out in a crowd when there are more than ten.
Months later, before I had a chance to watch the full documentary myself, I came across an interview where Kipchoge shared advice for non-elites on improving their running speed. While the video didn't reveal any groundbreaking insights that would help me break the mere three-hour barrier (the closest I had ever come was 3:03:24 back in 2007), it did feature the official trailer of the documentary Antxon had seen.
In a surprising moment, I did a double take. "Wait a minute," I thought. "I think that was me!"
Indeed, if you watch the trailer below attentively, you can spot me at 1:25. They showcased me just as an expert on screen expressed, "I still believe that breaking the two-hour marathon is impossible." Perhaps my downward-looking expression betrayed disbelief; who knows?
Finally, on the night before October 12, 2023—precisely four years after I had witnessed Kipchoge shatter one of the last remaining sporting barriers of our time—I watched Kipchoge: The Last Milestone. It was not only exhilarating to relive the event but also enjoyable to spot every instance where I made a cameo in the movie.
I identified three moments: one just before, one in the middle, and one at the end of Kipchoge's legendary run. These occurred at 0:44:29, 1:00:10, and 1:18:06 in the full movie, which I've compiled below for your viewing.
Kipchoge: The Last Milestone is an interesting, inspiring documentary, one I highly recommend. To watch it in its entirety, you can rent it on YouTube.
INEOS 1:59 Pace Challenge
In addition to watching the Kipchoge movie, I attempted INEOS' 1:59 Pace Challenge on the fourth anniversary of Kipchoge's historic run. The gist of the test is this: can you run as fast as Kipchoge did on October 12, 2019?
Obviously, no one currently can for 26.2 miles, with the possible exception of 23-year-old Kelvin Kiptum (who a mere five days ago broke Kipchoge's official 2:01:09 world record by running 2:00:35 in Chicago). I can't run at Kipchoge's world-beating pace for one whole mile or even a mere kilometer. But can you for one full minute? That is the INEOS 1:59 Pace Challenge.
Completing the challenge means that in 1:00 you:
Run at least 352.6 meters (0.22 miles)
Run at a pace of 2:50/km (4:34/mile) or faster
Run at a speed of 21.2 km/h (13.2 MPH) or faster
During my weekly Sprint 8 workouts, the farthest I typically can run in 30 seconds is 170 meters, with a few instances where my Garmin recorded 180 meters at the end of an interval. Hence, I knew this challenge would be a formidable one. Achieving 352.6 meters in 60 seconds would require me to exert maximum kickback for the entire minute and sustain a faster leg turnover than the 190-200 steps/minute cadence of my Sprint 8 sessions.
Somewhat apprehensively, on the fourth anniversary of Kipchoge's legendary run, I jogged to a smoothly paved road near my Fort Collins neighborhood. I set the Garmin for a 350-meter interval, mindful that I needed to keep sprinting for an extra half-second after the interval to complete another 2.6 meters.
Since I started with my heart rate below 110 bpm, my breathing only became super taxed the last 200 meters. The last few weeks I have been working hard at breathing through my nose at all times–including during high-intensity interval training–but I made an exception for this event and was breathing out through my mouth for the last 20 seconds.
Surprisingly, the Garmin signaled I was done after 52 seconds. And Strava confirmed that I had indeed run 370 meters in 56 seconds. My average cadence was 216 steps per minute, average pace was 2:32/km (4:05/mile), and average speed was 22.7 km/h (14.1 MPH).
However, this effort had a couple of caveats. There was an 8-meter descent, equivalent to a 2% downhill. It was much like the bridge near Vienna's Prater Park on which Kipchoge began his run. Additionally, I had a 1 m/s tailwind, akin to the draft Kipchoge benefited from with his pacers.
The next time I take on this challenge—perhaps on the fifth anniversary?—I intend to attempt it on a 100% flat road with no wind. I believe I could still complete 352.4 meters in one minute, albeit with great effort. As the GOAT famously stated in the INEOS 1:59 Challenge, no human is limited, right?