Witnessing the World's First Sub-2-Hour Marathon: INEOS 1:59 Challenge
When I heard that Eliud Kipchoge's second attempt to become the first person to break the once seemingly impossible two-hour mark for a whole marathon was going to be held on a spectator-friendly course in Vienna, I knew this was something I wanted to see in person.
After all, this could be the marathon's equivalent of the four-minute mile, something achieved 65 years ago by Roger Bannister and is still talked about today. For me this would be even more exciting than, say, a total solar eclipse—at least those reoccur, even if it was 38 years for the last one to be seen from the United States. Even Kipchoge himself said this was way more important than the Olympics or even another world record (for which this time trial would not qualify for due to contrived conditions, including non-regulation use of pacers and hand-off of liquids).
So I booked a flight over to Vienna and crossed my fingers that Kipchoge would be having a great day during the INEOS 1:59 Challenge. INEOS is a large British chemical company that also sponsored last year's Tour de France-winning cycling team.
"I'll give him a 50-50 shot of going sub-2-hours," I told my friends about Kipchoge. I knew he was the current world-record holder, defending Olympic gold medalist, and of course, the man who had gotten closest to that magical two-hour barrier with an incredible time of 2:00:25 in Nike's 2017 Breaking2 event. But I was also aware that everything would have to go perfectly, something that is a rarity in a running race that is 26.2 miles long.
A coin-flip chance was also a lot higher than what academics were predicting just a few years ago:
Just how likely was this? When researchers from Australia crunched data from marathon world records over the past 60 years, they concluded that there was a 10 percent likelihood that the two-hour mark would fall in May of 2032, and just a 5 percent chance it would happen by 2024.

Source: Runner's World
To control the variables as much as possible, a worldwide search was done for the "optimal" place for the INEOS 1:59 Challenge. Prater Park in Vienna was chosen due to being virtually perfectly flat, at sea level where oxygen is more available than at altitude, lined with trees that would help block any wind gusts and block the sun, and was not too many time zones away from Kipchoge's residence in Kenya so that he would not suffer from jet lag. The tentative date was scheduled for October 12, but if weather was not optimal (defined as something like between 8-12 degrees Celsius and no wind), it could be pushed as far forward as October 20.
The October 12 date was confirmed a couple weeks after I booked a one-way flight, but the start time of 8:15 a.m. was not decided until the afternoon of October 11 when I was going for a run on the time trial course myself.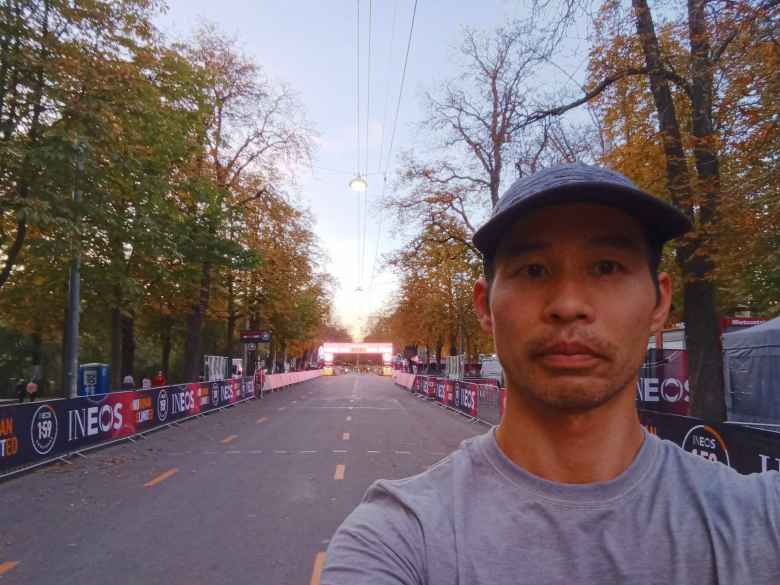 I was mentally prepared for an earlier (like 5:00 a.m.) start, but apparently the later race time was decided upon as to maximize the number of spectators to cheer on Kipchoge. That was a good idea, I thought, considering how literally every person I talked to in Vienna the day before the event did not know what was going on or its significance, including tourists in Prater Park.
On race morning I woke up at 6:00 to walk over to the park and secure a good viewing spot at around 6:50 a.m., and even at that time it didn't look like there were many spectators. But within an hour, it was clear there were thousands.
The moment the clock turned 8:15 a.m…. Kipchoge was off and running with his pacers! Over the next couple hours, he ran by eight times on this 4.4-lap course. Despite clicking off each kilometer in 2:50 (4:34/mile), his effort looked effortless. His pacers, which included many running legends including multiple American record-holder Bernard Lagat, did too.
I managed to capture each pass on this video:
Of course, the very last pass was the most exciting of all!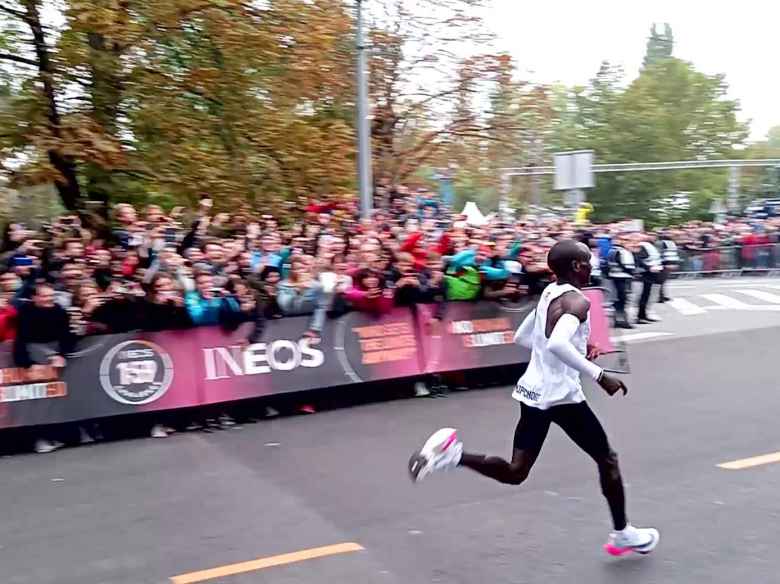 Below are photos I took. Also check out The Independent's 70 photographs of this historic event.