As a passionate runner, I've reveled in the joy of achieving good finish times over long distances during the past couple of years. Remarkably, I clinched my swiftest marathon time in eight years just last year and followed it up a few weeks ago with my quickest half-marathon in nine years. Yet, amidst these triumphs, a disquieting trend had surfaced over the last decade–my speed over shorter distances was deteriorating despite my unwavering dedication to high-intensity interval training (HIIT) on a weekly basis.
The annual Rolland Moore Park 4K, a race I've participated in seven times in the past, has always been a favorite in my running journey mainly because it is Not That Long. Each time, I powered through the course at a pace ranging from 6:22 to 6:50 per mile. The last time I ran it, I clocked an average pace of 6:48/mile per official results, or 6:54/mile per Garmin. While that was in 2018, I was determined to beat it. So with optimism in my heart, I pre-set my Garmin Forerunner's target pace to 6:35 per mile (4:05 per kilometer), knowing full well the audacity of this goal.
For this run, I opted for my trusty pair of 2012 Puma H. Street+ shoes, a choice steeped in nostalgia and a desire for agility. These shoes, although less cushioned than my recent Saucony Kinvara 13s, are lighter and more responsive. Similar models had carried me through previous editions of the Rolland Moore Park 4K, and I hoped my last remaining pair would guide me to success once more.
At the start line, amidst a small group of fellow runners in my wave, I was steadfast in my intention not to launch too quickly. The strategy, however, seemed to falter; perhaps I didn't start swiftly enough. The first half of the race clocked in at 8:27, or 6:48 per mile–already trailing behind my target pace.
As the course inclined slightly in the second half, maintaining momentum proved even more challenging. While not entirely spent, I struggled to summon the strength to push harder until there was a mere 75 meters left to conquer.
My journey across the finish line concluded in 17:18, marking the second slowest time I've recorded in the history of this race. Officially, my pace was 6:58 per mile. Yet, my Garmin hinted that the course may have been a tad over 4 kilometers, adjusting my pace to 6:52 per mile–roughly the same as in 2018. As I reflect on this, I recognize the growing challenge of staying under the 7:00 per mile barrier at this stage of my running journey.
It's evident that this experience has shed light on a phase in my running career where Father Time is making it harder to run fast, prompting me to reevaluate my approach and renew my determination. It's a reminder that despite setbacks, the journey remains an adventure, pushing me to persevere and evolve in pursuit of my running aspirations.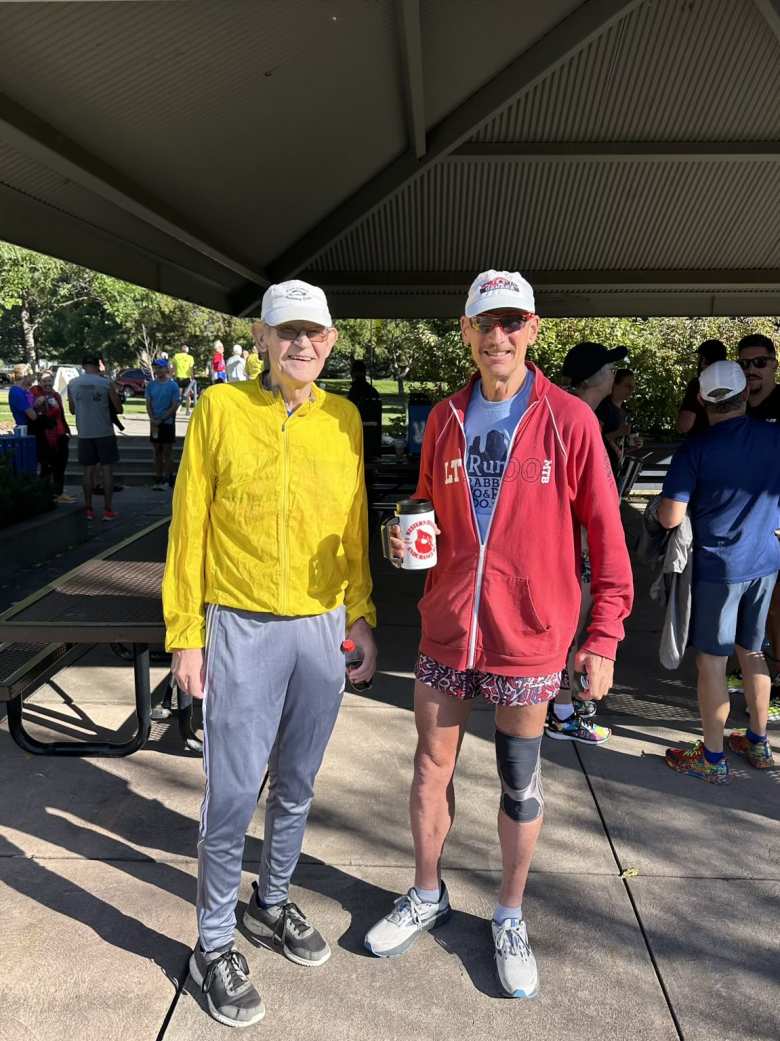 Yet the event provided some encouragement. For example, after the race, I talked with my friends and long-time Fort Collins Running Club members Tom and JZ. Both are 70 years old, Tom being the older by only about six months. They are still running despite becoming septuagenarians. JZ, impressively, even ran a mountainous 100-kilometer trail race at altitude in the summer. Both of my experienced friends give me hope that I still have many more decades of running left in me.
Race Data
First half: 8:27 (6:49/mile)
Second half: 8:51 (7:08/mile)
Final time: 17:18 (6:58/mile official; 6:52/mile per Garmin)
Official results