Despite feeling encouraged by yesterday's Disney World Half Marathon performance, I awoke pondering reality: sore legs, a longest run in the last nine months of 14 miles, and the laryngitis-inflicted voice of a toad. Clearly, then, today's event was just to stretch the legs, finish the race, collect some hardware at the end and (ideally) enjoy some laughs along the way.
I took a camera along and didn't bother to hit the johns before the race. I figured the lines would be shorter a few miles down the road.
So the first half of the race strode along like this was a social run (although I still couldn't talk) and paused frequently to take photos with the digital camera I carried in my right hand. And yes, around Mile 3 or 4 I stopped off at a real bathroom in the Disney World park to relieve about 60 seconds worth of fluids.
The second half was more of the same. Which was splendid because every mile there were Disney characters cheering us on, including Goofy, Mickey, Donald, Minnie, and some bears in dresses; Rafiki, the baboon from The Lion King; Frozone, from The Incredibles; and Sulley, from Monsters, Inc. There were dozens more, but these were the ones I was able to figure out after sending photos to a friend who is something of a Disney buff.
From Miles 16-20 I started to think, "Hmmm, my legs are actually feeling pretty good," but successfully kept them in check knowing that in the past, they've had an obnoxious tendency to start seizing up like an engine without oil around Miles 20-21.
But after the psychologically important twentieth mile, not only did I decide that my legs were feeling all right, I had enough of this leisurely pace. And so after passing the Mile 21, I pointed a straight palm forward in a gesture to myself that said, "Let's go!"
Running like Rafiki the Baboon (I imagine), I probably took off too exuberantly as I must have passed at least two hundred people in the next few miles. With two miles to go my now-burning legs were paying for that effort, and I started running more in line with the other runners especially on the slight uphills, but passing them again on the downhills.
As I entered the finishing straight past the Epcot Center and could see the finish line in the distance, I commenced a sprint wondering if I'd finish in four hours or so. I was wearing a watch but was not using its timer, not wanting to erase the mile splits from the half-marathon the day before.
Turns out I finished just over four hours by six minutes, but did achieve a negative split, something that has eluded me in all other marathons except one.
All that was purely academic though, and I did get plenty of photos (at the right) and smiles and laughs along the way. And yes, some nice hardware at the end!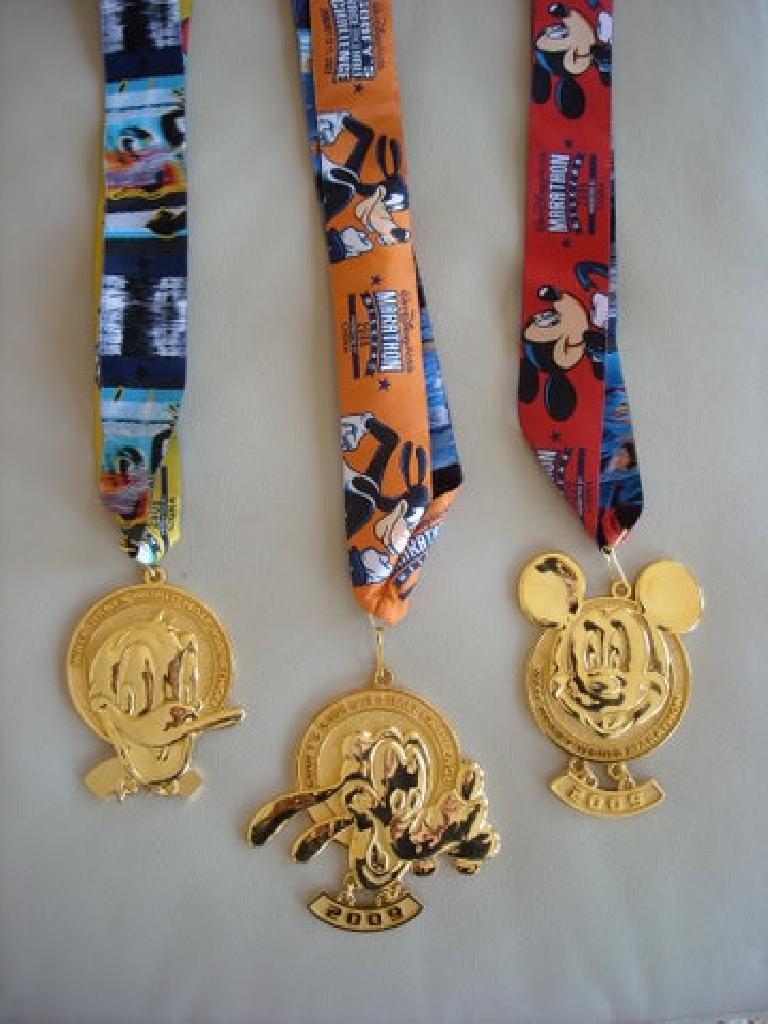 Time Splits
First half: ~2:05:xx
Second half: ~2:00:xx
Final chip time: 4:06:22