Were it not for the mosquitoes, there were many reasons I should have gotten an excellent night of rest: I was on vacation, the air was warm, a light rain was meditatively tapping on the rooftop, the waves of the Caribbean Sea were audibly washing up the shore just a couple hundred meters away, and two of my closest friends were sleeping peacefully across the room.
But even after I finally fell asleep after those bastardly blood-sucking insects had a virtual smorgasbord known as the Felix Buffet, I was abruptly woken up by some people outdoors who were making conversation. One of them had a particularly odd laugh, indeed obnoxiously so.
"Breakfast time," I thought.
I could tell that Raquel and Tori were also getting stirred from their sleep—this was, after all, when we should have been waking up anyhow—so after washing up and getting dressed we headed over to the breakfast room at our hotel. As we entered, we were greeted with an articulate, "Hola." I looked around and all I saw was a green bird. A parrot.
"Ah, Verdi," said the hotel's owner. Apparently, the parrot—the de facto professional greeter of the Kelly Creek Hotel—had a name. "Hola," I replied.
We then sat down and not long after, the owner had brought out some bread and marmalade and butter. Verdi must have been doing an extremely good job with his greetings ("Hola. Hola. Hola? HOLA!") because shortly after, a 3-inch-long lizard crawled onto the table and started licking the marmalade. Must have been breakfast time for Lizardo too.
Not wanting to be left out of the action, a dog moseyed on over too, putting his snout onto Tori's thigh. There were now five of us at the table—at least until Verdi walked on over to the empty chair to my left, to make it six.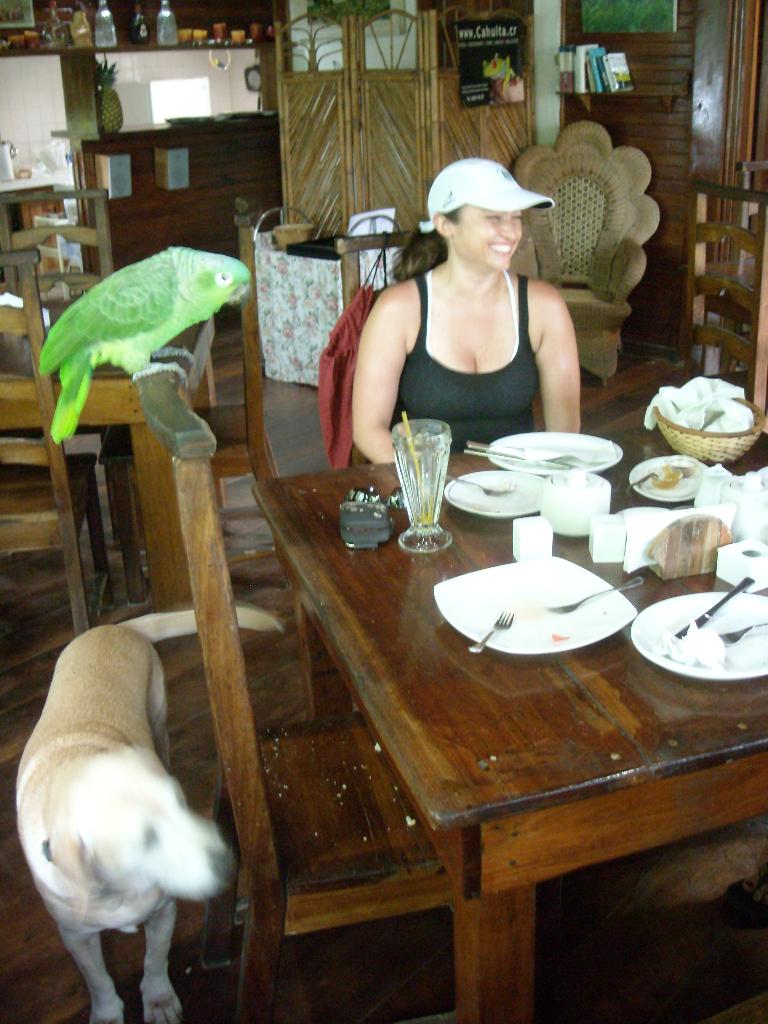 As it turned out, Verdi—who not only was fluent in Spanish but spoke English as well, as evidenced by his occasional interludes of "hello," "bye-bye," and "it's a parrot!"—was a gracious host, even timely laughing at jokes. So it was Verdi who woke me up with his chuckles.
He also was quite a conversationalist, as seen here discussing world events diplomatically with Raquel:
The ironic thing was we had woken up early to get a head start on a seven-mile hike through Parque Nacional Cahuita in order to see wildlife. Yet, we hadn't even left the hotel and we were enjoying the company of amicable animals as it was.
After we finished eating and left the breakfast room to wander into the jungle amongst the monkeys, I couldn't help but feel we had just had a special pura vida moment among the six of us. And days later after we left the Caribbean coast, I'd truly miss Verdi—even if he did in fact have an extremely obnoxious laugh.