Yishun 27mm Alloy Clincher Road Wheels Review
For the Super Bike project, I spent a lot of time looking for a lightweight wheelset that cost only a few hundred dollars. Eventually, I came across some posts on the Road Bike Review forums about some wheels sold directly from China by a company called Yishun. The wheels were advertised to weigh only 1390g for about $300. If true, this seemed to be the best new wheel bargain available.
This post is about my experience in purchasing and using these wheels.
Specifications
From Yishun's web site:
100% HAND-BUILT ALLOY ROAD WHEELS
BY EXPERIENCED WHEEL-BUILDERS FROM Yishun:

A superb wheel needs superb rims, hubs, spokes, and nipples. Also it requires a good mechanic calculations on the accurate spoke lengths, also spoke tensions, and the skills of the mechanicals. The spokes used in our wheels are only within 1mm tolerance of length, so make sure, the spokes are running into the rims and nipples deep enough but not too deep. For spoke tention, it requires indeed complicated works. Our experienced mechanicals have to adjust several times for the wheels to get an even-tension on every spokes. All these make sure that our wheels could offer superb accuracy and stiffness.

27mm alloy clincher wheels specification:
Rim/F Kinlin xr270 700*H27*20H 1 6061-T6 black
Rim/R Kinlin xr270 700*H27*24H 1 6061-T6 black
Hub/F Chosen 14G*20H 1 6061-T6 black
Hub/R Chosen 14G*24H 1 6061-T6 black
QR/F 1 black
QR/R 1 black
Cassete body "shimano 8/9/10 speed"
Spoke/F PSR1420 14/19G 20 stainless black
Spoke/R PSR1420 14/19G 24 stainless black
Nipple PT734 14G*L14mm 44 7075-T73 red
Rim Tape Chosen 700C*W17*T0.5 2 Nylon red
weave style/ F average/0 across
weave style/ R average/2 across
weight: 1390g

$361 (May 2011)
The Ordering Process
In addition to the Yishun website, they wheels were listed on the Alibaba Marketplace. Because I was only going to get these wheels if I could get them for $300 (not the $361 advertised on Yishun's website), I went through this channel. No price was listed on Alibaba, but I took that as a sign I could negotiate.
April 27: Created Alibaba account I quickly created an Alibaba account and corresponded with Karen, a sales representative for Yishun in China. I asked her the price of the wheels, noting that I saw on one of the bicycle forums that people were saying they got them for $300, and that I'd pay via PayPal.
April 28: Karen confirms that she'd sell them for $300/pair + 5% for PayPal. She wrote:


Hi Flexis [sic], tks for your email. price is usd300/pair with shipping cost, if pay with paypal. we will ask 5% extra charge. let me know what is your idea

April 29-30: I confirm I will buy the wheels and ask for a PayPal invoice. Karen says China was on holiday so she'd send invoice later.
May 3: Received PayPal invoice
May 4: Sent PayPal payment of $313.95
May 7: Sent inquiry to Yishun for tracking number.
May 9: Yishun asks me to inform them of PayPal account I used.
May 10: Yishun says will send wheels today.
May 13: Yishun sends tracking number after I request it.
May 17: Receive the wheels in a very large and sturdy cardboard box from UPS.
So I received the wheels about 20 days after my initial inquiry, and 13 days after payment (it took Yishun 5-6 days to send a PayPal invoice). It seems like the wheels only took about a week for them to be delivered from when they were actually shipped in China.
Initial Impressions
The wheels are gorgeous! The hubs and spoke nipples are red anodized (not black as advertised in the specs on Yishun's web site), along with the quick-release skewers (105g) that I ended up not using. (Instead, I used some $40 40g Dixi quick-releases I found on ebay.) I really like the red anodization because they match the color theme of my bike.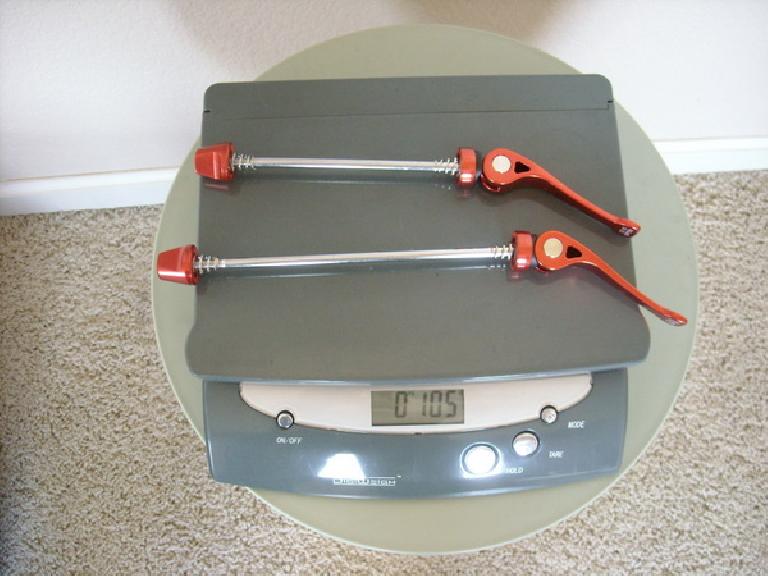 The spokes are bladed. They are black, as is the rim.
Both wheels were entirely true and the spokes seemed to be evenly tensioned. I like how there are no decals. The red anodized parts are "blingy" enough.
Actual Weights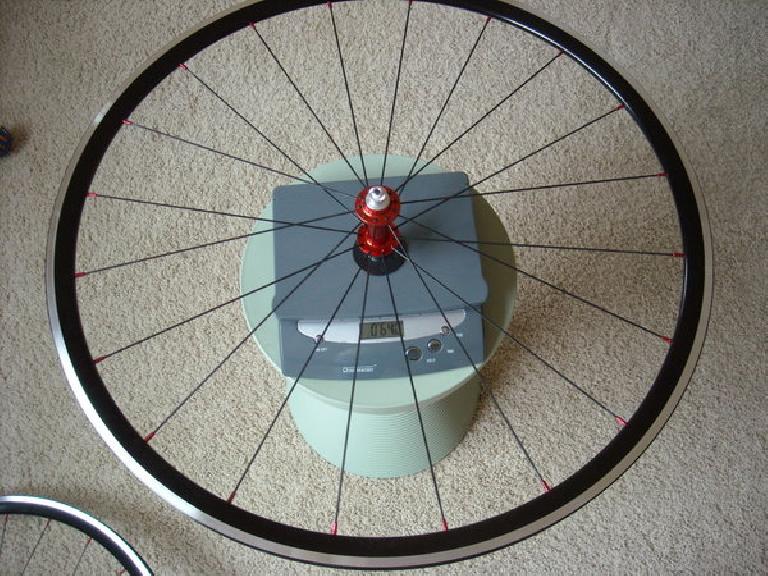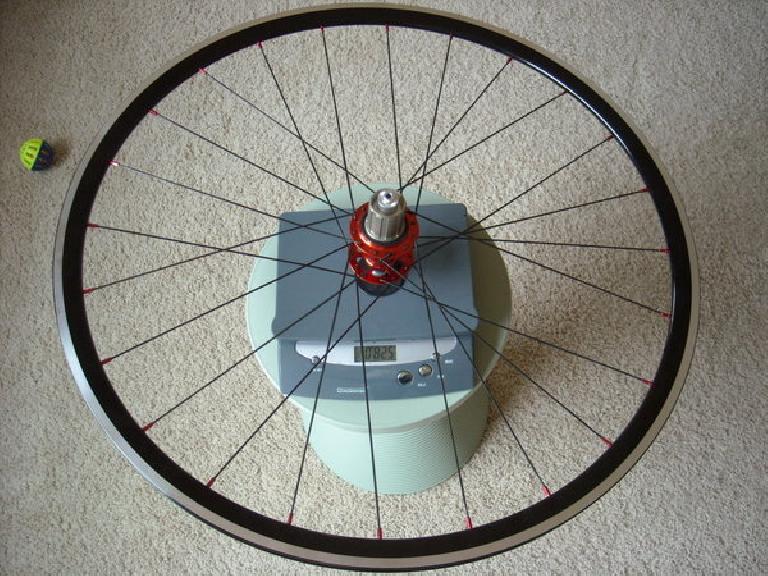 The wheels came with red cloth rim tape which weigh about 15g per wheel, or 30g total.
Therefore, the total weight of wheelset without the included skewers = 640g + 825g – 30g (rim tape) = 1435g, or 45g (0.10 lbs.) over advertised weight.
Freewheeling Noise
If Chris King freehubs are any indication, it seems like the higher end a rear hub is, the louder it is when coasting. The rear hub on these wheels, then (made by "Chosen") must be pretty high quality then since they are loud. Maybe not as loud as Chris Kings, but close.
Unfortunately, I don't like loud freehubs. I much prefer the stealthy Shimano Ultegra 6500 hubs on my 1998 Mavic CXP-30 wheelset.
So I tried greasing the pawls (there are three of them) on the rear Yishum wheel with lithium grease (which turned out to be a three-minute job—the pawls are readily accessible by disassembling the rear hub with hex key wrenches). The result: the freehubs are only slightly quieter and are still loud.
One upside of the noise is instant engagement of the pawls when pedaling. But I may try removing one of the three pawls and injecting even more grease to try to quiet them further.
Conclusion
After riding them in the St. Vrain 600km Brevet, I declare these as beautiful, high-quality wheels. After much searching, I believe that as of May 2011, there is no lighter or better wheelset on the market for the $313.95 I paid.
The main drawback with these wheels is the freewheeling noise. (Some people don't mind this, but I kind of do.) Also, I'm not sure how easy getting parts for these wheels would be.
Therefore, I'm not sure if I'd recommend these wheels over the following purchase-from-American-vendors options:
I have no first-hand experience with the loudness of the above options, although I hear that Neuvation wheels are typically not too noisy.
Also, both Neuvation and Bicycle Wheel Warehouse are reputed to have great service and stock replacement parts for their wheels. Also, placing an order with any of the above vendors presumably would not have required a dozen e-mails. So if I were to purchase new wheels again, I would probably go with one of the U.S.-based distributors instead of Yishun.
Update
June 27, 2011: Two days before the St. Vrain 600km Brevet, I dramatically quieted the rear freehub in about 20 minutes. Here's how I quieted the noisy freehub, including a photo tutorial and before and after videos.
September 14, 2016: I successfully converted this wheelset to tubeless. It was pretty easy.