Soil Solarization Project: Fail
"Hey, check this out," I wrote Leah shortly after my soil solarization experiment last year. "Out of curiosity, I plopped a kitchen oven thermometer in the garden plot, and it read 128 degrees. I then measured the temperature of dirt in other places of the back yard not covered by plastic, and the temperatures were around 94 degrees.
"128 degrees… I gather that will sufficiently roast the weeds!"
And then from August 2010-March 2011, my garden lay bare. Well, except for when in January, Leah brought over a bunch of composted manure. Then the garden plot was full of crap. Anyhow, I was optimistic I would have less weeds in the plot this year.
Turns out this wasn't the case.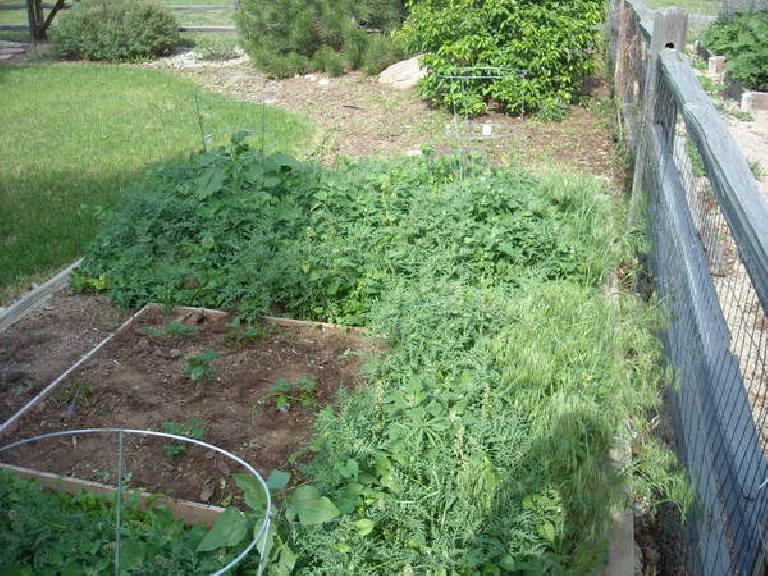 Look at all the weeds in the above photo! So no difference from previous years. "But wait," you say, "there's a whole section that is barren." Well, that's because Leah and I pulled the weeds from that area minutes before I shot this photo.
My verdict of the solarization experiment then: FAIL.
At least the garden is producing plenty of vegetables that Leah planted, including spinach, lettuce, and strawberries. Supposedly, cantaloupe, squash, and bell peppers will emerge soon too.
Along with the next batch of weeds, I am sure.