It's a small miracle that I managed to get Colleen to come to Fortoberfest. Presumably, the two-wheeled part of the inaugural festival's motto of "bikes, bands and beer" did not interest her all that much considering she does not own a bike (the one which she had owned was stolen), much less six like normal people such as myself. But she didn't mind strolling around Old Town Fort Collins with me, bouncing between the music sets, beer booths, and, yes, bicycles.
She even did her best to seem enthusiastic when I told her, "Let me show you a bamboo bike." Alas, Panda and Boo Bicycles (both Fort Collins-based purveyors of frames made from the tubular renewable resource) were nowhere to be found. It would have been amazing if they had made it down considering the two companies' representatives had been at Interbike, the continent's largest bike expo, in Las Vegas the previous four days.
No matter—the weather was lovely, music was playing, and colorful cruisers dotted the closed roads. And there were enough bike booths to keep me interested, and few enough of them to prevent Colleen from getting bored. She even encouraged me to stop by "The Bike Wizard" where a cycling buff quizzed festival goers on bike trivia.
There I correctly answered all "expert level" questions correctly, including correctly naming a structural tube ("chainstay"), the parts of a wheel (spokes, nipples, hub, rim), and some of the forefathers of mountain biking (Gary Fisher, Keith Bontrager, Tom Ritchey, and Steve Potts of Wilderness Trail Bicycles), to earn a brass handlebar bell and a headlight. These will probably go on the Huffster: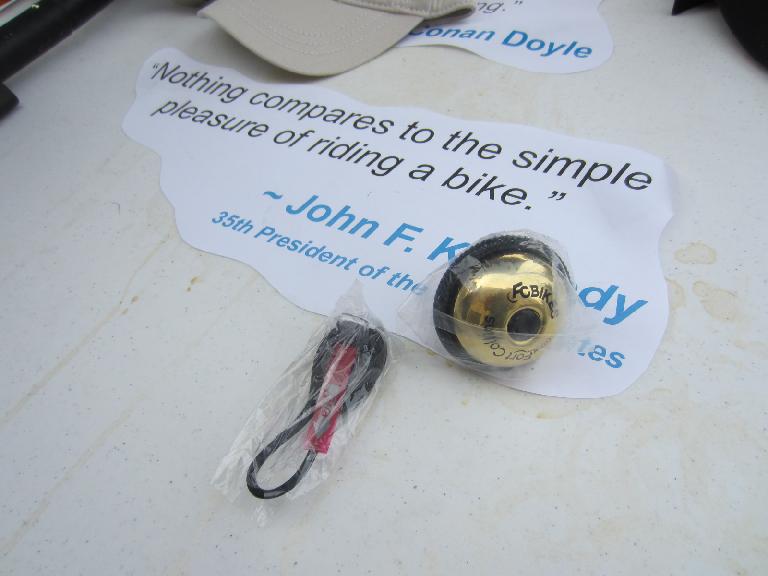 I also managed to win Colleen a stylish brown cap. Here she is modeling it. Personally, I think it goes quite well with her lizard necklace: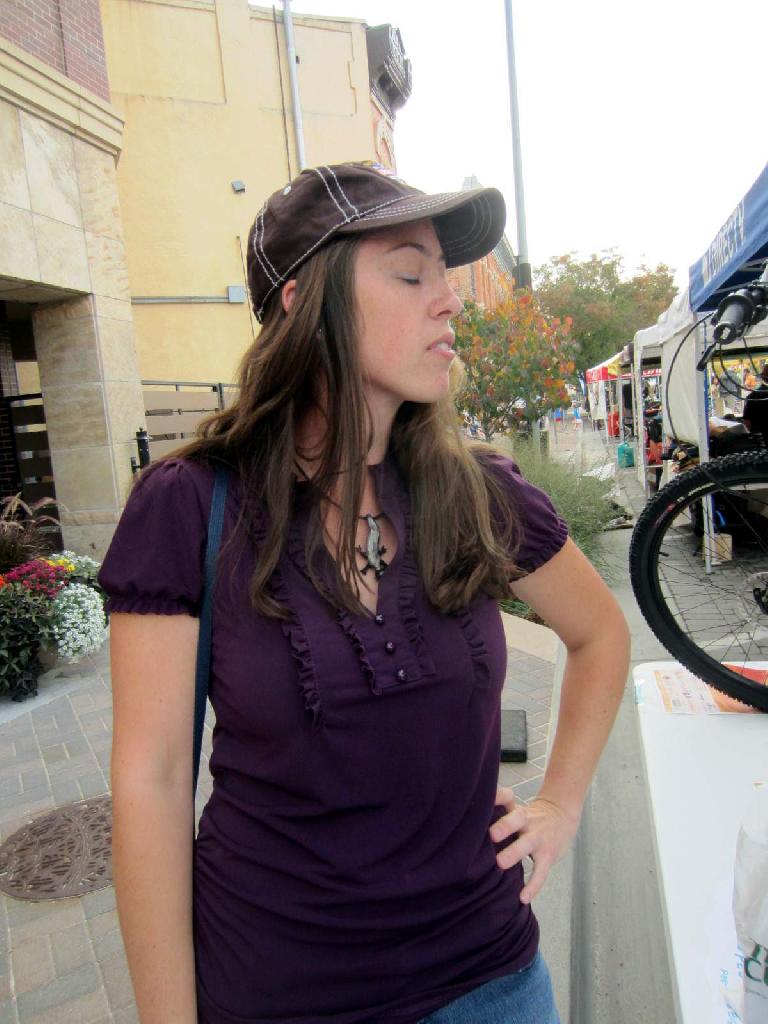 Maybe now this bicycle-deprived woman will even want to get a bike? In any case, we had a great time.