A few years ago, my mom wrote me about a $99, 10-day tour of China that my aunts and uncle had just done. More recently, she and my dad invited me to actually do it ourselves. This trip would hit seven different Chinese cities, include all meals (breakfast, lunch and dinner) and five-star hotels, and provide tour guides and all ground transportation. The only thing not included in the cheaper-than-an-iPod price was airfare to and from Shanghai.
Sound too good to be true? Well, there were a few catches. First of all, it was advertised "for Chinese-Americans and Chinese-Canadians only" (although there were also some Chinese-Australians in our group) and the tour was conducted entirely in Chinese. (Mostly Mandarin, although the many of the tour guides could speak Cantonese as well.) Each day the tour participants would visit one or two shops or factories, which would not only be an educational experience but also afford them the chance to purchase luxury goods like pearls and jade at discounted—but often, still steep—prices. There would be some sales pressure, but not overwhelmingly so.
How could such a tour be possible?
My folks had a couple theories:
The Chinese government was sponsoring this trip for foreigners of Chinese descent as a sort of gift, and also to entice them to come visit, spend money, and maybe consider coming back to either live in or invest in China.
Local companies—usually retailers of high-end products such as pearl, jade, and even expensive Longjing green tea—were sponsoring this tour, knowing that many of the tourists would buy their products.
I don't doubt (1), but (2) particularly made sense. Especially when I saw people in our group buy hundreds of dollars worth of painted globes and Longjing tea, and thousands of dollars worth of pearls and jade. Basically, it was a marketing ploy similar to the "free" vacations in the United States given on condition that you attend a two-hour time-share seminar. The difference was the Chinese retailers we visited often provided history and education on how their products were made, and did not give a hard sell or resort to used car salesman tactics favored by their American counterparts.
Whatever the case, this was one of the best vacation deals I have ever seen, especially when considering just one night at any of the hotels we stayed in would have normally cost more than $99. We were particularly fortunate to do this vacation at this time not only because May is probably the most comfortable time of year to visit China, but because our guide mentioned that the price will most likely go up next month due to changes in Chinese regulations.
It was a great trip, one that my mom liked even more than our China tour of 2002. (In my case, I enjoyed the 2002 trip a bit more due to the novelty of going to China the first time and also because it was an English-speaking tour with a few other young Americans. But this was a memorable trip as well and much thanks go to my parents for inviting me to both!)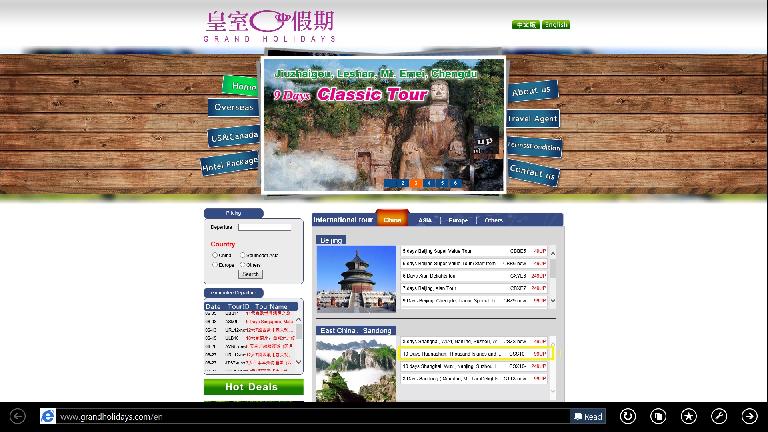 Itinerary
Numbers below correspond to the day number. Names in bold indicate cities traveled to during the day.
We traveled from May 14-24, 2014. The itinerary below is largely copy-and-pasted from Grand Holiday's tour voucher but altered to reflect what my folks and I actually did.
Hometown to Shanghai: Fly to the largest city in China—Shanghai.
Shanghai. Upon arrival, your local guide would normally meet you and transfer you to the hotel. My dad wanted to ride the world's fastest MagLev train from the Shanghai airport, so instead of meeting a guide, we rode the train for 8 or so minutes and then took a taxi to the designated hotel. Thus, we met our guide the next morning. Hotel: Shanghai Howard Johnson Hotel & Resorts.
Shanghai – Nanjing Road – Town God's Temples Area – Suzhou – Couple's Retreat Garden – Shan Tang Street – Suzhou Bird's Nest. Today you will visit the shopping paradise—Nanjing Road. Then go to the Town God's Temples Area including the Yuyuan Tourist Mart; many Ming and Qing style buildings are preserved here. After that and transfering to Suzhou, you will visit the Couple's Retreat Garden and Shan Tang Street, a beautiful Chinese style Venice like water village. Then visit Suzhou Bird's Nest, the largest multi-function stadium in Suzhou, which is known as the twin brother of the Beijing Bird Nest. Hotel: Suzhou Joy Holiday Hotel.
Suzhou – Silk Factory – Wuxi – Xue Family Garden – Tea Pot Factory – Lihu Park. The Lotus Garden is a world cultural heritage with beautiful and peaceful environment. Afterwards, you will visit Xue Family Garden, the largest residence in Jiangnan. Lastly, we proceed to Lihu Park, which has many European style buildings and western sculptures. Combined with the surrounding environment, a dreamlike view is created. Hotel: Wuxi Noble Crown Hotel. Optional: get a two-hour massage at the Well Relaxed massage center from 7-9 p.m. (my parents and I did this).
Wuxi – Tai Lake Pearl Center – Nanjing – Sun Yat Sen Mausoleum – Confucius Temple. After breakfast, go to the Tai Lake Pearl Center. Then visit Sun Yat Sen Mausoleum. (Normally one would be able to hike 300+ steps up to the mausoleum, but unfortunately unbeknownst to our guides, it was closed on the day we went to visit. Hence, we only got to see the mausoleum grounds.) Then visit the Confucius Temple Market. Hotel: Nanjing Glarun Jinling International Hotel.
Yangtze River Bridge – Nanjing – Jade Factory – Huangshan City – Tunxi Ancient Street. Today morning transfer to Yangtze River Bridge, the first road rail bridge built by China without foreign support. Also visit Tunxi Ancient Street; it has been honored as a real-life "Along the River during the Qingming Festival" painting. Hotel: The Barony Hotel.
Huangshan (including cable car up the mountain) – Bamboo Goods Factory – Thousand Island Lake (also known as Qiandao Lake). Proceed to famous Huangshan Mountain Range this morning, one of the ten most famous mountains as well as a national class scenic zone in China. Then, in Huangshan City, visit a purveyor of bamboo goods. Lastly, go to Thousand Island Lake and spend the night there. Hotel: ZTG Resort Thousand Island Lake Hangzhou.
Cruise on Thousand Island Lake – Hangzhou – Leifeng Tower – West Lake Night Show. Today we will visit Thousand Island Lake by cruise; you will have a chance to admire the beautiful view of the water. Then you will also visit Leifeng Tower, a very large Chinese style pagoda, which will give you a great view of West Lake if you climb up to a higher level. End the night by watching Chinese acrobats in an indoor show. Hotel: Hangzhou Pujing Garden Hotel.
Longjing Tea Plantation – Shanghai – Tongren Health shop – Jade Factory – The Bund – Night Cruise. After visiting Chinese doctors and one of Shanghai's largest jade factories, go to The Bund, the financial center of Shanghai that people also refer to as the Eastern Wall Street. Finally, admire the night view of Huangpu River on a cruise ship; it is known as the best way to admire the beautiful view of the river. Hotel: Shanghai Howard Johnson Hotel & Resorts.
Shanghai – Hometown. After breakfast, follow assigned time to airport and go back to home town or pay an extra fee further your trip to another Southeast Asia destination. (My parents did the latter while I flew home.)
Hotels
The hotels were advertised as "5-star hotels," but in truth, they were more like 4-star hotels with an occasional 3-star hotel. They all lacked swimming pools and many lacked a fitness room.
Still, they were modern with quality furnishings, clean, very comfortable, and generally excellent. The hotel lobbies in particular were fancier than those typically found in the States. I wish my own home was as luxurious as most of these hotel rooms.
Speaking of hotels, if you do a tour such as this one, don't expect to be able to sleep in. As in the 2002 tour, we usually had to wake up at 6:30 a.m. or earlier. (I was usually up by 5:15-5:30 a.m.). "This is not a vacation; this is travel!" admonished our tour guide. Indeed.