A Backpacking Trip in the Black Hills of SD (Black Elk Wilderness)
My friend Diana wanted to go on a three-day backpacking trip with her fellow researcher Saar from Belgium. Knowing that I am often game for such sort of adventures, she asked if I would be interested in coming and to help plan it. "Of course," I said.
After tossing around a few ideas we settled on the Black Hills of South Dakota, which are a 5.5-hour drive from our hometown of Fort Collins, Colorado. I could not find any write-ups online about any three-day trips other backpackers had done on this area, so I came up with the following. By posting this article, I hope to provide useful information for other hikers wishing to do such a trip.
Our journey took us by Harney Peak—at 7,242 feet, the highest summit between the Rocky Mountains and the Pyrenees of Europe—and Little Devils Tower, Sylvan Lake, Cathedral Spires and Mt. Rushmore. It also included the five best hikes in all of South Dakota according to Trails.com.
At approximately 34 miles in length with a moderate amount of climbing, it's doable by reasonably fit people without requiring crazy amounts of effort or distance each day when done over a three-day period (which included driving). Yet, it was long enough that we each felt a great sense of accomplishment by the time we had arrived back at the car on the third day.
Planned Route
The initial route I mapped out is shown by the navy blue line below tracing a counter-clockwise loop through the Black Elk Wilderness National Forest beginning and ending at the Willow Creek Trailhead off Highway 244. This trailhead is right across from the Mount Rushmore KOA and is about seven miles west of Mt. Rushmore.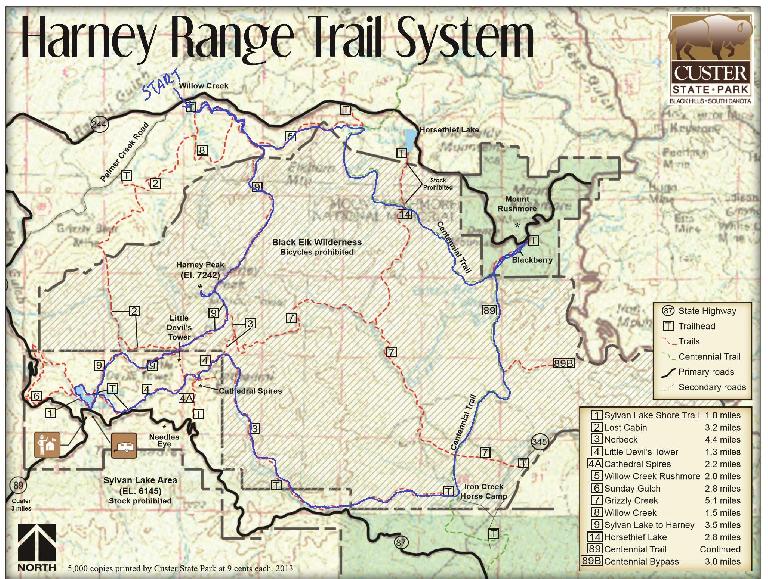 The plan could be summarized as:
Day 1: Hike 10 miles past Harney Peak and Little Devil Tower to Sylvan Lake. Camp.
Day 2: Hike 14 miles past Cathedral Spires towards Mt. Rushmore. Ambitiously, hike an additional 3 miles round trip to/from Mt. Rushmore if time permitted. Camp.
Day 3: Hike 10 miles back to the car and drive back to Fort Collins.
We ended up not hiking the extra segment to Mt. Rushmore due to a late start on Day 2, running out of daylight, and tired feet. Additionally, we inadvertently added on a half-mile here and there while getting lost looking for trails. Signage on much of the trail was often lacking or confusing.
Day 1
We left Fort Collins at 7:30 a.m., and after having a buffalo burger lunch stop in Custer, SD, we arrived at the Willow Creek trailhead by 2:00 p.m. Hiker registration slips (free; one per party required) were available at the trailhead in order to let the Park Service know of your plans. For good measure, I left a note that I had printed at home on the dashboard informing the ranger of my route and plans along with the words "there is nothing valuable left inside this vehicle" so as to reduce the chances of the car getting towed or broken into.
We then walked a half-mile looking for Trail 9, which per the map above I mistakenly thought was the first trail of the route. Tip: start on Trail 8 at the trailhead by the parking lot. This takes you to Trail 9 after 1.5 miles.
From there, we made no more wrong turns on Day 1, although we did frequently wonder which of the tall formations in the distance was Harney Peak. Its distance from the Willow Creek trailhead is just over five miles, but my Microsoft Band 2—which last week received an "Explore" tile to track hiking—was overestimating distance traveled by about 30%. (It seems that in order to achieve over eight hours of battery life using Explore mode, the Band 2 polls GPS only occasionally to record waypoints and relies on another sensor like maybe the accelerometer to estimate pace and distance.) This added to my confusion as of which one was Harney.
It turned out that Harney Peak is the one with a distinctive lookout tower on top. It is the only mountain in this area with a tower; this small building was built in 1939 as a place to spot where there were wildfires. It also turned out that the 360-degree, panoramic views from this tower were astounding.
From there, most of the hard climbing was done for the day and it was a pleasant descent towards Little Devils Tower. We got to Sylvan Lake at 8:10 p.m. (20 minutes before it got dark) and set up our tents in a nice quiet area off the trail near the lake. I then realized that my water filter/pump had a broken handle, but I got the pump working in a less-than-satisfactory manner after using a bit of duct tape to plug the hole on the shaft where the handle used to be. It took a while to pump water—and it turned out not even to be necessary because there was running water near a parking lot on the east end of the lake. But at least the filtration device was now functional enough for the next couple days.
Mosquitoes were looking for a feast so we crawled into our respective tents by 9:15 p.m. I managed to fall asleep right away despite being a little cold—cool enough that I had completely mummified myself with my Mountain Hardware Phantom 32 sleeping bag except for a three-inch hole to breathe out of. I did wake up a few times at night only to fall right back asleep after listening to the soothing sounds of raindrops tapping against the top of the tent.
Unfortunately, the ladies reported neither of them got any sleep until it started raining at 2:30 a.m. Additionally, their shoes got damp despite being placed underneath the rainfly. They also said they were a little cold despite having warmer sleeping bags and two bodies in their tent. All this, I think, contributed to having a 10:20 a.m. hiking start on Day 2.
Day 2
We started the second day by circumnavigating the one-mile trail around Sylvan Lake. This little side excursion was worth it due to the beautiful views of the water and rock formations—one of which had rock climbers on it.
We did, however, have some trouble finding Trail 4, and wandered back-and-forth about a half-mile in order to find it. Tip: Trail 4 is east of the east end of Sylvan Lake, about two parking lots over. There's a water spigot here too, although I suspect it is only turned on during the non-winter months.
Trail 4 surprised us with having quite a bit of uphill. In fact, at one point we were nearly as high as Harney Peak.
At one point, I stopped to take a food break and to let the ladies get a little head start on me. "I'll catch up," I said. Unfortunately, I did this at an inopportune moment because a short distance later was a crucial turnoff: one that turned left to remain on Trail 4, and another to the Cathedral Spires.
Neither of my friends had a map so I could not be confident they knew which was the correct trail to turn off on. Furthermore, I could see neither of them down the trails and my shouts of "Diana!" were met with no response. So I picked the left trail and started running. I stopped to ask some other hikers if they had seen Diana and Saar. In the midst of my confusion happened something a little bizarre.
"Hi Felix," said a woman I did not recognize (but I had not looked at more than a half-second). "Did you lose your friends?" I wanted to ask "how did you know my name?" but figured that she must have encountered the ladies down the trail and they told her my name. But then she (and the other hikers) said they didn't see my two companions. So I turned around to run down the other trail and sure enough, ten minutes later, I found them waiting and eating by the Cathedral Spires.
(Now that I am typing this, I am guessing that the woman who knew my name must have encountered us at the top of Harney Peak and overheard my name. Mystery solved, I think!)
Unfortunately, the trail Diana and Saar went down was the wrong one. So we had to go back up, adding on yet another third-of-a-mile.
By this time it was also steadily raining. There were also numerous downed trees that slowed us down. Finally, a few miles after turning north onto the Centennial Trail, we (I) got a little directionally discombobulated again when we encountered a T-intersection at what turned out to be Trail 7. We made a right instead of a left turn onto it, and ended up having to backtrack after realizing our mistake in order to continue on the Centennial Trail. This was one of the places where I felt better signage was needed.
Those were some of the reasons we ended up not going all the way to Mt. Rushmore as initially pondered that day. Instead, by 8:00 p.m. we crossed a creek where I pumped some water, and set up our tents in a nice little plot of land just beyond. We all ate ramen noodles and some snack foods before retiring for the night.
Day 3
The night was a little warmer than the night before, but all of us slept a little worse. It took me an hour to fall asleep, and the ladies reported neither of them got any shuteye until dawn. So we had another late start (10:00 a.m.) The good thing was the distance to hike on this day was shorter than the previous.
The bad thing was I had underestimated the distance as 7-8 miles. It turned out to be closer to 10. Also, due to some pretty gnarly creek crossings and frequent rain, Diana was soaked and her feet were hurting a lot. Saar's were too along with an ankle. To compound the difficulty, there were more downed trees on this day than any of the preceding ones along with a surprising amount of climbing.
Still, the two ladies were real troopers. With the feet issues, they were unable to hike very fast, but they kept chugging along at a steady 40-minute-per-mile pace or so.
When we got back to the car we had a real sense of elation. Part of that was because we could now stop and change into real clothes, but another was due to a feeling of achievement for successfully hiking 34 miles in beautiful, rugged backcountry with 30+ pounds on our backs.
Afterwards, we drove over to Mount Rushmore Memorial National Monument, which I still had a good-for-one-year parking pass from last year's trip here with Maureen. Saar had never been here and Diana was last here twenty years ago as a kid, so it was well worth the stop. We also got some Double Avalanche cups of ice cream, which sounded better than they actually tasted even for our high calorie-burning bodies. None of us could finish them, but what we could was enough to keep us fueled up for the 5.5-hour drive back to Fort Collins.
Recommendations and Wrap-up
Despite the challenges, this was one of the best backpacking routes I have ever done due to the views, scenery, ample water supplies (creeks and lake), and even toilet facilities. There was also lots of (un-scary) wildlife like chipmunks, elk, geese, frogs, and mountain goats. We also encountered some horseback riders and dogs.
On the other hand, the trails were moderately difficult with numerous downed trees and plenty of elevation gain. It turned out to be a slightly harder hike than I had envisioned, but still well within the abilities of reasonably fit people.
For backpackers wishing to do the same trip in three days but also be able to go to Mt. Rushmore towards the end of the second day, try to start Day 2 no later than 7:00 a.m. We started at 10:00 a.m. which did not give us enough time for the 1.4 mile/hour pace we were averaging.
I think a determined ultra-runner could run the 34-mile loop in about 10 hours (maybe 11 hours if also going to Mt. Rushmore). The number of fallen trees is the principal reason I think it would take that long. A person can run this self-supported by carrying water treatment tablets, many energy bars and gels, and maybe a light rain jacket. It would make for a serious training run, for sure.
Hiking Data
Day 1: 10.2 miles per Strava from 2:15 p.m. to 8:15 p.m.
Day 2: 13.4 miles per Strava from 10:20 a.m. to 8:00 p.m.
Day 3: 9.8 miles per Strava from 10:00 a.m. to 4:30 p.m.
All 3 days: 33.5 miles per Strava
All 3 days: 35.4 miles per Endomondo (not sure of the reason for the discrepancy)
GPX file from Endomondo data (right-click link and Save As to download)
Initial pack weight: 31.0 lbs.
Ending pack weight: 28.2 lbs.
Notes for Myself for Next Backpacking Trip
Bring water treatment tablets.
Fix or replace water filter, or consider using tablets instead.
Bring Vaseline or equivalent to help with shoulder chafing from pack's shoulder straps.
Repair the chest strap on the camping backpack that Saar was using (it broke last year before I lent it to her).
Eventually—after using up all the solid fuel pellets for my Esbit stove—consider getting a compact wood-burning stove like the Emberlit stove. Or experiment to see if I can use sticks and pine needles on my existing Esbit stove instead.