Camino de Santiago Days 7-11 (Del Norte)
I took these notes while hiking the Camino de Santiago by dictating into Microsoft Word on my smartphone. So if the narrative sounds a little dry, that is why.
Day 7: Santander to Cóbreces
Distance: 27 miles (43 km)
After Santander, I took a few shortcuts by hiking along road N–141, which was more direct than the official route for the Camino del Norte. This thoroughfare was pleasant with wide shoulders and not many cars.
But eventually, the shortcuts I took involved running along some railroad tracks, walking a quarter mile across a swamp, and then climbing a ten-foot rock wall and wrought-iron fence. I'm not sure if it was worth it, but my shoes became a lot cleaner. Later, I washed my socks in a trough.
Just west of Santallina, I ran into John and Karen—the Brits I met the day before in Santoña who had crewed for the Race Across America (RAAM) last year. They had heard the miles of pavement from Santander to Cóbreces was boring and thus taken the bus up here. I was surprised to see them.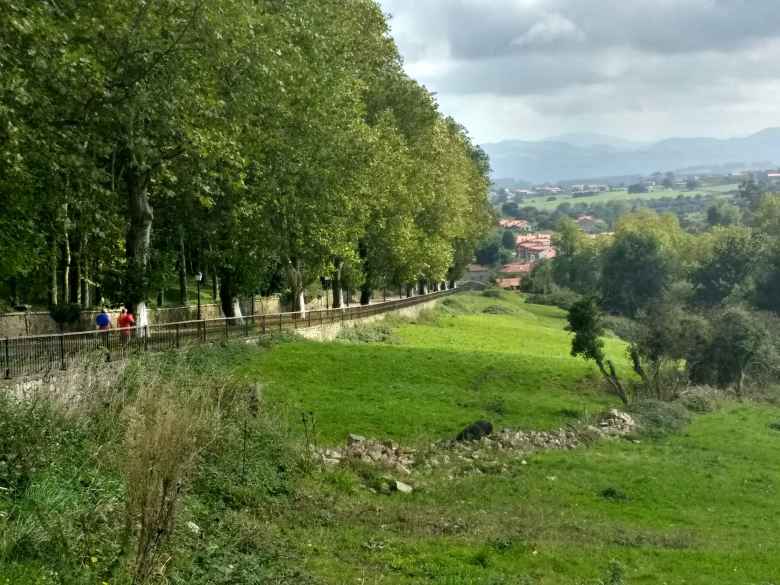 In Cóbreces, I found a a pilgrim's hostel called Albergue Viejo Lucas. It was very large and cost only 14 euros per night, which even included breakfast. There were two pilgrims there: Jenny Jones of Toronto, Canada, and Teresa of Berlin, Germany. While they did not know each other before coming to Spain, they met each other in Bilbao (where both of them started) and ended up hiking together for a week.
Jenny was a former competitive powerlifter who had backpacked solo for five days through Australia. She was attracted to the Camino de Santiago for the challenge and adventure, but had imagined it was primarily dirt trails. She was disappointed there was so much asphalt, especially along this part of the Camino del Norte.
Teresa, on the other hand, had a few life challenges including the death of her father and being out of a job. She was hoping that hiking the Camino would help her "figure out what to do with my life."
Before either had started hiking, both had the goal of busting out 30 kilometers per day. But the two of them developed ankle or Achilles problems (in Teresa's case, likely due to her boots) and had to change their plans. They were astonished at the mileage I was doing and that I had hiked from Santander, where they had bussed from.
They were likely going to "break up" the next day, when Teresa would try to find new shoes and Jenny would bus further west. (I would later find out that they continued to San Vincente together, where Jenny boarded a bus alone to Ribadeo.)
They were very fun and funny. We went to have dinner across the street from the hostel, where we enjoyed hearty meals of fish and fries.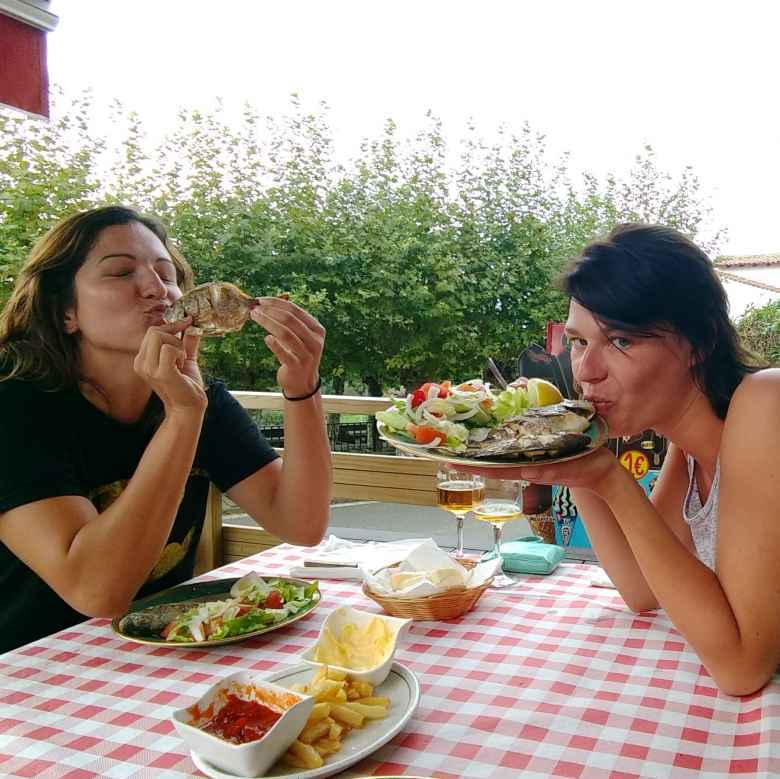 Albergue Viejo Lucas was the largest and nicest-looking hostel I stayed in along the Camino, but I could not sleep well because of mosquitos. I also think there were bed bugs in the bed and the hostel seemed to be upstream of fields of cow manure. Too bad, because otherwise the hostel seemed so promising at first.
Day 8: Cóbreces to Colombres
Distance: 26 miles (42 km)
Had a nice walk along the coast. Even though it was along the highway, there were not many cars and there was a dedicated walking path.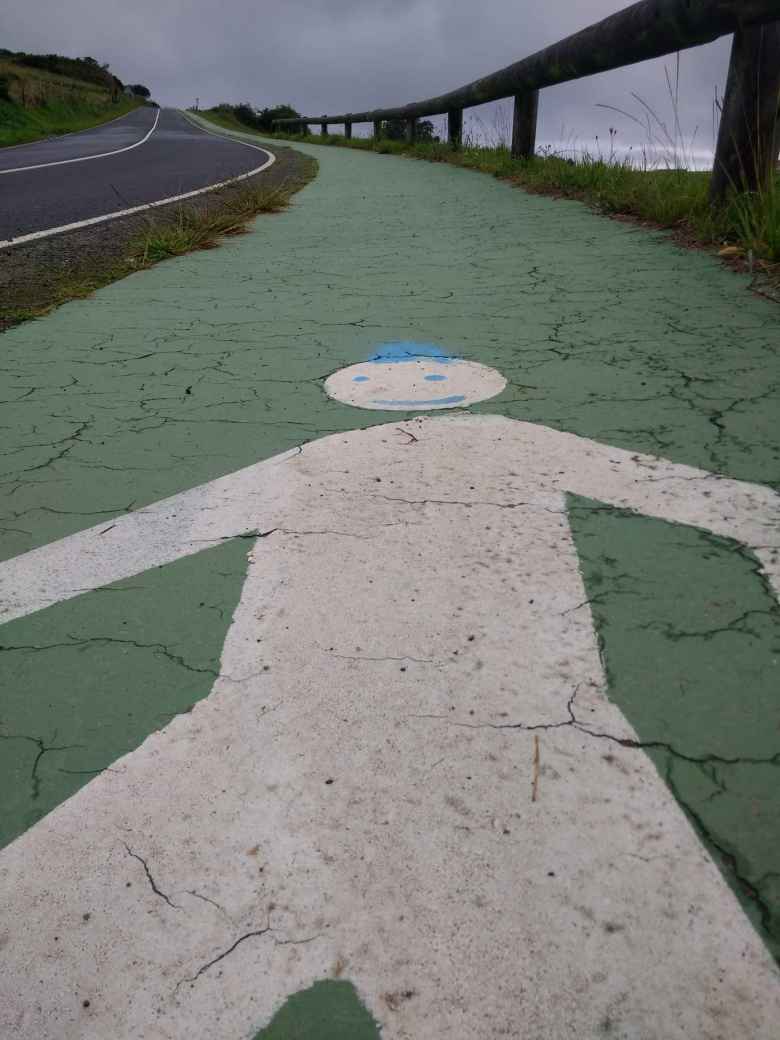 There was light rain, but I stayed comfortable and dry with the umbrella. Only towards the end of the afternoon did I hit some dirt trails that were muddy.
In Colombrés, there was a Monaco-style car race, albeit with older rally cars instead of Formula 1 vehicles. I saw several mid-80s Peugeot hatchbacks and BMWs.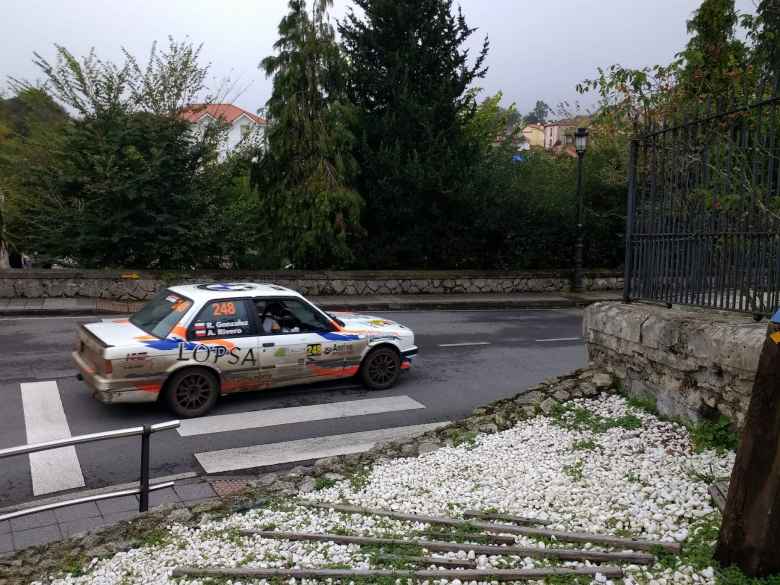 A couple hours before I would stop for the night, I reserved a pension on booking.com for 15 euros that also had what appeared to be a 24-hour diner or bar. The room was very nice for the price and even had an attached bath.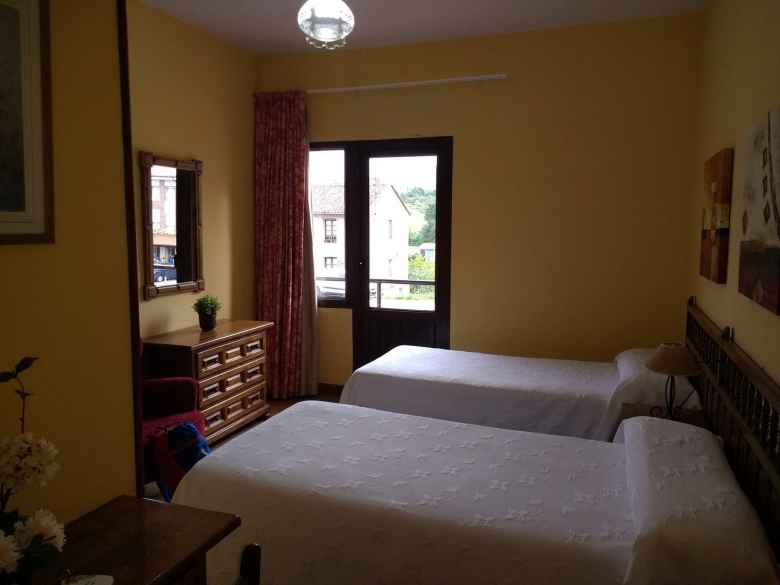 Day 9: Colombres to Nueva
Distance: 25 miles (40km)
This was another great day by the coast with very little traffic despite walking on the lot of highways. I finished the day shortly after 5 p.m. in Nueva, a small town with ample services.
In the afternoon, I booked a pension on booking.com for 28 euros. Unfortunately, when I arrived, I had to wait two-and-a-half hours before being able to check into the actual room because the landlady was not available until then. On the phone, she instructed me to stay in the temporary room above a nearby bar/restaurant so I could get some rest. At around 8 p.m., she came by and led me to the actual room in another building, which was pretty nice (much less Spartan than the temporary room).
Then I went to dinner at one of the nicer restaurants I had gone to along the Camino. Service was even good, with the waitress asking how was everything a several times—something that is the norm in the United States, but rarely occurs in Spain. I had some excellent bread and vegetables grilled in olive oil and salt.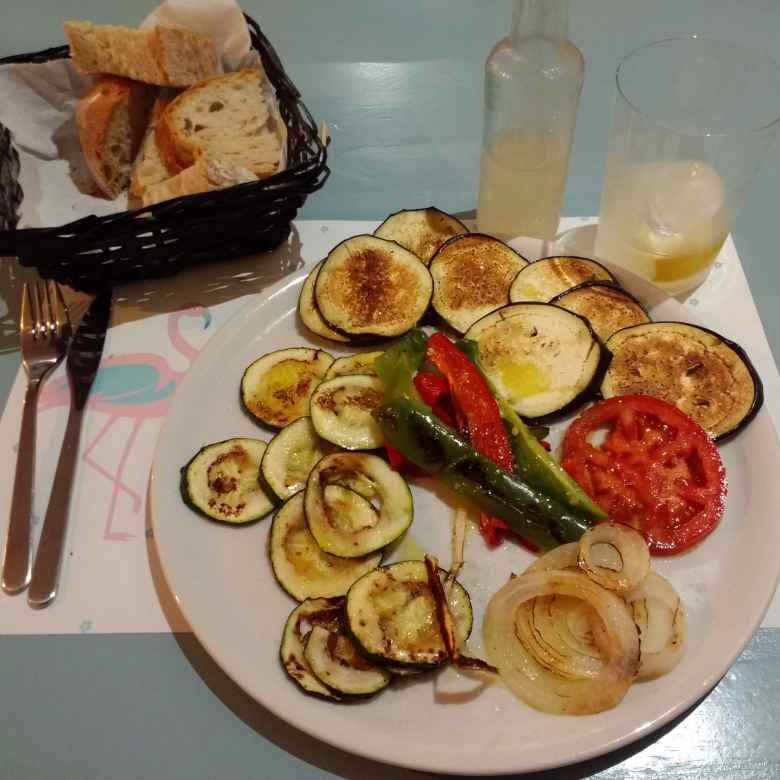 Day 10: Nueva to Sebrayu
Distance: 30 miles (48 km)
There was a lot more traffic in the morning plus some drizzly rain, but I never had to take out the umbrella. There was also mud, but I managed to avoid most of it. Then I saw the coast for the last time at the beach town of La Isla, where I got a Coke and an ice cream sandwich inside a bar.
After hiking 30 miles to Sebrayu, I checked into an albergue where I was able to understand the hostess perfectly once again. The cost was only four euro.
I met an older woman from Germany named Christine. She used to live in Des Moines, Iowa in the 1970s. She said that 30 years ago it was not possible for a woman to safely walk alone in either Germany or Spain.
Unfortunately, inside the hostel there was a really big snorer only five feet away from me that night and I had trouble sleeping past 3 a.m. I should have known he was going to snore loudly just from how he was breathing during the day. I should have had my earplugs out and ready before I went to bed. Instead, I had my backpack all packed and ready to go so I could sneak out early in the morning, and the earplugs were buried within.
I ended up leaving the hostel earlier (5:45 a.m.) than planned due to the snorer, and headed towards Oviedo.
Day 11: Sebrayu to Oviedo
Distance: 35 miles (56 km)
Thanks to leaving the hostel so early because of the snoring man, I was able to walk 5.5 miles in the dark before the sun finally rose after 8 a.m.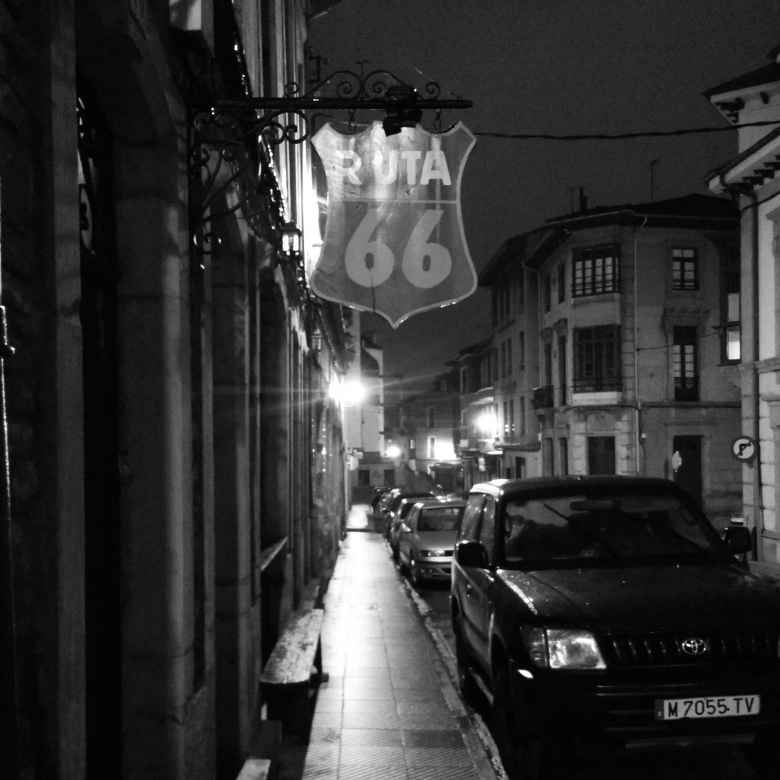 Later in the morning, I hiked along the official Camino even when the trails looked muddy and there were alternate paved roads. I quickly regretted doing so. I was able to avoid a lot of the mud by stepping slowly and deliberately, but it really slowed me down. From noon onward, I mostly took the road options that did not have many cars.
However, sticking to pavement whenever possible must have added on quite a few miles because I ultimately needed to do four more miles than expected to reach Oviedo.
After visiting the Catedral de San Salvador de Oviedo (Oviedo Cathedral), I found the Woody Allen statue. Then stopped by the Hotel de la Reconquista, which was where Scarlett Johansson and Javier Bardem's characters from Vicky Cristina Barcelona stayed in.
I checked into Hotel Favila only a few blocks away (28 euro) to sleep in overnight. Downstairs, I had an amazing menú del día for dinner. This included bread, spaghetti, meatballs, and a whole bottle of sidra (cider) for only 10 euros.