"I was thinking we could do a 'free' walking tour tomorrow," I said to my dad. "I've never done one before, but a city tour is the number two most recommended thing to do in Lisbon according to Trip Advisor. It could be a great way to get acquainted with the city. What do you think?"
My dad was initally less enthusiastic than I would have thought. His main qualm was related to the cardiovascular stamina of a senior citizen, and he balked when I mentioned the tour would be up to three hours long. Understandably, that would be a long time to be walking—although I assured him I was fairly confident that there would be plenty of stops and opportunities to sit along the way.
"We could always leave in the middle of it if you are too tired," I assuaged. And hence we gave it a try.
As I suspected, it turned out to be a fantastic way to get to see some of the most notable places of Lisbon—and yes, there were plenty of opportunities to stop, sit down and rest! Not only was tour interesting and educational, but it was entertaining.
Most of the reason for the latter had to do with the tour guide. We did the Chill Out Lisbon Free Walking Tour—which started at Praça Luís de Camões (Luís de Camões Square)—and found the tour guide by looking for a yellow recycled "tram bag" (like a messenger bag) that she was sporting. Her name was Inês. She was born and raised in Portugal, and despite Portuguese being her first language, her cute but minimally accented English was perfect.
She also was an exceedingly vivacious presenter, who injected a smattering of jokes and delightful anecdotes within her impeccable naration. She started out by explaining she had a Masters degree in Architecture, but that the economy in Portugal is not doing well at all and that it is difficult to find a job, especially for young people. So eventually, she became a tour guide to share her passion for architecture and her city. Without getting overly political, she lamented how Portuguese leaders have been basically telling citizens to emigrate to other countries to find employment because there was not enough in the country.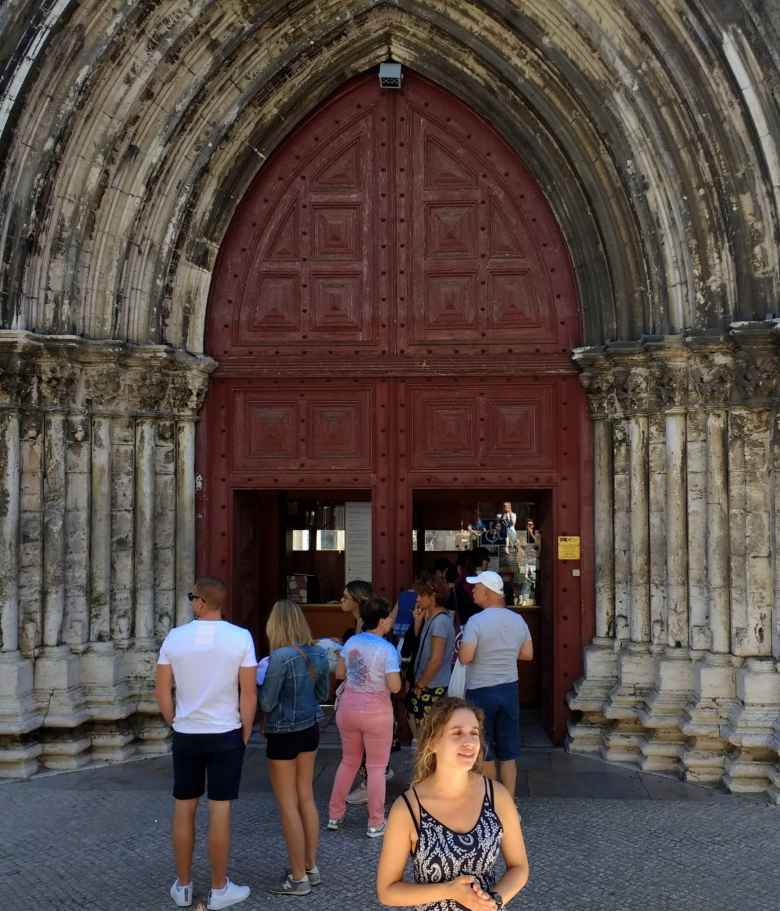 Inês asked us what we were particularly interested in seeing. Responses included architecture, notable museums, neighborhoods with lots of dining and nightlife, where were the best views, history, etc. She then shaped the tour around those desires, first giving us a quick rundown of the history of Portugal starting around 2000 years ago. She discussed the Roman, Arabic, and Spanish influences, among others, to the modern-day republic it has become today.
The she took us to places like a street that had a mysterious nose attached to the side of a building; Bairro Alto (or "High Neighborhood," because it was on a hill), where there were lots of restaurants and bars; and Alfama, a lovely, historic neighborhood with narrow, cobblestoned streets that was tranquil, artsy, and had its own vibe.
In hindsight, Alfama was my favorite part of Lisbon. It had great views of the city, rooftops, and ocean, and is potentially a photographer's dream for snapping "a day in the life of Lisbon" with laundry blowing in the wind off characteristically shallow balcony rails, eclectic murals on otherwise light-colored walls, the occasional hint of Fado music emanating from restaurants, and the relaxed pace of life.
After the tour was over and I gave a well-deserved tip to Inês, my folks and I continued on foot around the lower quarters of Lisbon. Here is Strava data tracing much of our footsteps, which includes the last couple hours of the walking tour from Bairro Alto (I forgot to start the Garmin watch before that).
We only had a couple days to spend in Lisbon, but it was a wonderful introduction to Portugal. One day I hope to return and be able to check it out more thoroughly.