It was only the second day of my six week journey away from home, but it was going delightfully. The first place I had flown to was the San Francisco Bay Area where I was to meet my parents—whom I was taking on a tour of Portugal and Spain—and I had managed to visit most of my best friends from the area.
This included going on a three-mile, morning run with Adam, which included a stop in a park to do pull-ups and attempt some muscle-ups: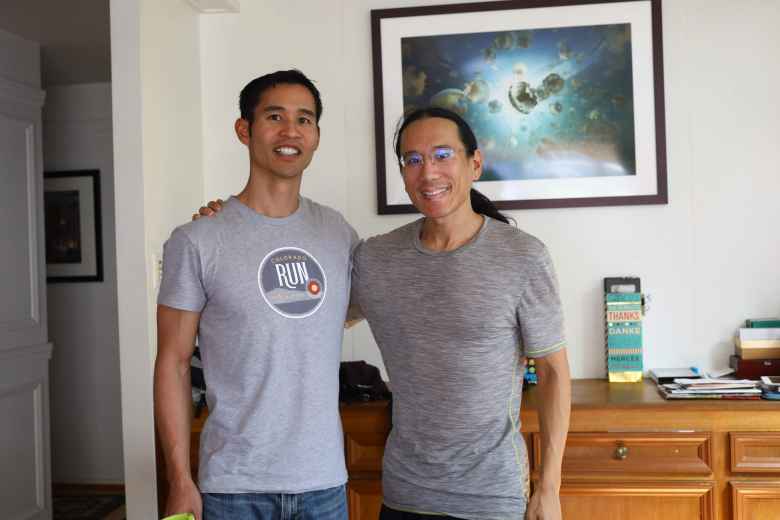 and then taking Caltrain—on which I successfully managed to warn all my credit and debit card companies about my upcoming international travels with a cell phone—to meeting up with Stacey, Alyssa, and Bryan:
before getting picked up by Diana and her boyfriend Robert to eat incredibly delicious food at the 60th annual Armenian Festival in San Francisco.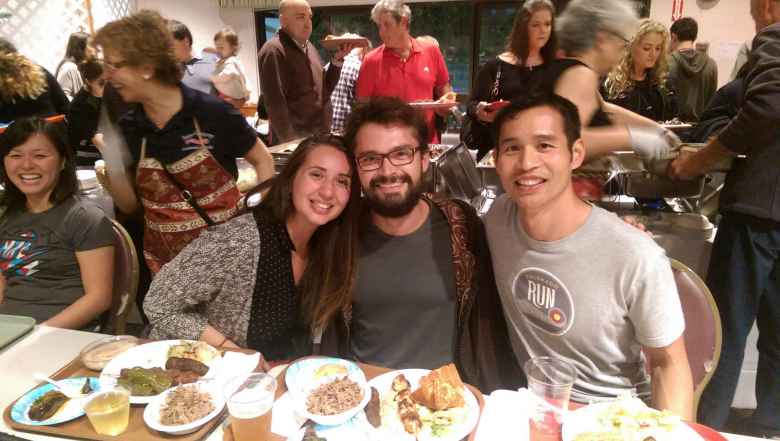 The morning after crashing at Diana's, I had breakfast at Dottie's Café with my friend and former Stanford hallmate Venus in San Francisco. I managed to arrive at the breakfast place right on time time by consulting Google Maps on my phone at the very last minute, then sprinting over to and successfully taking a MUNI bus for the first time in my life.
Then, on the BART train to the airport, I saw on Facebook that Michael Wacker—my friend and chief "rival" during the 2015 Trans Am Bike Race—was moving to Barcelona only a week before I was going to be there. After some quick text messages, he confirmed that he would love to meet up, which gave me yet another reason to look forward to visiting Catalunya's largest city.
That was a nice coincidence, but the most amazing "small world moment" was yet to come.
After finding my parents inside SFO, we went to the departure gate when we learned that the flight would be delayed by an hour or so. During our wait, I received a message on Facebook Messenger from a friend I had not heard from in over a year, nor seen in well over a dozen.
It was my old biking buddy Debby from the Bay Area, whom I cycled with in preparation for various editions of the Tour du Jour. She moved to London for a tech job over a year ago.
Her message started out like this:
I'm sure you'll have a great trip with no problems, but seriously if you need anything, please don't hestitate to call me. We're in the same time zone.
Apparently, she saw on Facebook that I was going to be in Spain; hence, the reference to the same time zone. It was so nice of her to offer assistance in case I needed any help.
The following is how the rest of our messaging played out: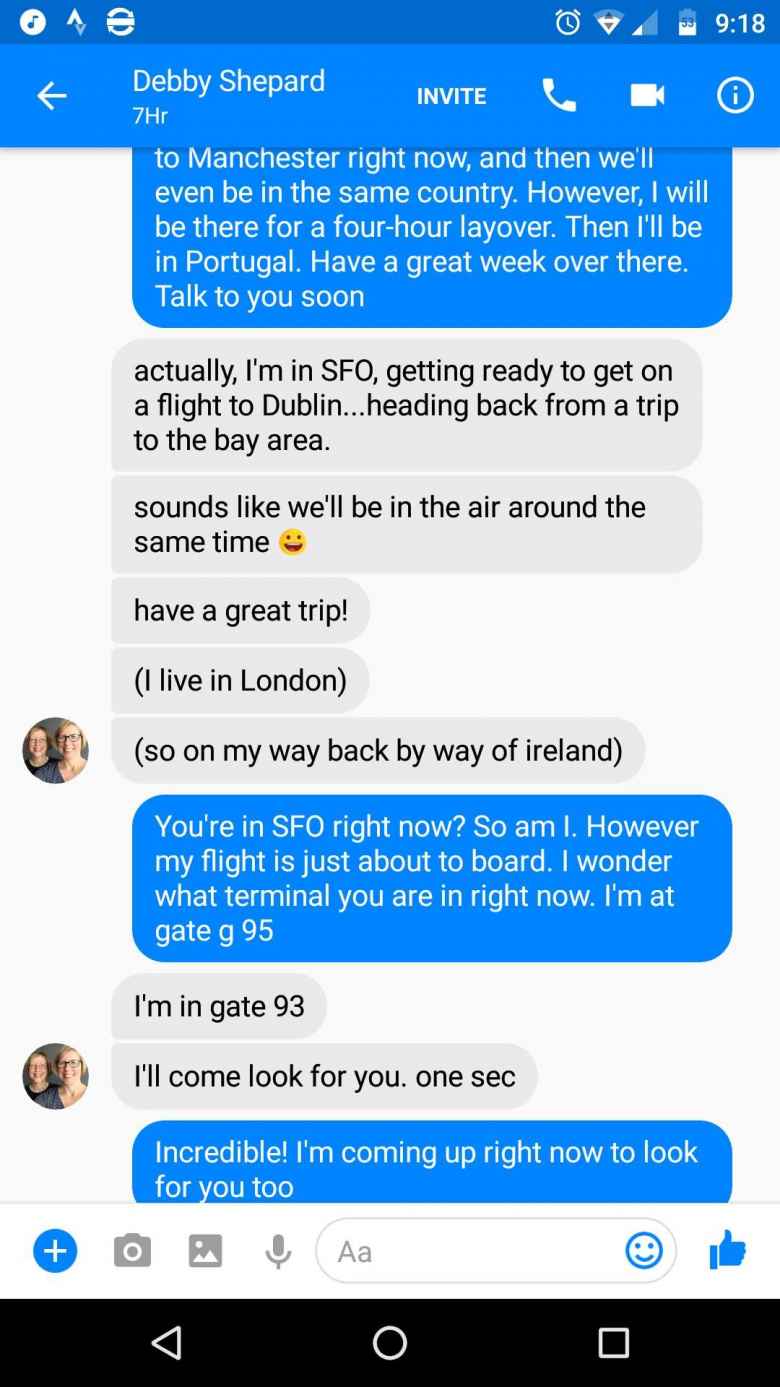 So after we realized we were waiting at adjacent airport gates simultaneously, we walked over to meet each other for the first time since I had been living in California in the 2000s! My dad walked over with me too and took this photo: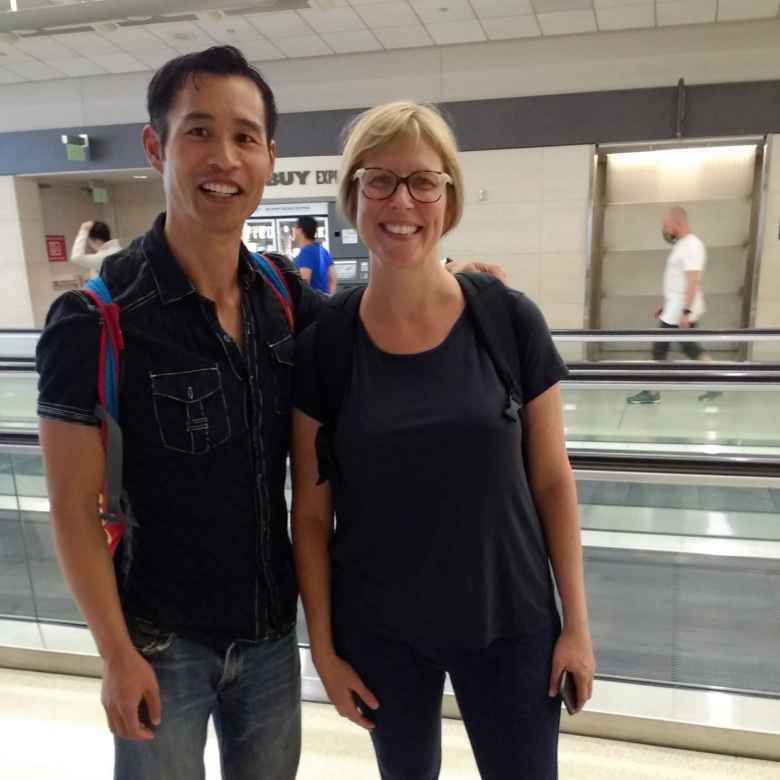 She looked the same after all this time. Apparently, she was in the area for job opportunities, and was about to fly back to London to return home.
I've had a number of chance encounters all over the world (some of them are linked in the Related Articles section), but this was probably my favorite.
I don't imagine there are much better ways to depart for foreign lands for six weeks than by running into a dear friend—who otherwise lived thousands of miles away—during your last few moments in your home country.