Ultralight Travel: My Packing List for 6 Weeks in Spain
I hadn't blogged for a couple weeks because I've been traveling. First, I went to California to visit a few friends and meet up with my parents at the San Francisco International Airport. From there I acted as their tour guide, taking them to Lisbon, Seville, Granada, Madrid, and Barcelona.
My folks then flew up to Scandinavia while I remained in Spain, mainly to hike the Camino de Santiago from Irún to Santiago de Compostella. The distance is more than 500 miles (post-trip edit: 600 miles), which I hope to complete in 19 days and catch up to my friend Tori—who is hiking the last 72 miles of the Camino—on October 11 or 12 so we can finish the Camino together.
The route I'm hiking is the Camino del Norte along the northern coast to Spain for the first 300 miles. Then I will walk towards and through Oviedo, after which I will hike the Camino Primitivo. The latter is the original route pilgrims walked to Santiago 1000 years ago.
Both the del Norte and Primitivo routes are exceedingly hilly, and considering the distance I have to hike each day, it is imperative that I travel as light as possible. I usually travel light anyhow—e.g., during my frequent flights to St. Louis, I bring only a laptop bag which avoids Frontier Airlines' carry-on and check-in baggage fees—but I don't think I've ever carried so little for a multi-week trip except for the self-supported Tour Divide and Trans Am Bike Race bikepacking races.
How light? Without water, my pack weighed only 12.6 pounds (5.7 kilograms, or without food and water) when I walked out the door of my home in Fort Collins. (In contrast, my dad's suitcase weighed a mind-boggling 33 pounds, or 15 kilos.)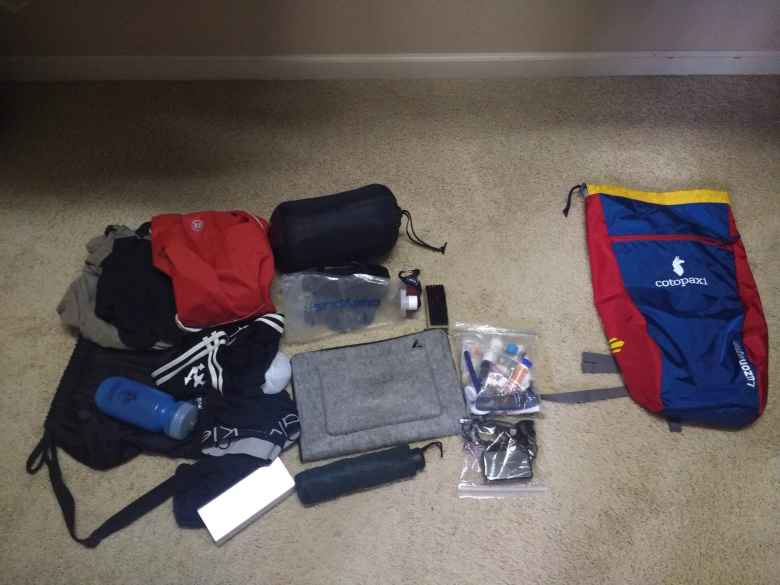 Packing List
Worn on body
buttoned shirt-sleeve shirt
jeans + belt
underwear
socks
Lem's Primal shoes
Garmin Forerunner 35
Moto G4 phone
wallet
lip balm
Electronics
Surface Pro 4 (2.3 pounds, the heaviest item)
Surface charger
Urbo 20800 mAh portable battery pack with Quick Charge 3.0 USB, smart 2A USB, and USB-C port (1.1 pounds)
Imazine charger with Quick Charge 3.0 USB, smart 2A USB, and USB-C port
Garmin charging cable
USB-C to USB-C cable
USB to USB-C cable
2X USB to mini-USB cables
earbuds
European power adapter
Clothes
sunglasses
foldable cap with pocket
socks
convertible cargo pants (can unzip legs)
red Novara cycling rain jacket
underwear
cotton T-shirt
technical long-sleeve shirt
swimsuit
Toiletries
razor
lotion (doubles as shaving cream)
comb
toothbrush (handle cut in half)
toothpaste
dental floss
hair gel
sunscreen 1-ounce
10ml cologne
nail clippers
water bottle
water pouch
Aquaphor .25-ounce
Bags and Containers
Cotopaxi Luzon Eighteen 18-liter pack (0.8 lbs.)
packable nylon bag with strings as backpack straps
water bottle 20-ounce
water bladder 1-liter
Miscellaneous
Mountain Hardware fleece sleeping bag (1.6 lbs.)
umbrella
tripod
ear plugs
Band-aids and Nexcare 1-inch roll of tape
backup wallet and cards
passport
euros
pack towel
shoe brush
Changes for the future
Two weeks into the trip, I hadn't wished I had brought something that I left at home, or wished that I didn't bring something I brought. The packing list above had been just about right.
But after starting hiking across Spain on the Camino de Santiago, I wish I had packed even less. For starters, I would not have brought my Surface Pro 4 computer, as I was not using it nearly as much as I expected and could have gotten by with just a smartphone. I also would have left the sleeping bag at home and instead brought an emergency bivy sack (glorified trash bag) that packs smaller than the size of a fist.
In the future, I can see myself packing lighter still. E.g., if I had jeans that fit better, I could forego bringing a belt. When I eventually replace my Surface and Moto G4 with devices with USB-C, I can bring less chargers and only one power supply.
Update
October 19, 2017: My flight from Barcelona back to the U.S. involved multiple legs as part of an ultra-low cost ($360) "hacker fare." This included flights on Frontier, which typically has super low base fares but charge for everything including a carry-on bag.
But my Cotopaxi Luzon 18L bag with all the gear above ended up being small enough to fit underneath an airplane seat and therefore count as a no-charge personal item. Amazing!