Camino de Santiago Days 20-21 (Fisterra)
I took these notes while hiking the Camino de Santiago by dictating into Microsoft Word on my smartphone. So if the narrative sounds a little dry, that is why.
Day 20: Santiago de Compostela to Oveiroa
Distance: 35 miles (56 km)
When I arrived in Santiago de Compostela yesterday, I had officially "completed" the Camino de Santiago—at least according to 1100 years of tradition and the officials in the Oficina Peregrino. But the coast was only 55 miles away in Fisterra—the so-called "end of the world" before people realized that the world was round—and it seemed like a no-brainer to continue on and be able to say that I had hiked across the whole country.
(Fisterra is the Galician name for the town. It is also known as Finisterre in Spanish. The walking route from Santiago de Compostela to Finisterre is also marked as Camiño de Fisterra, using the Galician words.)
The first couple hours was in darkness and I did not see any arrows. Instead, I went to towns on my map using Google Maps and its walking directions. It was only after two hours that I encountered the familiar Camino de Santiago conchas y flechas (shells and arrows), except they were pointed towards Fisterra.
I passed through some small towns, but virtually all of the stores and services were closed because October 12 was National Day—a national holiday that commemorates when Christopher Columbus first set foot in the Americas in 1492.
I ended up stopping by a couple bars for food instead—the first one after 17 miles. I had to make a 100m detour off the camino for it, but it was well worth it as I was able to get a Coke and this delicious bocadillo.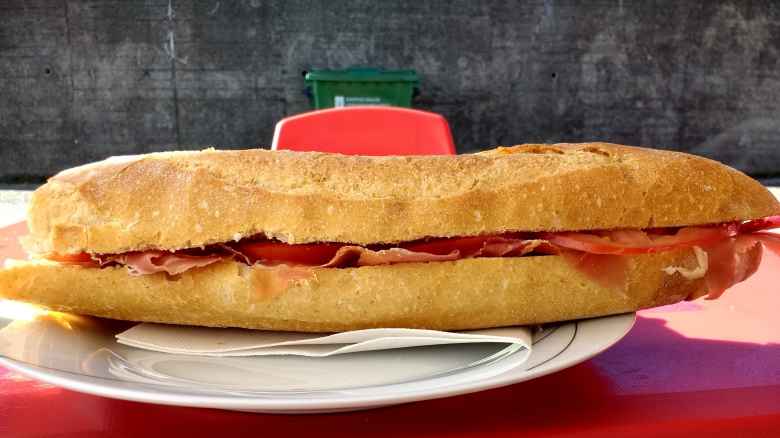 I ran only a little bit in the morning before my right calf became kind of sore. So the rest of the time I was just walking. Still, I was making good time, walking over three miles per hour at times.
The day finally warmed up after being foggy until 11 a.m. I got to pension and the town of Oveiroa. This place was great with a lot of pilgrims and a restaurant that was open from 6:30 a.m. to 9:30 p.m. The room was fairly large and the bathroom especially was. I ordered a menú del día for dinner.
Day 21: Oveiroa to Fisterra
Distance: 27 miles (43 km)
I started at 7:30 a.m. after buying a couple bags of chips at the restaurant. Also, at a bar a few miles down the road that said there were no services for the next 15 kilometers, I bought some biscuits and a croissant to go.
Today was a lot less foggy with the sun being exposed after 9:30 a.m. There were a whole lot more pilgrims today, some of whom were walking very fast.
I got to the town of Cee a little sooner than expected, and it looked like all stores were open today. I stopped by a supermarket and resolved to start eating healthier as this was my final day of the hike, so I bought some pears, bananas, milk and nuts. I also learned firsthand—or at least was reminded—that in Spain (and maybe other European countries) you often have to weigh your own fruit and print out a label before bringing them to the cashier.
I took my time to eat by the port, take in the views, and take photos. I continued on and a couple hours later passed by a small beach. Reading that it would not be possible to step into the water at the very end, I decided to stop and step in the water.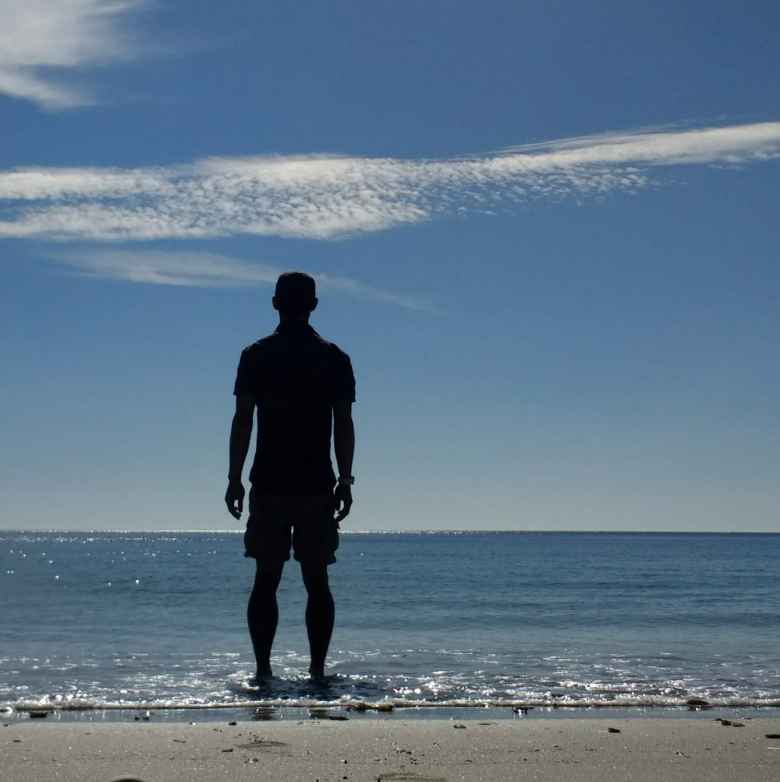 Only about 10 minutes after carrying on, I heard my name. It was Tori dining at a restaurant by the beach. I joined her, having a beer and a really good mixed salad that even had eggs and tuna in it.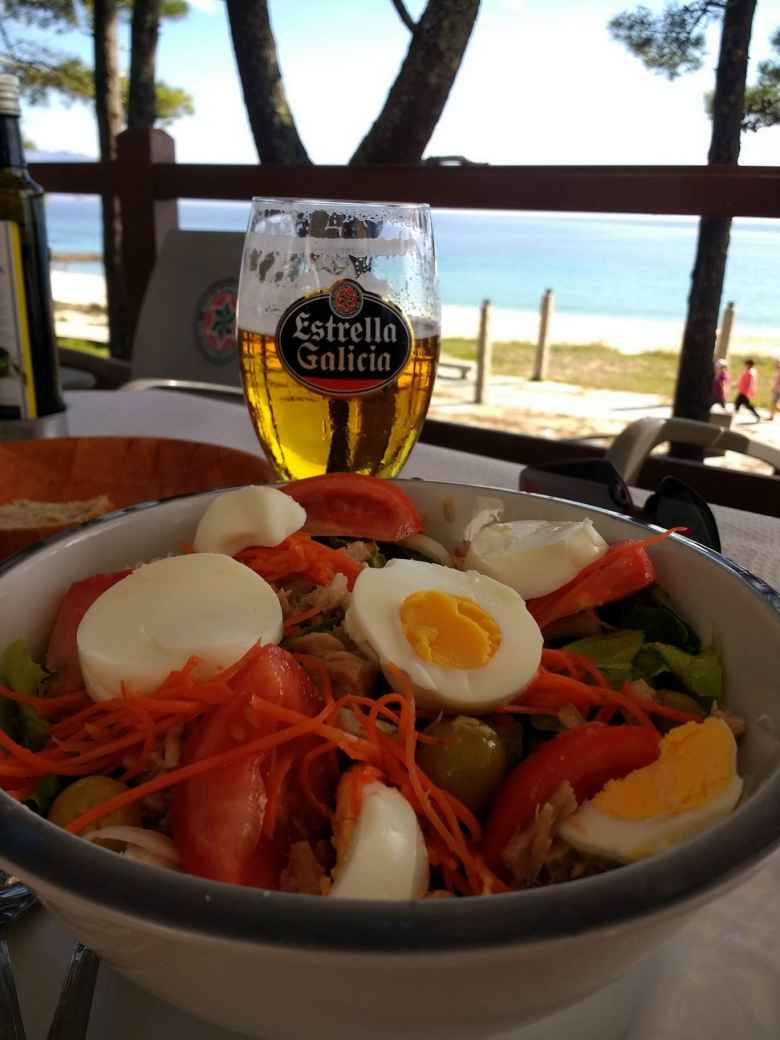 Five kilometers later, including an ascent, I got to the lighthouse and the km marker of 0! It was a little hard to believe that my walk across the country of Spain was over.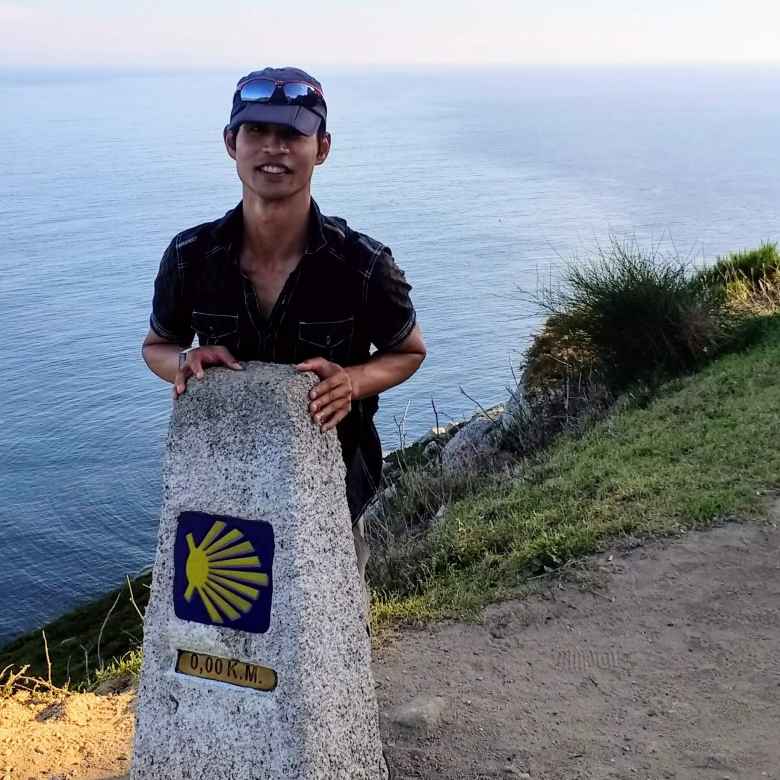 I took a bunch of pictures by the coast signifying I had reached the end of the world.