Flyover of the Nazca Lines
After Cusco, we went down to south western Peru to view the Nazca Lines. No, not stock car racing.
The Nazca Lines are a series of geoglyphs in the Nazca Desert of various shapes, such as a hummingbird, dog, tree, and whale. According to Wikipedia, the combined length of all the lines is 808 miles, with each of them being over a foot wide. They were created sometime between 500 BCE and 500 CE, and probably created for religious reasons.
This was the flyover circuit of the Aerodana aircraft: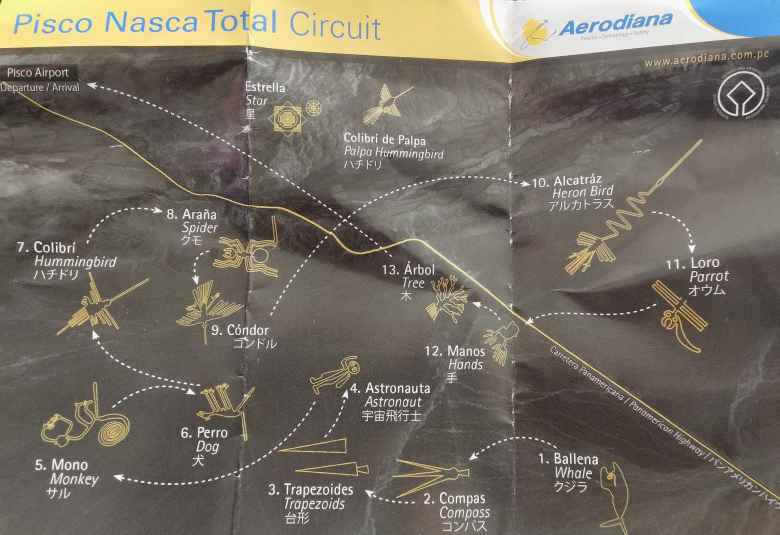 To go on this tour, we took a shuttle from Lima to a hotel in Paracas. From there, another shuttle took us to the Pisco airport, which was refreshingly empty. Matthew and Teresa would eventually go in one aircraft while Mel and I went in another that departed 15 minutes later. While we waited, we did exercises like push-ups and squats, amusing nearly inspiring bewildered waiting passengers to do the same.
We were warned that we might get motion sickness, but I was prepared having brought ginger tablets along for the trip.
Or so I thought. By the fifth or sixth geoglyph (nearly an hour into the flight), I was clutching a plastic bag as I felt ready to hurl stomach acid. The pilots were dipping the wings of the plane a good 45 degrees—first left, then right—so that the passengers could view the earthly patterns. This rolling pattern induced nausea of the rollercoaster sort.
What saved me from losing my cookies, so the speak, was… alcohol. Or at least that's what I think did it. I was sitting directly behind the pilot of the plane, you see, and the co-pilot could detect the discomfort on my face. He handed me a cotton ball which he moistened with a mystery liquid from a bottle, and then motioned me to smell it. It smelled like pisco, the famous Peruvian liquor. Whatever it was, it seemed to help.
But by that time, I had already stopped trying to take photos. So the photos immediately are courtesy of Mel and her DSLR.
Here's a monkey geoglyph: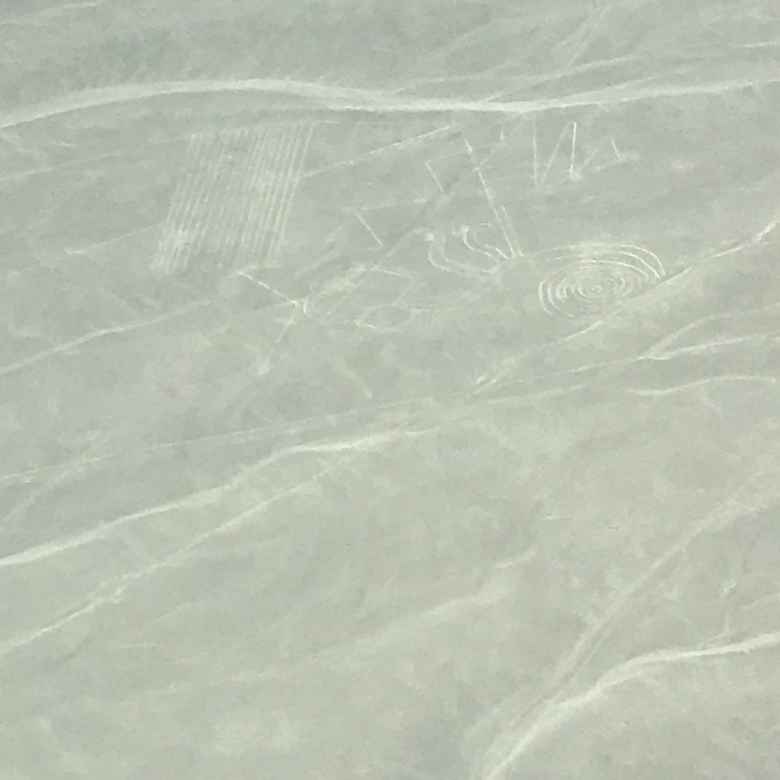 and an "astronaut":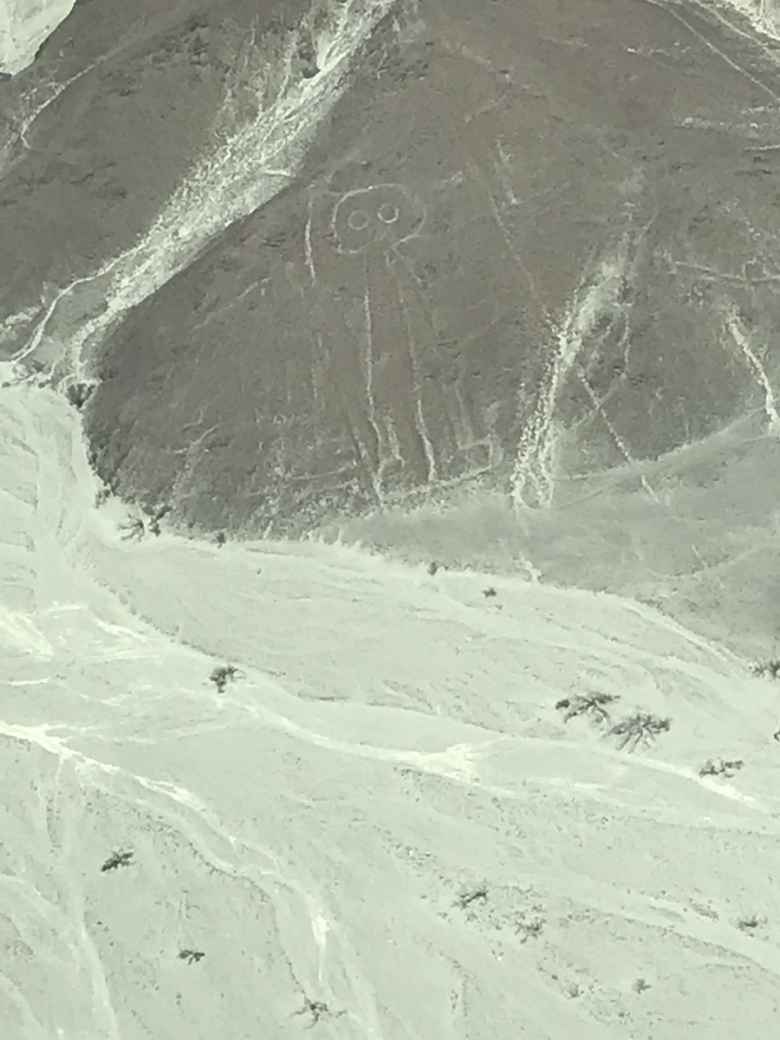 I put astronaut in quotes because surely ancient humans had no concept of launching earthlings into outer space in spacesuits aboard rockets. Unless they encountered aliens or something.
Anyhow, this was probably the only part of our Peru trip that wouldn't recommend to people, especially if you are prone to motion sickness. You get to see each geoglyph for only a few seconds each—if you can even make them out—and for me there was not much more value in seeing the patterns from behind glass a couple thousand feet up in the air than, say, on a computer screen using Bing Image Search for "Nazca Lines." The latter would save you several hundred dollars in flight and associated travel fees.
Supposedly, you can see some of the geoglyphs from certain mountaintops and roadside viewing towers. Those very well might have been worth it.