The day after we went to the Sacred Valley for via ferrata and zip-lining with Natura Vive and returned to Cusco… we returned to the Sacred Valley to do a walking tour of Machu Picchu.
Too bad we didn't know about the proximity of the Natura Vive adventure to this 15th-century Inca citadel, or else we might have stayed closer than Cusco and saved about five or six hours total of bus travel. Still, it was worth it—especially since I had been warned ahead of time by friends in the tourism industry that the government was considering closing Machu Picchu to the public to help preserve it "in a year or two."
Perhaps. "They [the government] was saying the same thing back in 2011," Matthew observed, implying that it was all a ploy to instill a sense of urgency into travelers.
Whatever the case, this "one of the Seven Wonders of the World" was fascinating to see despite it being predictably teeming with enthusiasts of selfies and funny poses. So many tourists come to visit that you must buy tickets for specific two-hour time slots.
Our tour group had about a dozen people in it. This kind of hampered the experience because most of them were not going to place in the top 50th percentile of any athletic event, to put it mildly. E.g., after the first three minutes of walking that entailed going up a few flights of steps, most of the group was already fifty feet behind. By this point, someone's momma declared that she was backing out of the tour and going to wait for the others down below due to the strain of climbing the stairs. The tour guide did his best to keep the group together and keep track of everyone, but you can imagine how difficult that job was with the different fitness levels of the people in our group and the sheer number of tourists here.
Ultimately, this caused a quite regimented go, stop and wait experience.
At least there was plenty of time to take photos. It was comedic, however, to hear how much walking the folks in the tour group thought we had done after one-and-a-half hours.
"We've done so much walking!" someone exclaimed. "I wonder how many miles? Maybe three? Four?"
"Actually, 1.6," I replied matter-of-factly as I had been tracking the distance with a Garmin. You can see the final route from this Strava data recorded another quarter-mile out.
The guide was a history professor and did his best to recite the history of Machu Picchu. Of course, you could gleam as much information (and more) off Wikipedia.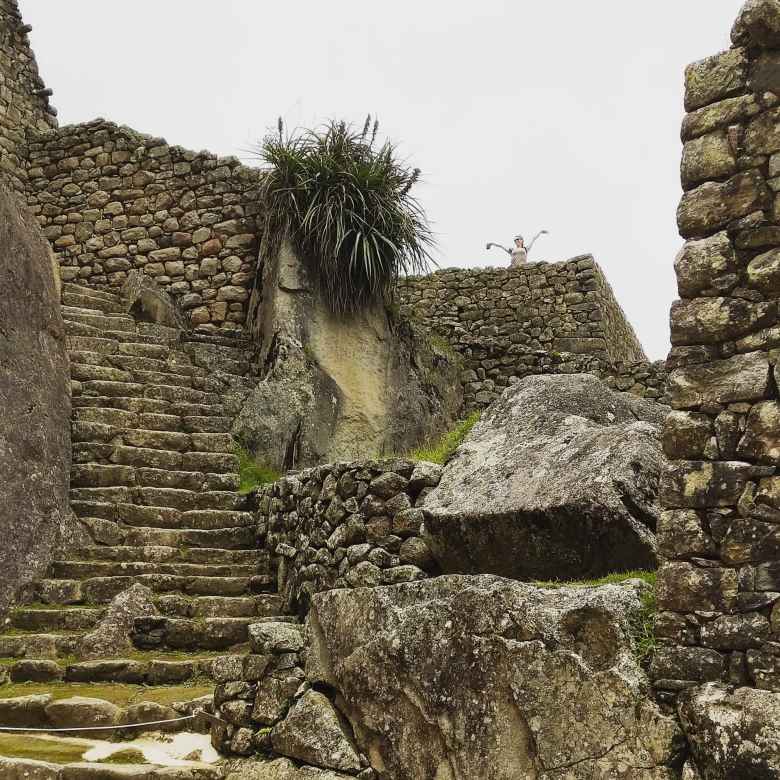 But there was something magical about being at this bucket list item in person. Especially when you are able to sneak in a few brief moments of solitude at this ancient city.