Via Ferrata and Zip Lining with Natura Vive in Peru
"I saw this on the Internet," said Mel, "and immediately asked Matthew if we could do this."
Years ago I saw some images of the Sky Lodge (a.k.a. "sky pods") on the World Wide Web too, but I didn't realize they were located in the country where we were going—Peru! These pods were essentially clear, plexiglass tiny homes that dangled high off the side of a cliff that were essentially one of the world's most unique hotels.
While I assumed that getting up there would be significantly easier than, say, pure rock climbing, I didn't realize it would be via ferrata—climbing iron bars shaped like a fat U similar to climbing a 1200-foot-tall ladder. Or that to get down involved six zip lines. In any case, this sounded like an incredible adventure.
We did this the day after first arriving to Lima and flying over to Cusco. A shuttle picked us up from the Costa del Sol Ramada and whisked us away on a 2.5-hour drive to the base of a mountain in the Sacred Valley, where we met the guides of a company called Natura Vive. After they harnessed us and discussed safety protocol—including being tethered to a steel cable bolted to the wall with one or two carabiner-laden slings at all times—we commenced the climb.
In addition to Matthew, Mel, Teresa and I, there was another group of four Americans that were on the journey. Even though no one but Matthew and Mel had done this before, my three friends were very fit and we managed to climb all 1200 feet in 1.5 hours. We reached the pods just as it started to rain.
"Perfect timing," I said. I also thought about how if we were doing bona fide rock climbing instead—with no iron bars to grab, only natural features for feet and hands—this would have been at least a dozen pitches and a whole day event.
We then made our way into our assigned sleeping pod (each group of four stayed in a separate pod) before being called to dinner an hour-and-a-half later. The guides doubled as chefs, and they cooked well. Dinner included wine, salad, quinoa, and if I remember correctly, chicken, and was the best dinner I ever had on a "camping" adventure.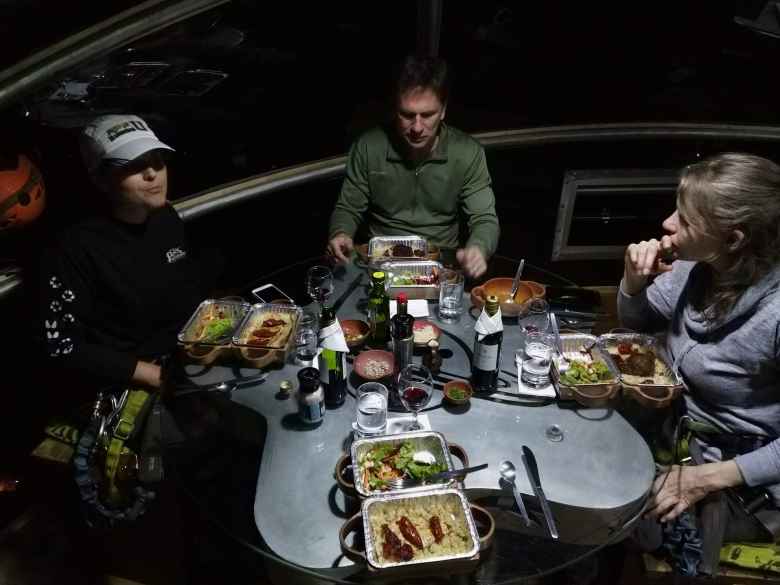 We slept inside the pods to the pitter-patter of the rain, and by the time we woke in the morning, the skies were clear. We had breakfast (another amazing meal) before hanging outside of—or rather, on top of—our pods, taking photos of benign, but daredevil-looking stunts.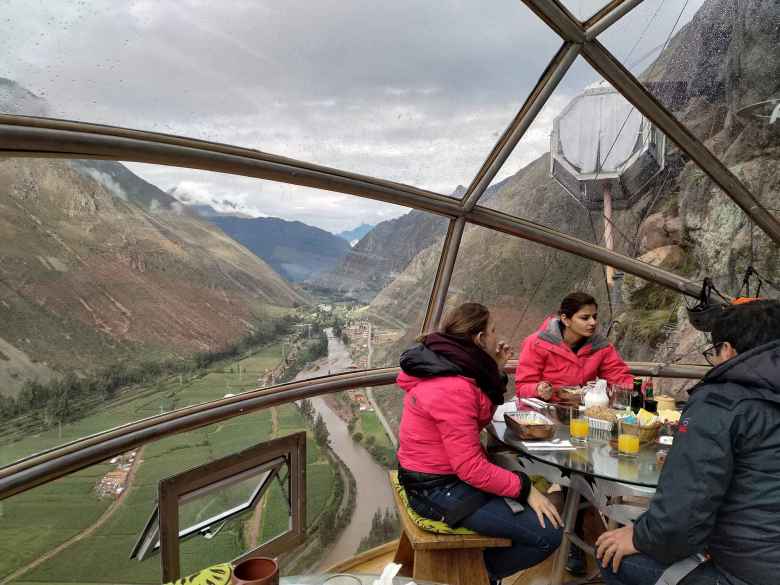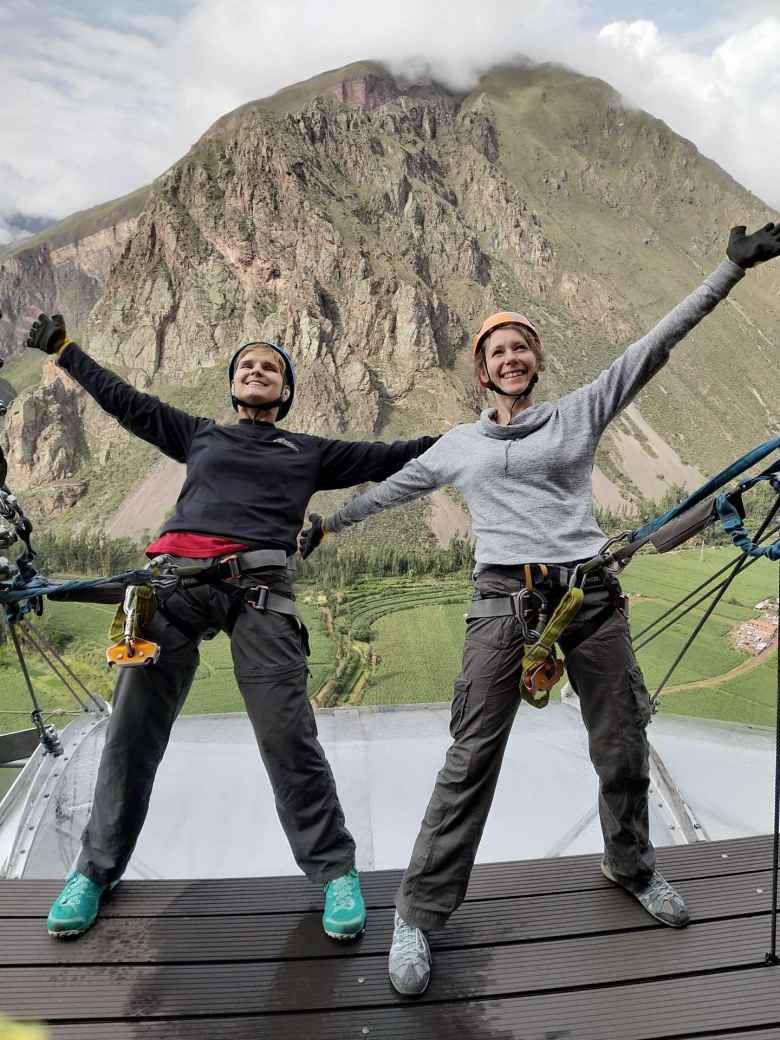 Lastly, we went down the zip lines. This was the second time I zip-lined in my life (the first time being in Costa Rica). But this was distinct in that it zig-zagged down a safe distance away from the mountainside instead of being enveloped in thick canopy. These routes were also longer.
When we got down, we agreed this was an amazing adventure. Indeed, nothing else during the rest of our trip in Peru—including Machu Picchu, paragliding, dune-buggying and pisco and wine tasting—would top it.
Need more convincing? Watch this three-minute video recapitulating the experience!
How the Pods Were Constructed
I asked one of the guides questions on the construction of the pods. Were they built piece-by-piece on the side of the mountain, or where they built down below and then somehow brought up or lowered down from the top?
Apparently, frame and bodies of the pods were built down below, and then brought up via a pulley system. I forget exactly how much the guide estimated they weighed, but they may have weighed around 700 pounds each. This included the welded, circular metal (aluminum? steel?) tubing and the transparent, Plexiglas windows.
I also forget how long it took to build the pods, pull them up, and then outfit them with beds, a makeshift toilet, etc., but I think it was around 10 months, give or take half a year.