Open Streets: Maple Bikeway
When I attended an Open Streets event on Ponderosa Dr. last year, I likened it to Cañada Road Bicycle Sundays near Steve Jobs' old stomping grounds in which a thoroughfare would be closed off to cars for the sake of recreational and hardcore cyclists alike. While there were some similarities including the "no cars allowed" rule, this month's Open Streets on Maple Bikeway made me realize that Fort Collins' event has a very different purpose.
For example, there were so many spectators, wandering children, and street performers that it was difficult to ride a bike at more than five miles per hour. The closed-to-cars section of Maple Street was less than two miles. The intent, then, was not to give cycling enthusiasts free reign to train for the Tour de France or do any Peter Sagan impressions, but to expose Fort Collins residents to different activities, organizations, and yes, businesses.
The City of Fort Collins' website explains,
In 2019, Fort Collins Open Streets events will feature tactical urbanism projects along the one- to two-mile route, as well as programming by local organizations and businesses. Participants are encouraged to Ride the Route and explore streets that are walkable and bikeable on a daily basis.

https://www.fcgov.com/openstreets/
Whether the mission of Open Streets has changed over the six years of existence is something I do not know, as this was only the second time I attended.
Whatever the case, my friend Manuel and I enjoyed the event. We both biked over from our homes and stuck around for about an hour, despite there being quite a few rain showers. (Late spring this year has been by far the wettest I have ever seen Fort Collins, as it rained almost daily for six weeks straight!)
Activities and organizations we visited included a break dancing club, an improv group, and Transfort. The latter is Fort Collins' public transportation operator, and there was a bus people were welcome to wander into. Despite living here for 14 years now, this was the first time on one of the Transfort busses.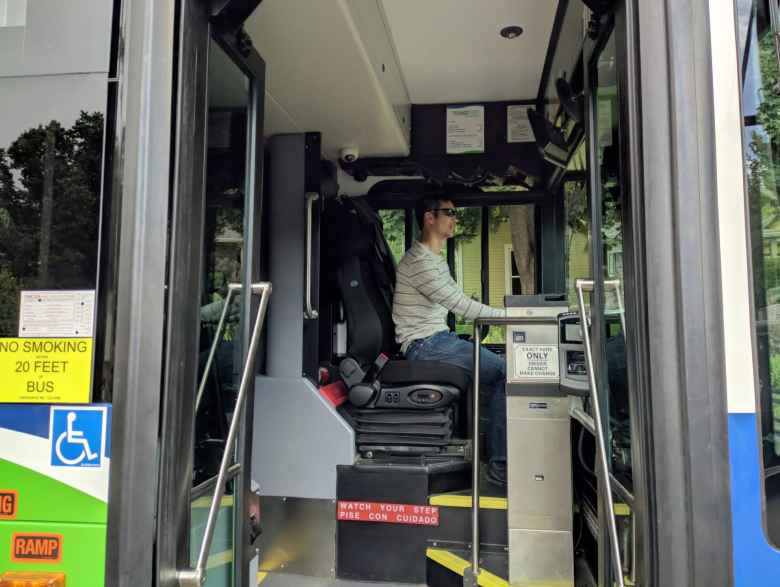 Drive Electric Northern Colorado—an electric car advocacy group that I volunteered for in 2013—was also here. Manuel was pleased there were a couple of Model 3s here, including this red one.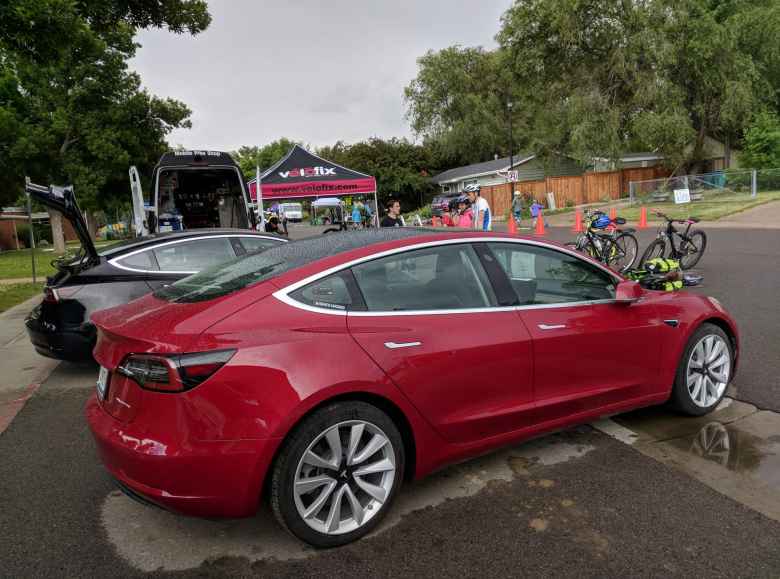 We also stopped by a stand run by an enterprising young girl who was selling cups of cold, pink lemonade for the bargain price of 50 cents. We bought two.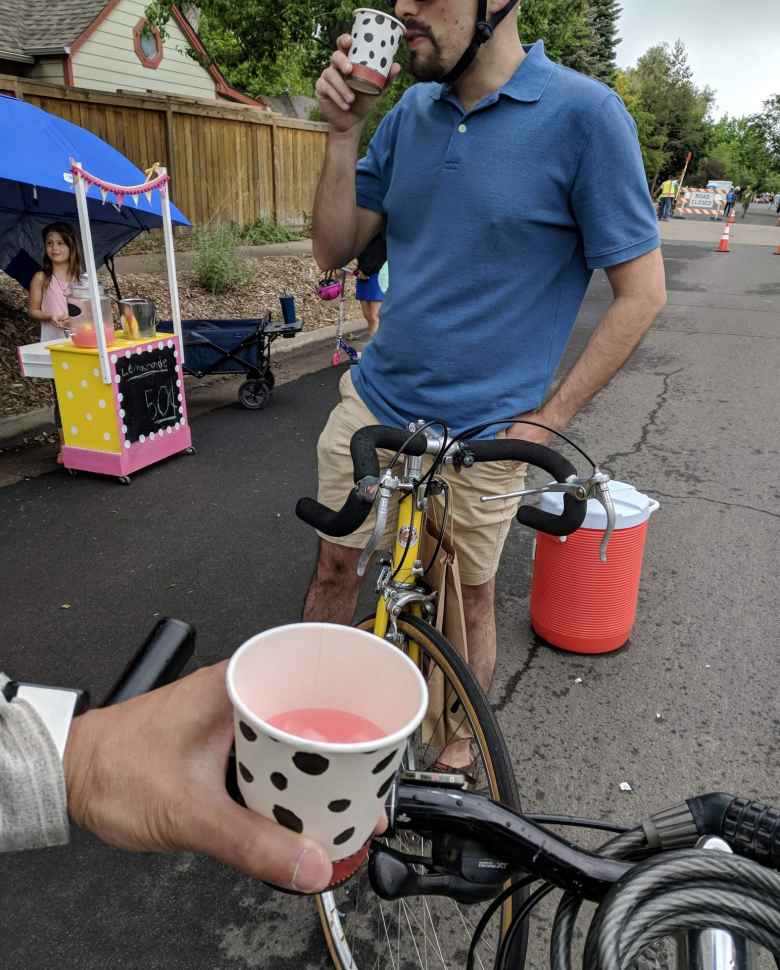 As for Maple Bikeway, it is relatively new. According to PeopleForBikes.org, Fort Collins' has been creating bikeways in order to inexpensively make ordinary lower-traffic local streets part of a low-stress network of bicycle routes.
It definitely seemed lower-stress than, say, Cañada Road ever did, that's for certain.