The End of My Microsoft Fanboyism
Less than two decades ago, too many computer viruses, Blue Screens of Death, and half-day Windows re-installs had made me become a bona fide Microsoft hater. In fact, my frustrations with Bill Gates' so-called Evil Empire had pushed me into nearly an entire decade of futile experimentation with numerous distributions of Linux, including Red Hat, SUSE, Ubuntu, and other flavors I have thankfully forgotten about. I also went though several models of Apple laptops, including the original candy-colored, clamshell iBook and rectangular iBooks with failing logic boards and broken power supply connectors.
If anything, the hours of trying (often unsuccessfully) to install drivers and open source software via Linux's stupid command-line interface, and the dollars-down-the-drain on failing, overpriced hardware made by The Fruit Company, made me realize that Windows-based PCs weren't so bad. I even used Windows 7 for a year and it never crashed—unlike, say, Ubuntu.
Then in 2012, the company that was then being led by Steve Ballmer had suddenly become as inspired and design-focused as Apple's legendary Jony Ives. In that year, the company unveiled Windows Phone, the Microsoft Surface, and Windows 8. And a funny thing happened.
I fell in love with Microsoft products. I became a Microsoft fanboy.
At the height of such fanboyism, I had all the following: a Lumia Windows phone, a Microsoft Surface RT (and then Surface 4), a homebuilt workstation running Windows 8.x and then Windows 10, an xBox 360, and even the Microsoft Band (first-generation and then second-generation). Some inexpensive-but-excellent basic accessories also graced the office desk, like a Microsoft keyboard and wireless mouse.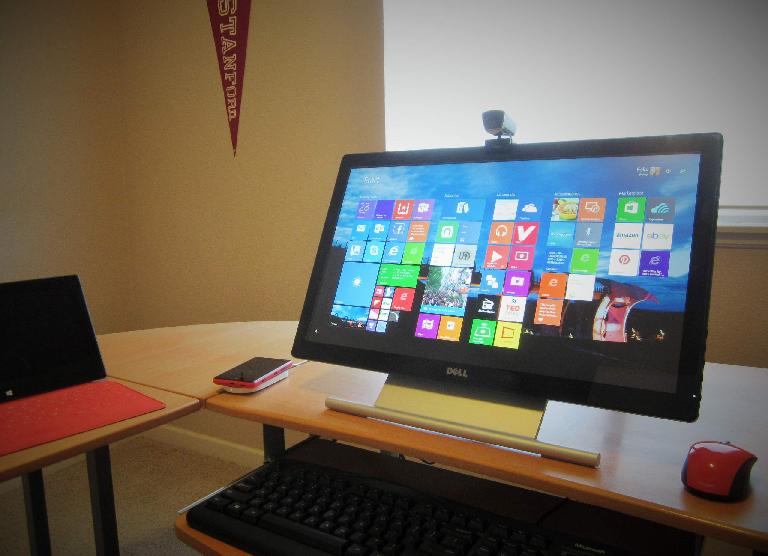 Fast forward to today (June 2019). Or even 2018. Aside from the keyboard, wireless mouse, and the xBox 360 that has been relegated to a DVD player that gets used two or three times a year, and an obsolete Windows phone that was re-purposed as a bicycle computer, I have no Microsoft hardware anymore. The total market value of the said equipment is less than $50.
What happened?
Hardware
Fitness Band
Let it be known that I really liked the Microsoft Band. In fact, in my initial impressions I even declared that the second generation was "virtually perfect." That was definitely a premature verdict, considering how prone the band was to tearing.
Battery life also left a lot to be desired using GPS. There was not enough juice to leave the screen on when running a three-and-a-half hour marathon, and my eight-second miss of a 3:30 time at the 2016 New York City Marathon can be partly attributed to not sprinting the last 100-200 meters due to not knowing how much time had elapsed.
So a month after the said tear in the rubber of the Microsoft Band 2—which occurred not long after its one-year warranty period expired—I resolved I would never purchase another wrist wearable that did not have a user-replaceable strap. This ruled out a future Microsoft Band… if Microsoft had not thrown in the towel and discontinued the product altogether and even shut down its Microsoft Health website a few years afterward. (To its credit, after the website shutdown in 2019, Microsoft offered some late buyers refunds even thought they got several years' use out of the Band 2 already. That's pretty unheard of.)
Instead, I bought a Garmin Forerunner 35 that cost only $160 brand new and was aesthetically pleasing. Never mind that its styling was clearly cribbed from the Apple Watch; this was one of the first Garmin devices that actually looked decent.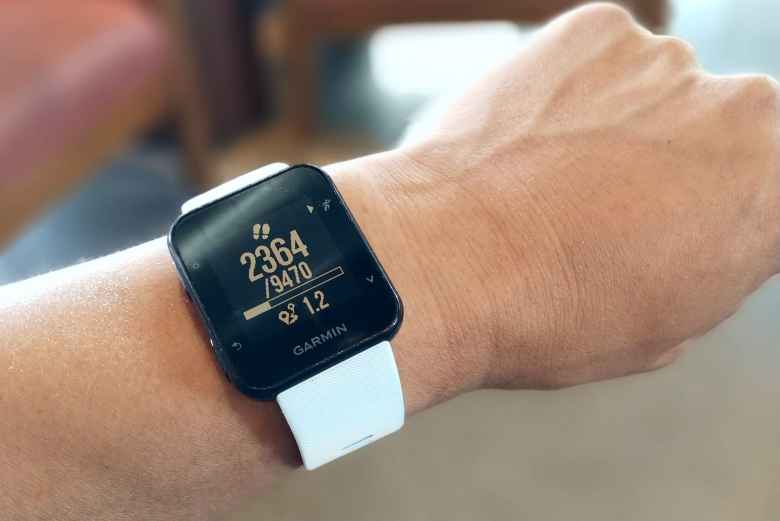 Despite my long history of failing Garmin devices from before 2013, I can say after 2.4 years of using the Forerunner 35 that it has been faultless. With its monochrome display, the battery can last for up to seven days if GPS is not used, and up to 13.5 hours when GPS is in continuous use. (Nowadays, due to battery degradation, it goes about 11.5 hours using GPS before flashing a low battery warning—still enough for most hikes, runs, and bike rides.)
The Garmin Forerunner 35 is waterproof. It is accurate. It locks into satellites and synchronizes with Garmin Connect and Strava quickly. It has never crashed. The rubber strap has been robust and can be swapped out for other colors. The message notifications are great. Most of the time, simply charging the watch while I am taking a shower is enough to keep its battery topped off.
I should know better to use this phrase again, but this device has been "virtually perfect."
Smartphone
The sad demise of Windows Phone does not need to be rehashed here. I saw the writing on the wall in 2017 and switched over to Android smartphones, even if I have been using a Windows Phone theme via the excellent Square Home launcher.
First, I was using a Motorola G4:
That phone was great and I enjoyed using it, particularly in Portugal and Spain. However, in Singapore it started to get ghost touches for some reason. So in November 2017 I pounced on a Black Friday deal for an Essential PH-1 that essentially made it cost only $275 brand new.
Nearly two years later, this phone made by Andy Rubin's American start-up is still my daily driver. It was the first phone on the market with a notched, near-full screen display, and is made of truly premium materials including a titanium frame and ceramic back. It's about the perfect size with a 5.7-inch screen, yet is compact enough to be usable with one hand. Critics complained about the camera but it seems very good to me, especially with the GCam port.
I don't plan on replacing it until a non-Chinese OEM comes out with a mid-priced phone that features an un-notched, full screen display with telescopic and wide-angle camera lenses. Or until the phone breaks or after the non-replaceable battery has degraded substantially.
TV Casting
For years I tried TV casting solutions within the Microsoft ecosystem, starting with a second-hand xBox 360. That worked but required using a clunky, unintuitive game console controller and was prone to undergoing lengthy, annoying updates. The console itself hogs electricity and is slow by 2019 standards.
Next I tried the Microsoft Miracast Wireless Display Adapter. That was prone to crashes and lagging.
Then I tried converting the TV into a virtual PC using the Lenovo PC Stick. But its wi-fi speed was too slow and moving a mouse cursor on the TV screen using the phone as a trackpad was cumbersome.
Finally, I purchased a Chromecast. That was so much better and allowed robust and speedy streaming and one-click connections from various phone apps like YouTube or Google Play Music, or the Chrome browser on PC. This was one of the best $25 gadgets ever developed.
Laptop/Tablet
When the Microsoft Surface came out, I was captivated by its 2-in-1 form factor, thin and colorful keyboards, and novel kickstand. By January 2013, the Surface RT became my primary portable computing device. Yes, the same one featured in the much-ridiculed 2012 "Surface Movement" commercial, replete with acrobats and dancing girls. Never mind that I liked that ad.
It might have been somewhat under-powered, but I enjoyed it so much that I used it for nearly three years before trading it in on a new Surface Pro 4 in November 2015.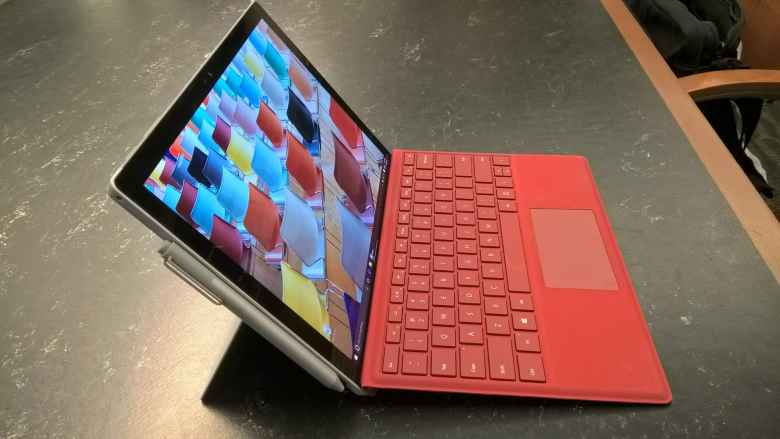 The Surface Pro 4 was a great computer, one I used daily for nearly three years after which there was enough battery degradation to cause significant "range anxiety," like what owners of the first-generation Nissan Leaf electric car experienced after driving an hour on the highway. The battery deterioration, while normal, reduced the computer's unplugged, powered-on time to a mere four hours, after which I'd have to scamper towards the nearest electrical outlet.
It also exposed some weaknesses of the Surface Pro line, including:
The computer was not user serviceable. The iFixIt repairability score of 2 meant that it was extremely difficult to take apart and replace the battery, particularly because everything was glued together.
Since Microsoft would charge upwards of $350 to replace the battery, I contacted a local company to see what they would charge. They quoted $175 with the caveat that they could not guarantee a successful repair, and that they have "bricked" Surface Pros before by attempting to do so.
The Surface Pro's proprietary magnetic connector meant that you could not charge the computer with common portable battery packs.
The lack of USB-C/Thunderbolt meant that you could not connect an external graphics card for, say, speedier CAD rendering.
I had a few other issues regarding the Surface design, including:
The fabric keyboard was hard to clean. Also, it started to get ragged around the edges after a couple years of use.
The computer was a little uncomfortable to use on the lap. It wasn't as stable as a laptop and the kickstand edge dug into the legs.
So in summer 2018, I handed over the computer to Maureen for her use and replaced it with… an HP Spectre x360 with Intel Core i7, 16 GB RAM and software privacy screen. It is a gorgeous 2-in-1 laptop; HP has really been nailing it on the design front recently. Moreover, it literally solved all the issues above. I.e., it can be quickly disassembled by loosening Torx screws, it had Thunderbolt USB-C ports, the keyboard is metal and being a convertible 2-in-1 design, you can prop it on your lap like any traditional laptop.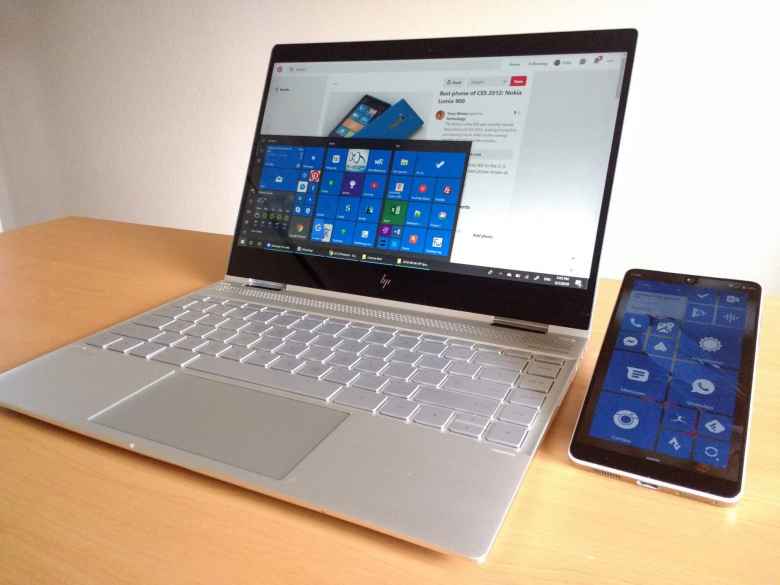 I really like its premium aesthetic and do use each of its four modes made possible by its 360-degree hinges: laptop, tent, display, and tablet. I use laptop configuration when typing an email or document; tent mode while eating (so that the keyboard doesn't get splattered with food and to situate the screen closer) and riding the recumbent bike on a trainer; display mode while reading in bed; and tablet mode for inking.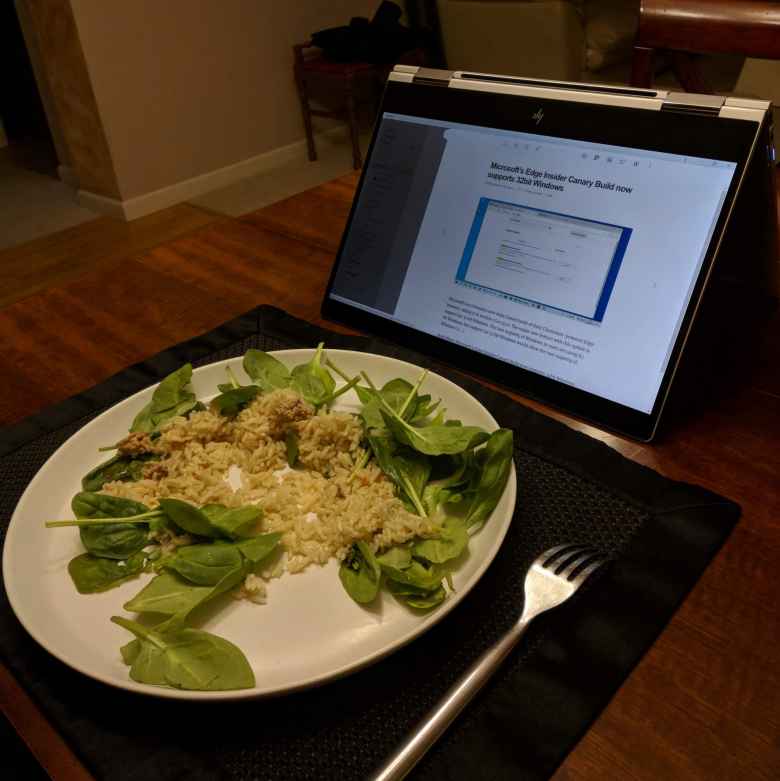 It can usually go 7-9 hours before needing to be plugged in; 12 hours with extreme battery-saving tricks like turning the screen brightness all the way down and turning off wi-fi when unneeded. Those are powered-on times the Surface tablets could never attain. It's super speedy too.
But What About Software?
I remain a huge fan of Windows and Office, which alone keeps me in Microsoft's corner. But even then, they are starting to lose me elsewhere.
Microsoft Windows
There's some software I need to use, like Solidworks, that only works on Windows. That right there is a compelling reason to stick with Windows.
But ever since the release of (much-maligned) Windows 8, I have actually come to hugely prefer Windows over competing operating systems.
MacOS limits hardware choice to one company. While Apple has consistently turned out beautiful designs, that does mean being constrained to higher price points or older hardware, and being subjected to Apple's design decisions like eliminating legacy ports, jamming butterfly keyboards and not having touchscreens on their computers even in 2019 because Steve Jobs erroneously claimed they would give people "gorilla arms."
Furthermore, I prefer Windows' interface over MacOS, which I think looks more childish and is far less customizable. Windows 10 also has a dedicated tablet mode that works very well for when you just want to consume content with your eyes and fingers. And nowadays, perhaps due to being accustomed to Windows, every time I've had to use a Mac laptop has been an experience of frustration, especially without a touchscreen or right-click button, and having different keyboard shortcuts. Plus companies like HP and even Microsoft itself have been killing it on the hardware design front these days.
What about Linux? I've experienced command-line hell just to install drivers and software or change settings for too many years already. No thank you.
ChromeOS might be a viable alternative, but is something I have not tried nor seriously considered due to its long reputation and history of being relatively limiting. That may be changing. I can see myself exploring that route if Microsoft pushes me away further.
Microsoft Office
Microsoft Office rocks. That was my conclusion after using LibreOffice and Google Apps for extended periods of time. Those two alternative suites are not 100% compatible and I have encountered problems when opening Excel files with pivot tables and Word documents with lots of embedded text boxes and images. LibreOffice, being written in Java, takes an eternity to load, and Google Apps, while otherwise usable, can be very slow and lacks some of the advanced functionality I take for granted in Office.
Moreover, an annual subscription to Microsoft Office is a tremendous bargain—dare I say cheap! Office 365 Personal, for example, is only $70/year, which not only provides a license for one person with multiple PCs, tablets, and phones, but also 1 TB of OneDrive space. The amount of cloud storage (and auto-backup) alone is worth that price, and you get bona fide Office—including my two favorite programs, Excel and OneNote—along with that!
Microsoft Outlook
I migrated to Outlook from Gmail in 2012 and have not regretted it. Gmail's user interface, for one, looked antiquated in comparison until recently. It also makes sense to be using Outlook if you use Office and OneDrive.
Another reason I stick with Outlook is that every time I go to China I can access it, whereas Gmail (along with all Google services and many VPNs that would otherwise enable you to circumvent the Great Firewall) is blocked.
Bing
Haha, who uses (and actually prefers) Bing over Google for search? Well, I do. For one thing, I prefer their image search results. I also like better Bing's main search page featuring beautiful images of the day over Google's stark, excessively minimal, and much-copied one (see Baidu, for example) despite it being credited to Marissa Mayer, who was the section leader at Stanford who used to help me after class and grade my assignments in the only computer science course I ever took.
Most of all, searching with Bing has yielded about $50/year in Starbucks gift cards since 2014. That's a lot of free drinks! You can read more about that in my post about Bing Rewards.
Everything Else
Alas, Microsoft has been losing me almost everywhere else on the software front. Most is because of their own doing, shutting down services and not giving me any choice but to use an alternative. Some examples:
Microsoft Edge: Until a few months ago, I was using Edge on both PC and phone. But then bookmarks stopped synchronizing with one another, and I couldn't fix that. Plus there were a few websites that would not run well, or at all, on Edge. So I switched to Google Chrome, which also has the benefit of working with Chromecast and better with YouTube.
Microsoft is currently re-coding Edge so that it is powered by Chromium, which underlies Chrome, meaning that all of Chrome's advantages will be negated. If Microsoft can incorporate the previous Edge's advantages like inking and setting aside tabs, it should be better than Chrome. So when the new Edge exits the beta phase, I expect to switch back to it. But until then, I am perfectly content with Chrome.
[January 2020: I did indeed switch "back" to the new Microsoft Edge for Windows and definitely prefer it over Chrome due to having a Bookmarks button, back button for navigation bar-free PWAs and web apps, and supposedly being better on battery. On Android, I prefer Microsoft Edge due to having a forward button.]
Microsoft (Bing) Maps: When I switched to Android for mobile after Microsoft killed Windows Phone, I started using Google Maps instead. It works really well, including in other countries not named China.
Skype: Microsoft bought Skype for 2011 in $8.5 billion dollars and then totally squandered its potential. With its early lead in chat and video calling, it should be dominating that market. However, Skype's unreliability and performance issues that remained largely unresolved have made it a total disgrace. So I use Facebook Messenger and Whatsapp instead. So does the rest of the western world who is not using iMessage on iOS and Mac.
Groove: This was an excellent music service and app, but Microsoft shuttered it. So now I use Google Play Music (to be deprecated by Google soon) and briefly used YouTube Music Premium for an ad-free streaming experience. Now I'm trying out the free versions of YouTube Music, Pandora, iHeartRadio, and Spotify again to see if I don't mind the ads in exchange for not paying subscription costs.
When I want to purchase a song, I buy the MP3 file at Amazon now.
Microsoft Movies: This was also shuttered. So now I use YouTube for movie rentals. it's less expensive than Netflix due to the low number of movies I get to watch each year and works on every computing platform.
Cortana: I really liked Microsoft's Jen Taylor-voiced, Halo-inspired AI assistant the moment it came out—especially since she used to have a lot more personality than Siri or Google Assistant.
But Microsoft left that languish ever since the death of Windows Phone. So now I use Google Assistant more and more, especially after my friend E gave me a Google Home smart speaker (another consumer market segment Microsoft completely gave up on).
Microsoft Health: Microsoft shut down this service recently too. But I had already stopped using it by the time the company abandoned the Microsoft Band.
Microsoft Books: This was a short-lived service that never gained any traction, even among Microsoft faithful. Why use Microsoft Books when Amazon Kindle was long established and worked on every platform?
I did buy one e-book on the platform for $2.14 on April 6, 2017, just to test it out. Amazingly, 26 months later on July 2, 2019—after Microsoft Books closed—Microsoft refunded me all of that amount even though I never asked them too. This is another example of how the company tries to "make up" and "do good" for its customers when it shuts down a service, which it really should be commended for.
Nowadays I have an annual subscription to Scribd, and purchase ebooks for Kindle for titles I cannot find on Scribd or from the local library's catalog of electronic resources.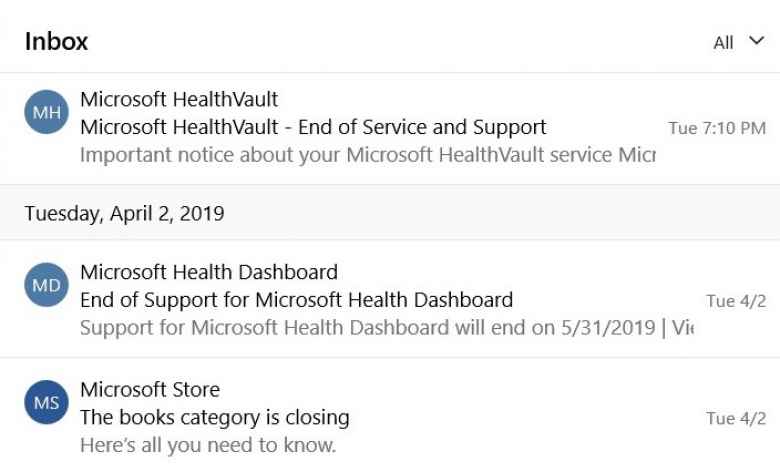 Conclusion
As you can see from the above, I have been largely moving away from Microsoft hardware and services, mostly to the benefit of Google. While I still enjoy using Microsoft's software, it's hard to claim that I am a big Microsoft fanboy anymore.
The ironic thing is, as much as Microsoft has been pushing away consumers like myself, the company has never been doing better financially. Just the other month, Microsoft's market capitalization exceeded one trillion dollars. At the time of this writing, it is the only company to have a 10-figure market cap, making it the most valuable company in the world. How did that happen? It's mainly because of the strength of its cloud and enterprise businesses, but even the Surface, xBox, and Bing divisions have been turning healthy profits lately.
Happily, MSFT remains the only individual stock I own (otherwise, my stock portfolio consists of index funds only). My MSFT shares are all holdovers from when I first invested in the company at the start of my fanboyism over six years ago, when the stock price was $30. Those shares are worth $130 now.
If anything, that should have made me more of a fan of Redmond's most famous enterprise. Surely Microsoft is doing something right.