"There were nearly 70 stations during Bike to Work Day," I told my dad, "with almost all of them offering free breakfast!"
"Who provided the food," my dad wondered. "And why?"
That was a good questions, considering all this free food was not exactly cheap for the givers. Take the station at New Belgium Brewery, for example. Not only was there several kinds of name brand cereal and different types of milk (whole, skim, almond, soy, etc.), there was quinoa with berries and fruit. Quinoa, from what I understand, has been skyrocketing in price in exporting countries such as Peru due to its newfound popularity among protein-craving, health-conscious westerners. The cereal and quinoa was offered with loaner bowls and utensils that were nevertheless made of ceramic and steel, respectively, eliminating waste but incurring costs in both energy and water to wash them in addition to volunteer time.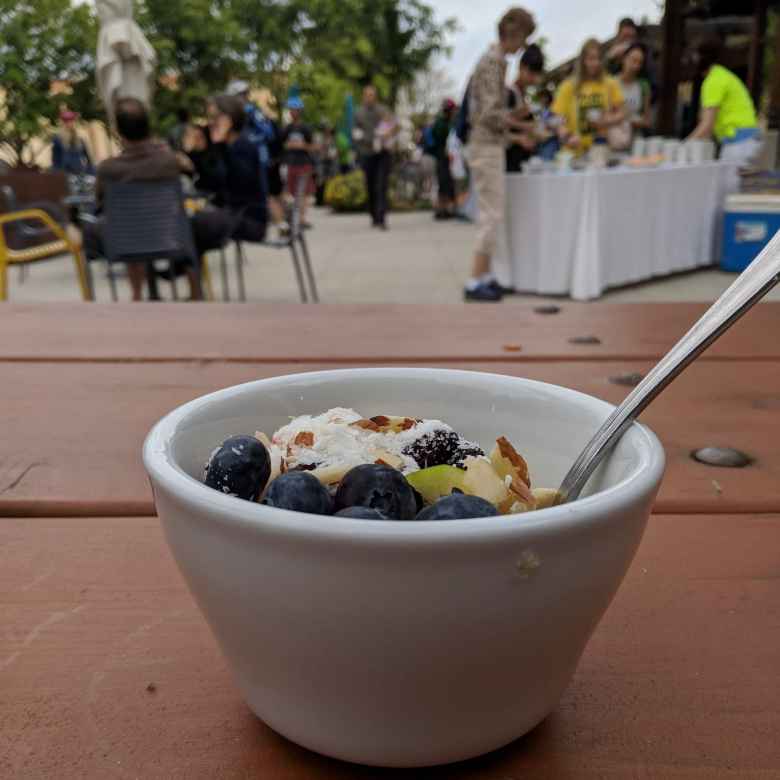 Regardless of the expense, there were lots of organizations and enterprises hosting Bike to Work Day stations. Many, perhaps, really did want to promote cycling to work for the myriad of health and environmental benefits. All of them were thrilled to use this as a marketing opportunity to get word out about their services and/or products.
Take, for example, the developers and real estate agents for the housing development being constructed in Old Town called Confluence that were handing out water bottles. What did these swanky new lofts have to do with biking to work? Well, I suppose for their future owners, they will be "Point A" of their point-a-to-point-b commute each day. Moreover, it got word out about the availability of homes for enthusiasts of downtown, urban living. Never mind that the least-expensive, 1-bedroom loft with 859 square feet of space is going for $500k and the sold-old penthouses went for about $1.2 million. Fort Collins is getting gentrified.
A good portion—and perhaps the most enthusiastic—of Bike to Work Day participants were not prospective housing buyers, but students from Colorado State University, the local institution of higher education. Take my friend Brooke, for example.
"Grad students never turn down free food," she said after I observed her big haul of schwag and edible handouts that filled the deep basket on her Giant mountain bike.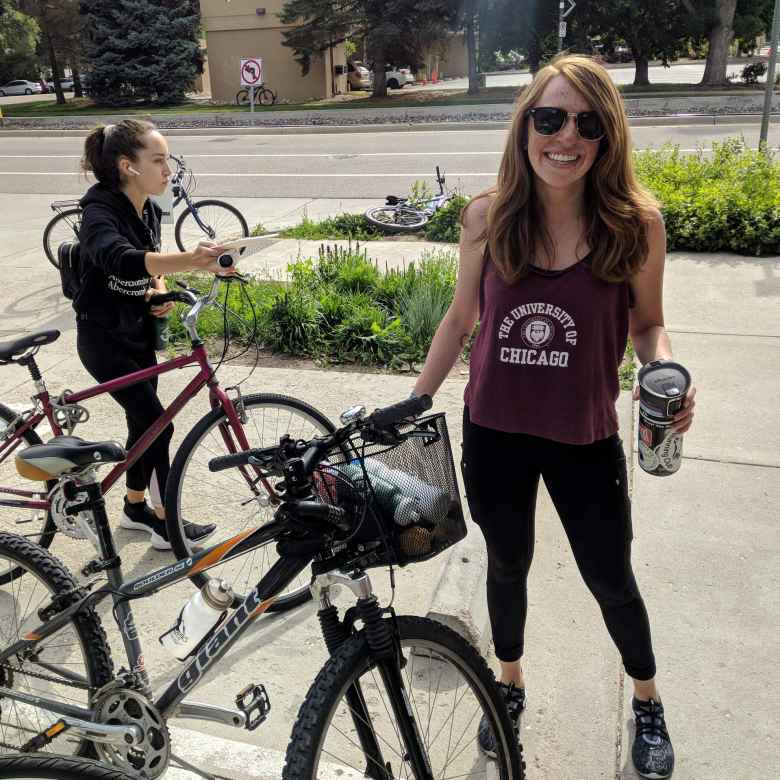 She managed to acquire a bit more than I did somehow. Go figure. No wonder Oreo looks unimpressed with what I brought home. Oh well, at least I didn't have to make or buy breakfast today.