"This Saturday is the Broncos 7K at Anheuser-Busch," I told my friend Emily. "You should come and run and then meet some Broncos with me, maybe touch a Super Bowl trophy or two. It'll be fun!"
Happily, Emily—who was also enough of a bad*ss to do the Horsetooth Half Marathon and Murph Challenge on virtually no training—was game to do so despite how impromptu this suggestion was. We found each other at the brewery and Broncos photographers immediately were asking to take pictures of us. Here's one with long-time Fort Collins Running Club member Tom, a staple at local races.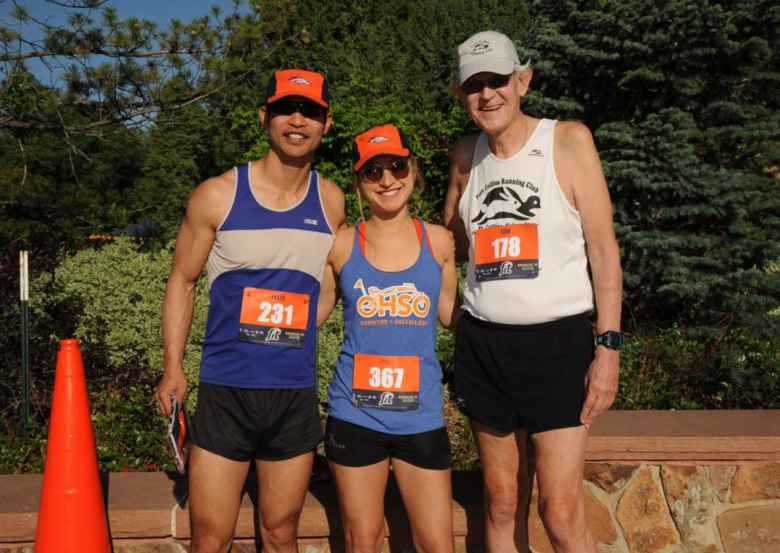 Forty-five minutes later, we were behind a few rows of people who were eyeing the start line and a couple Broncos cheerleaders. Then they were watching Miles the Mascot do his best Jane Fonda impression of doing a bunch of stretches. I say "watching" instead of "following" since only four or five people actually joined him or her in the pre-race body prep. As it was already 80F, I think most people figured there was no real need to warm up or start sweating already. I know I didn't!
Soon enough, the 7-kilometer footrace commenced. Technically, the Broncos had advertised this as a "training run" presumably because no awards were to be given out at the end, but as everyone had a bib number with a timing chip, this was indeed a race and I treated it as such with a goal of sub-seven minutes per mile.
The course was nearly identical to December's Sweaty Sweater 4-Mile put on by Green Events, but in a clockwise direction and an additional out-and-back section to make it 4.35 miles (7 kilometers) instead of 4. There was one short uphill of a mere 3% grade, which would be last time I would catch and pass someone during the race.
I then ran the out-and-back section, and right before turning left onto Douglas Rd. was pleased to see Emily.
"Goooo Emily!" I yelled, pleased to see she was less than a half-mile behind. She later reported that she faded in the last mile, but I think she did really well considering she was top 10 women with no training.
In my case, I crossed the finish line with the Garmin reporting a 7:01/mile average (7:03/mile official). As has been par for the course a lot this year, I was super close to the pre-race-stated objective, this time on the outside looking in by only a few seconds per mile. Nevertheless, considering the air felt like it was coming from a space heater, and only five people finished in front of me, I was very pleased with the effort.
Afterwards, we went to visit with four Broncos players and two cheerleaders, including getting their autographs. We also got to pose with the Broncos' three Super Bowl trophies.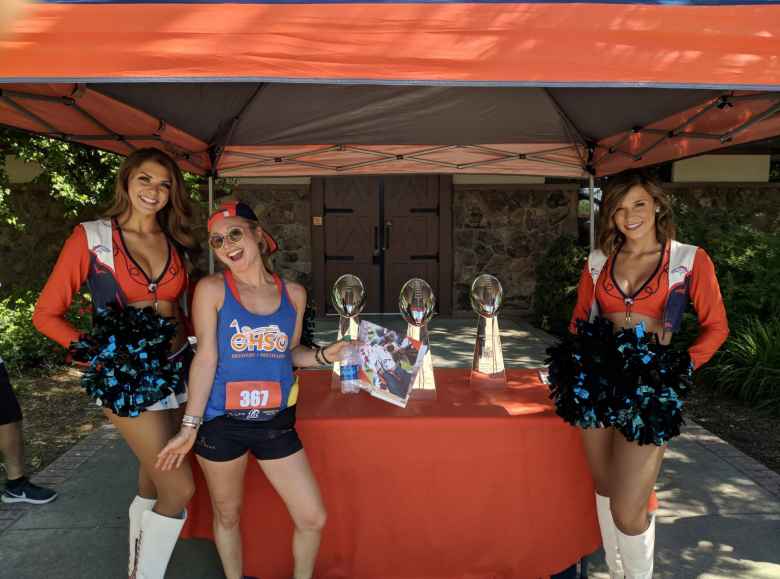 Hopefully another trophy will be added to their collection the next time we do the Broncos 7k. With any luck, the Broncos players will be taking pre-game warm-ups more seriously than the mascot-ignoring runners today.
Race Data
Final time: 30:40 (7:03/mile)
Overall place: 6/351
Official results