Oregon Coast Scenic Drive
An activity that had been on my bucket list for a long time was driving the Oregon coast in a sports car. I briefly considered driving there in the Audi TT Roadster Quattro, but that would have added several days and a few thousand extra kilometers to a vehicle that is not only getting up there in age, but has nearly 115,000 miles on the odometer. Better to rent, I thought. But where to find a suitable vehicle?
I decided to give Turo a try, which dubs itself as "the AirBnB for rental cars." Since private parties rent out the vehicles, there was potentially a much wider range of cars to choose from—including some with a stick shift. Using Turo's filters, I came across a 2008 Pontiac Solstice GXP for rent. Perfect. I've always loved the styling of that "back-to-basics roadster" from America's now-defunct "We Build Excitement" car manufacturer, and I was particularly intrigued because it has been on my list of potential replacements for the TT.
So I flew into Portland, took mass transit over to the Solstice's owner's home in Vancouver, Washington—and after the owner showed me how to raise and lower the top, he handed me the keys. Off I went—with the top down, of course.
From there I drove over to an AirBnB in Astoria, a town I had fond memories of not because it's where The Goonies was filmed, but because it was the starting point of one my life's great adventures, the 2015 Trans Am Bike Race. There I ate a delicious dinner consisting of oysters, fries, and beer at the Buoy Beer Company, and enjoyed a sunset at the Astoria Column.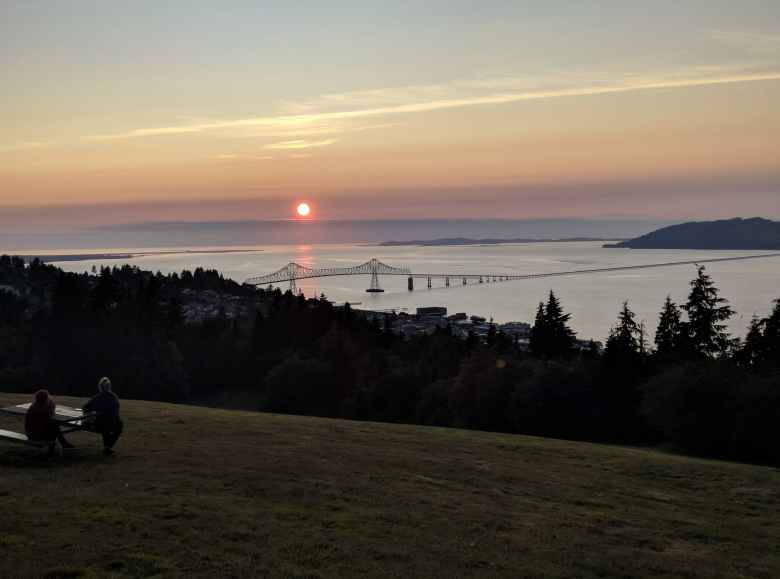 From there, I met up with my friends Alex and Nora. They are from Fort Collins but have been teaching English in Hangzhou, China last year and this year. They were spending six weeks in the States this summer (indeed, I saw them several times in Fort Collins) and by chance happened to be in the Pacific Northwest at the same time. They invited me over for breakfast and we had a fun time with their family in Seaside, Oregon.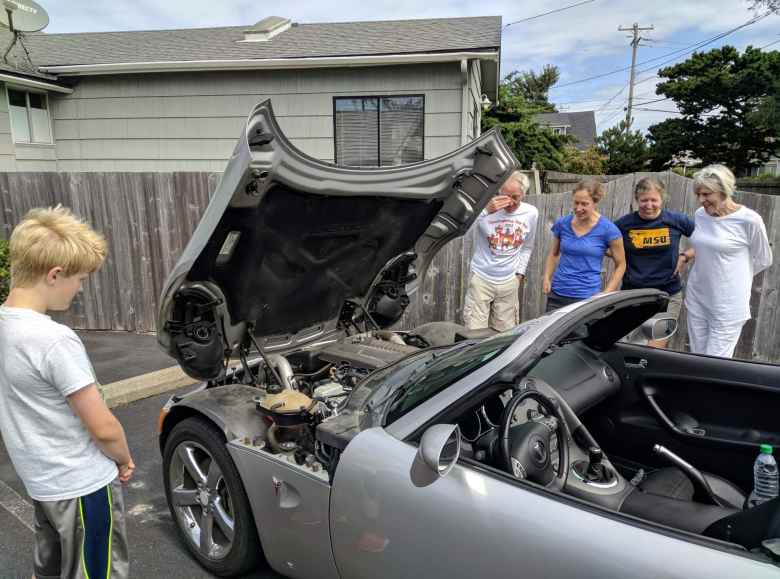 Alex and Nora had biked most of the the whole length of the U.S. Pacific Coast a couple years ago ("the Oregon coast was the best part," they assured me), and gave me some tips as to where to stop off. Their advice augmented what I had read in the book, Lonely Planet Pacific Northwest's Best Trips. They particularly recommended Ecola State Park and Cannon Beach nearby.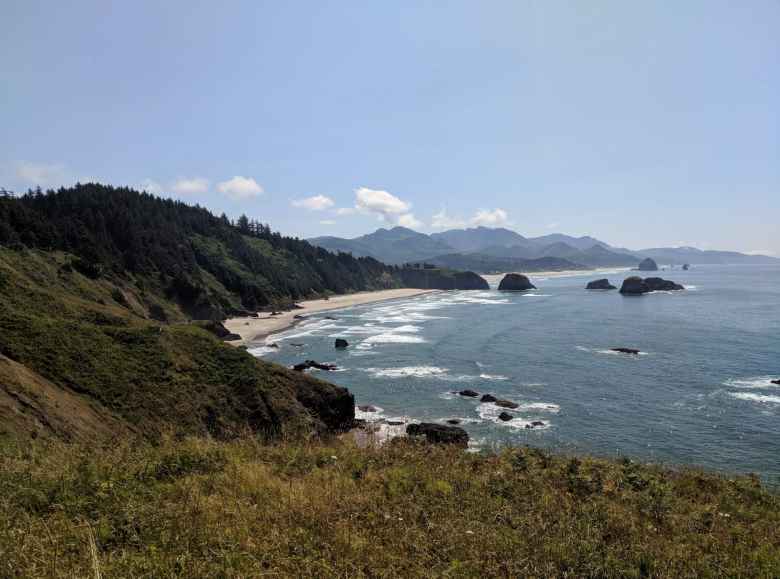 I stopped off at both of those places, and it soon became apparent that I should have given myself more than two days to drive the Oregon coast! Particularly because the safe driving speeds on US-101 were generally 40-60 MPH, and there were just so many places to see.
This could explain why I only spent 45 minutes in Tillamook to check out the cheese factory there. You could easily spend hours at this place. Due to the time crunch, I resigned myself to having to read about the Tillamook Cheese Company after I returned home, and used the time there to try Tillamook cheese samples only. Yum.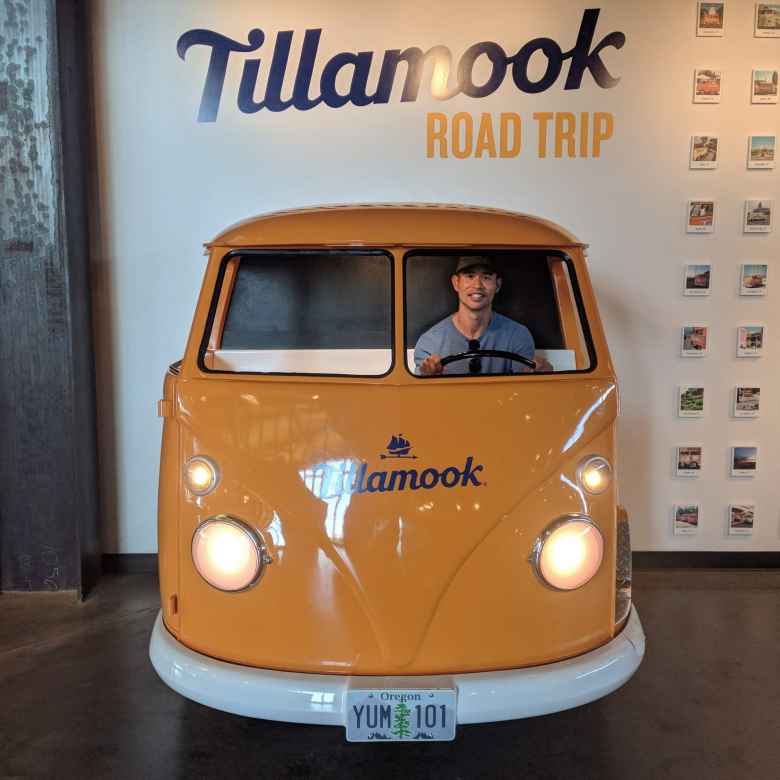 From there I drove down to Depoe Bay, which claims to be "the world's smallest navigational harbor." As rushed as I was, my timing was good as there were a lot of people gathered around. I looked down at what they were ooh-ing and aah-ing at. The moment I did, the tail of a whale kicked up vertically out of the water, much like a dolphin! Too bad I couldn't capture that for the video below.
Then I stopped by the Yaquina Head Lighthouse, the tallest of its kind in Oregon. I got in a mile run to get the photo below.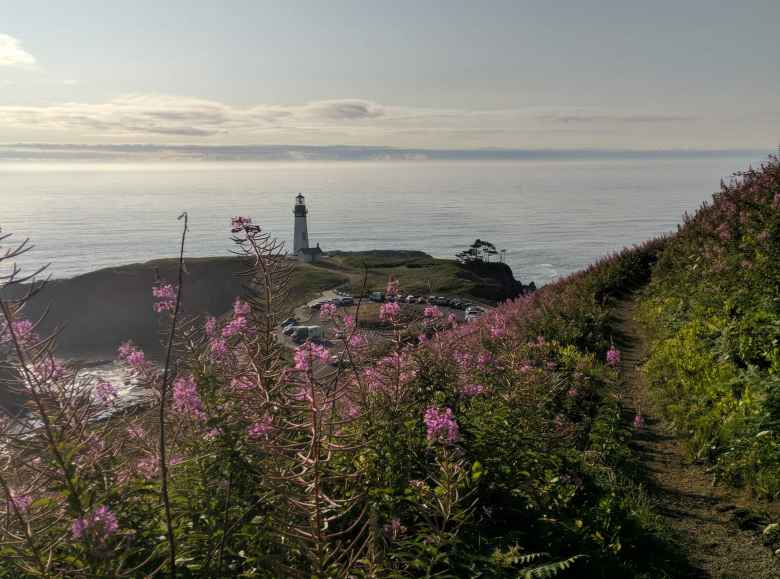 My objective for the night was to get to Coos Bay, but only got to its neighbor to the north, North Bend. I checked into a hotel there before continuing on the next morning through Steve Prefontaine's hometown.
Speaking of Pre, I was absolutely delighted to spot this mural off US-101 while driving through central Coos Bay! I had no idea in advance there was one.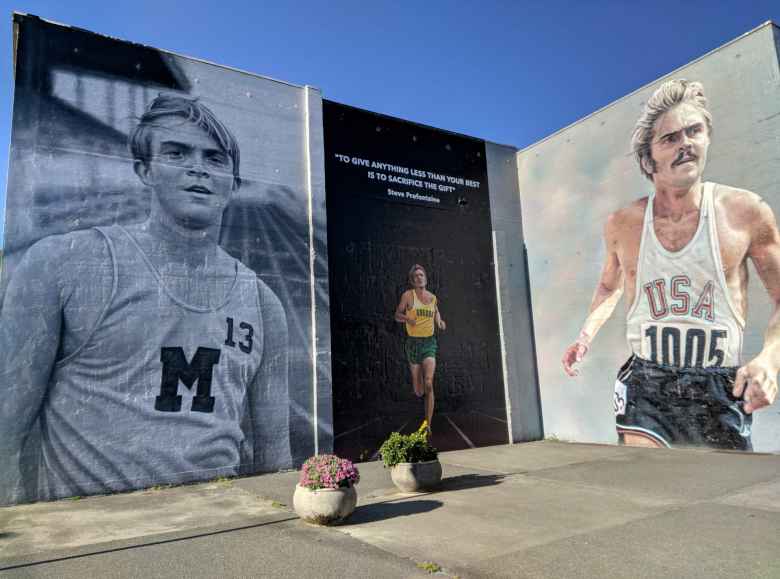 As I needed to get to Jacksonville, Oregon later that evening, I stopped a whole lot less than the day before. This stretch of the Oregon coast, however, was actually some of the nicest, with usual rock formations lining the drive from Gold Beach to Brookings. They comprised the Samuel H. Boardman State Scenic Corridor.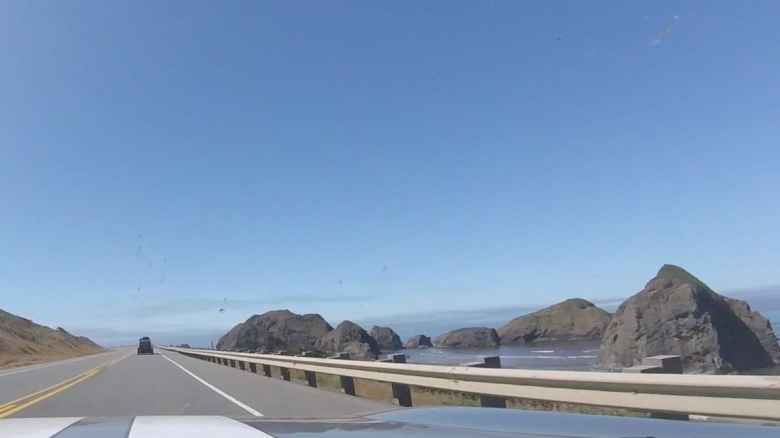 My final stop along the coast was in Brookings, which is the last major town along the coast. In addition to eating a Subway sandwich, I took a walk in Azalea Park. Unfortunately, I didn't spot many of the flowers the park was named after. Supposedly, they bloomed in May and June.
The Oregon Coast was a wonderful drive, one of the best I have ever done!