Six days. I figured that would be long enough to drive 1200 miles down and up through the Pacific Northwest in a soul-stirring Pontiac Solstice GXP and to visit nine friends. It was, but my schedule became rather rushed. It would have been better to have had an extra day.
These are some of the highlights of the trip:
Took mass transit from Portland International Airport to Vancouver, Washington to pick up my Turo rental car (the Pontiac Solstice). The 1.5-hour bus fare cost only $2.50. Amazing.
From there, I drove directly to Astoria, Oregon, stopping en route to purchase a magnetic phone holder that attaches to a vent.
Ate a delicious dinner of oysters, cole slaw, fries, and a Pale Ale beer at Buoy Beer Company in Astoria, and then driving up to the Astoria Column for a splendid sunset, before staying at an AirBnB in nearby Warrenton.
Did the Oregon Coast Scenic Drive, which was on my bucket list for a long time. This included having breakfast with my friends Alex and Nora and their family in Seaside, hiking at Ecola State Park, cheese tasting at Tillamook, running at Yaquina Head Lighthouse, stopping at the Steve Prefontaine mural in Coos Bay, and visiting Azalea Park in Brookings.
Had dinner at an A&W drive-in in Florence like they would do in the movie American Graffiti.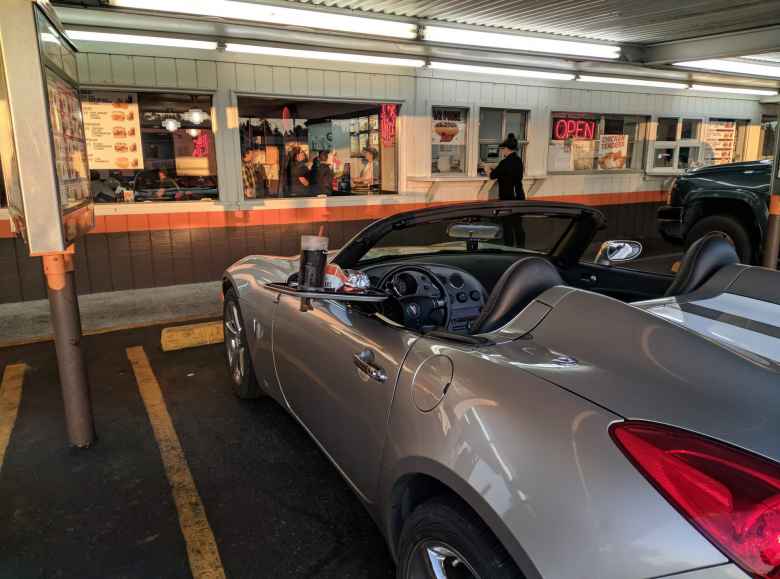 Headed inland after Brookings on US-199, which was an absolutely delightful drive with curves galore!
Visited my friend Erika in Jacksonville, Oregon. Jacksonville is a cute little town and from her place, we literally took a walk in the woods to get to a sushi restaurant downtown.
Drove Skyline Blvd. in Eugene, Oregon, to Pre's Rock. It is where Steve Prefontaine—a gutsy runner who once held every American long-distance track-and-field record—crashed his MGB and died at the young age of 24. As you can see in the video below, this "boulevard" is actually a narrow residential road, one that you'd drive at no more than 15-20 mph. Pre must have been driving a lot faster than that to crash and flip the car.
Jogged a lap for Pre and his gold MG:
Visited Hayward Field, or at least tried to. It was only three-quarters of a mile from Pre's Rock, but was under construction. The University of Oregon seemed to be building very large bleachers around it. Whatever the case, it looked very different from what I remembered from visiting it 14 years ago.
Drove up to the Olympic Peninsula in Washington, then having a Vietnamese dinner with Erin and Russ. Afterwards, we walked a couple miles from their place around their neck of the woods at night.
Looked at marine wildlife and built sand castles during low tide at Salt Creek County Park in Port Angeles, Washington with Erin and Russ. We had Thai food later that night.
Took a car ferry from Kingston to Edmund on the Seattle side of Puget Sound.
Had breakfast at a Chinese fish market in Seattle with my friends Daniel and Wen and Wen's mom Julie. We even spoke some Mandarin!
Admired the view of Seattle from the rooftop of Daniel and Wen's new apartment before exploring Jimi Hendrix Park, the Kurt Cobain memorial, and the first Starbucks Reserve Roastery.
Enjoyed an amazing Mediterranean dinner and conversation with Maegan.
Drove back down to Vancouver to return the Solstice, then had dinner with my old friend Mike at an Ethiopian restaurant in Portland.
I would have loved to have spent a little more time in many of these places, including some time to run, relax, and blog. Nevertheless, it was a really good road trip, one of the best in many years.