Cruise the Rockies: Peter Meets Some Relatives
I first heard about the annual Cruise the Rockies event from Jim Croscs' Hagerty article provocatively titled Is Chrysler's PT Cruiser the Best Worst Car of All Time? Apparently, ever since the first of Mopar's hot rod-styled wagon started rolling off assembly lines and commanding markups that would make a Dodge Challenger Hellcat proud, the Denver-based Colorado PT Cruiser Club had been attracting fans from all around the nation to congregate on its marquee CTR gathering.
Happily, this year Cruise the Rockies was based in Windsor, Colorado, which is practically a football throw away from my hometown of Fort Collins—if you have the arm of Patrick Mahomes, that is. While I couldn't participate in this year's event due to a number of responsibilities and returning from the Pacific Northwest only two mornings prior, I caught wind that the event participants were having a picnic in Eastman Park in downtown Windsor.
So on the way to dinner, Peter (my Cool Vanilla PT Cruiser GT) and I stopped by and figuratively crashed the event. It was like a family reunion for what I like to call "the original crossover vehicle, before that was even a term." Peter got to meet a bunch of his relatives.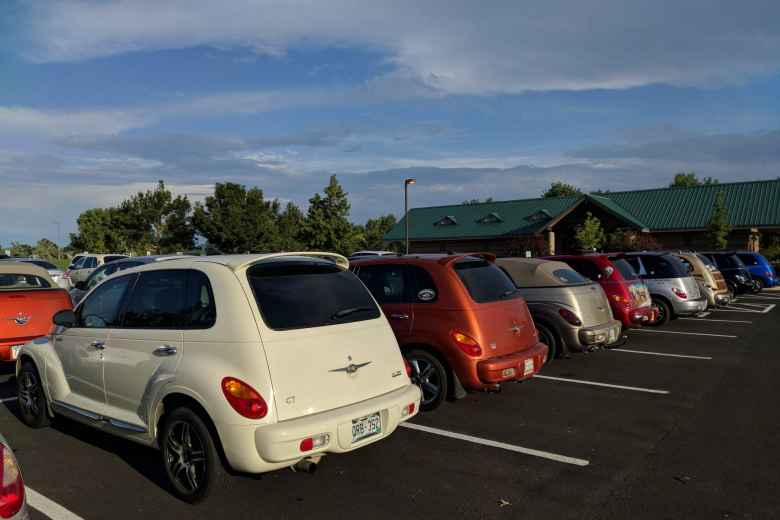 The number of states represented was impressive. There were even a couple cars that made the trek from the Pacific Northwest, where I had flown from a couple days prior.
The amount of creativity and customization of the other PT Cruisers was also mind-blowing. There were flames, woodies, custom windows, and lots of bespoke murals adorning the bodies of the five-doors. It was amazing to see an entire parking lot filled with only the magnum opus of designer Bryan Nesbitt (now with Chevrolet) inside the park of a town of only 23,000 people.
Well, almost. In addition to the PT Cruisers, there were its cousins including a couple also-iconic Dodge Challengers.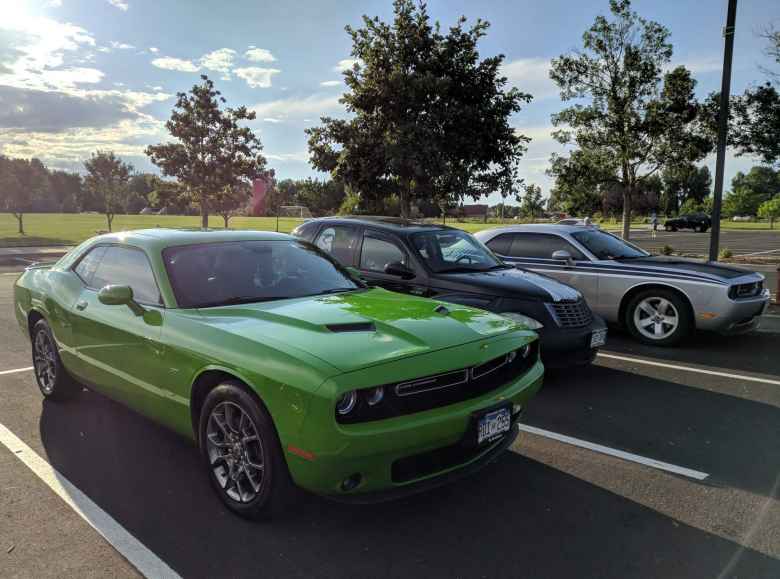 A "friend" of the PT Cruiser—an old Ford Model T—arrived later.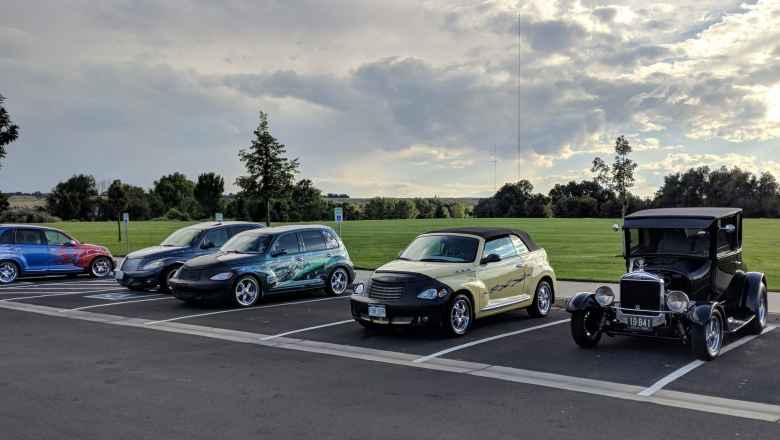 If I still have Peter next year, I would love to participate in more of the event. It remains to be seen where Cruise the Rockies will be held in 2020.