2005 Chrysler PT Cruiser GT
It's been six years since I last owned two four-wheeled vehicles simultaneously. During that time when the Audi TT Roadster Quattro was insufficient, I merrily rented a car from the local Enterprise. Less maintenance, insurance, and headaches that way, I figured, plus it allowed me to drive a variety of different, new cars. For the most part, the "rental car as a second car" solution worked well.
But in anticipation of something of a life change—splitting my time between St. Louis and Fort Collins for perhaps 9 months or so—I decided having a second car was a good idea. I wanted something that was practical, reliable, and inexpensive, yet more exciting than a Maytag washing machine. The latter meant having loads of style and character.
That is how I ended up with the 2005 Chrysler PT Cruiser GT pictured here.
I actually was looking for one on Craigslist for quite a while. I knew I wanted the pre-Daimler-Chrysler version, as I much preferred its retro grill and adherence to designer Bryan Nesbitt's original concept. My color preferences included those of the American or French flags, and the car had to have a sunroof. I could have gone either way with the transmission despite my penchant for manual gearshifts. The car also had to have less than 100,000 miles.
Finally, I saw an ad for this car that had only 68,000 miles, one owner, no accidents and basically every single option. It was the top of the line GT model. "Looks like a winner to me," I thought.
It didn't disappoint. The original owner of it, Phil, kept the car in meticulous condition and had regularly serviced the car with all receipts. When I inspected it I found nothing wrong with the exception of a slight vibration at idle, a common issue with PT Cruisers of this vintage. One day in the distant future it may need new motor mounts. For now, the car is just about perfect and belies its 10 years of age.
We negotiated a fair price that, thanks to the wonders of depreciation, amounted to about one-fifth of its 2005 brand new price of $25,215. Then, I took the new Bustang bus from Fort Collins to Denver to take delivery. (As my numb hands from the Trans Am Bike Race had not yet healed, I was thankful to have this option instead of biking over, which was the original plan.)
One remaining issue was what would be the PT Cruiser's name? I quickly settled on Peter. So now there's a Peter and Teeter (the Audi TT) in the Garage Mahal.
Popular Nicknames
Apparently, the PT Cruiser GT was also unofficially referred to as the PT Cruiser Turbo and the GT Cruiser.
The Color
The color is "Cool Vanilla," which was the color of the PT Cruiser's concept car predecessor, the PT Pronto, as explained in this excellent video on the PT Cruiser history by Donut Media.
Features
* indicates features none of my previous cars ever had
Standard equipment (GT model)
205-hp turbocharged 2.4L 4-cylinder engine
Front and side airbags
LATCH-ready child seat anchor system*
Anti-lock brakes on all four wheels
Traction control
Power moonroof*
Sport suspension (specific to GT model)
Rear window defroster
Rear window wiper/washer*
Air-condiioning
Leather-wrapped steering wheel
Tilt steering column
Power windows with one-touch-down feature for the front
Universal garage door opener*
Rear 65/35 Fold-and-Tumble(TM) removable seat*
Driver's seat power height adjuster*
Chrome lock knobs*
Six premium speakers
Three 12-volt power outlets* (two in front, one in the hatch area)
Multi-position shelf panel*
Luxury floor mats with embroidery*
Solar-control (i.e., tinted) glass for the rear windows*
Forward fold-flat front passenger's seat*
Overhead console with compass and temperature*
Power locks with automatic central locking feature
Remote keyless entry with panic alarm
Sentry key theft deterrent system
Security alarm
Sun visors with illuminated vanity mirrors
Quad halogen headlamps
Power mirrors
Rear body-cover spoiler
Four cup holders*
Optional Equipment
Chrome accent group: chrome shifter bezel, body-color grill with chrome accents, chrome bodyside moulding, bright front door sill scuff pads, bright fuel filler door
Heated front seats
4-speed automatic transaxle with Autostick (R)*
Aftermarket Equipment
Kenwood CD/MP3/satellite radio receiver with Bluetooth* (Phil)
A Clear-Bra (vinyl adhesive) on the front of the hood, to protect it from rock chips* (Phil)
16″ wheels. Possibly a downgrade from the stock 17″ chrome aluminum wheels, but Phil said the originals were pitting so he replaced them with these. I do like their look.
Jewel vent knobs* (I found these on eBay for <$5 for four of them. They may not be available anymore.) There's only one picture of them below because I took the other photos before I installed them.
Design
Bryan Nesbitt designed the PT Cruiser for Plymouth, but it became a Chrysler instead since Chrysler Corporation discontinued Plymouth. At first when the car came out I thought the front end looked a little, well, different, but have really grown to like it over the years. To me it looks both retro and distinctive.
I have always liked the fender flares and the chrome door handles, which give the car a substantial, strong appearance. The interior looks both stylish and playful with colored dash inserts and brightwork on the steering wheel and shifter. The rear three-quarter view is simply gorgeous.
The PT Cruiser can be best described as a love-it-or-hate it design. My dad, for example, falls in the latter camp. When I told him I bought a new car and he asked me what I got, I replied "you think it's really ugly" and he knew exactly what car I was talking about.
What is indisputable is that the design is clearly reminiscent of a 1935 Plymouth sedan, as shown below.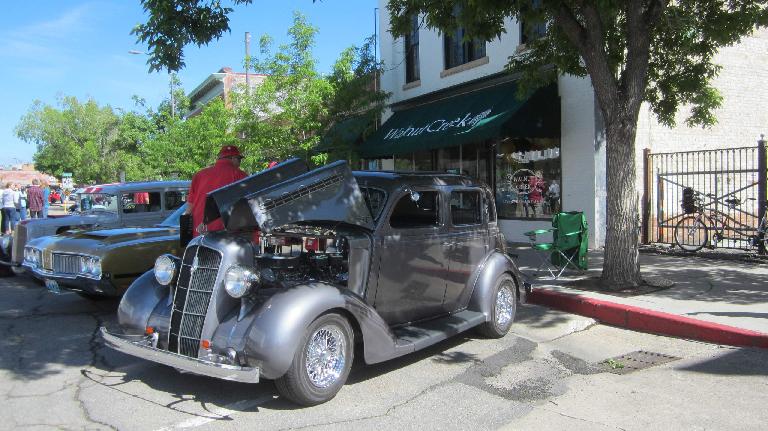 Driving Impressions
Even though I have only owned bona fide sports cars in the past, I actually think the PT Cruiser GT is pretty fun to drive—especially with the windows down and moonroof fully open. With the transmission in Autostick mode, the spherical shifter knob is almost as delightful for shifting as a standard.
The turbocharged engine has nearly as much power (205 hp) as the Audi TT Roadster Quattro and my former Porsche 944 Turbo, and thus Peter's reported 0-60 MPH acceleration time of 7.1 is close to those other cars'. But in contrast to the two German cars, Peter exhibits no perceptible turbo lag, so a lot of power is available at launch. It is pretty easy to make the front tires spin with this engine.
The car exhibits little body roll in corners. Turn-in, however, is slow and results in rather large turning radii. I have successfully made U-turns on some wide two-lane roads without having to back up, but the turning radius is definitely more like a truck's than a little roadster's.
Gas Mileage
The EPA estimated mileage on the original window sticker reads 19/26 MPG. In the real world, I have gotten over 27 MPG combined city/highway several times, but also 24 MPG running gas made of 10% ethanol on the highway. Premium unleaded is recommended.
In any case, I consider this mileage "pretty good" considering the car's vintage and also that it can hold as much as many SUVs. For example, in a PT Cruiser I rented 9 years ago, I was able to carry a full-size futon and its frame.
About the Photos
All photos were taken with a new Microsoft Lumia 640 XL except for the first two, which were taken with a two-year-old Nokia Lumia 820 Windows Phone.