I Attended My First NBA Game… Virtually
Growing up, the favorite sport of my family was neither cycling nor running. It was also not soccer or T-ball, even though my parents enrolled me in both and I somehow successfully managed to score zero goals and zero home runs during those toddler years.
No, instead it was basketball, and we had a lot of fun watching the "Showtime" Lakers on television with Kareem Abdul-Jabaar, Magic Johnson and James Worthy making the NBA finals virtually every single year. We also frequently amused ourselves by tossing a basketball towards a slightly slanted hoop affixed to a long branch of a robust willow tree. The willow was not only great for holding up the rim somewhat close to the regulation-height of 10.0 feet, but was remarkably effective at playing defense and blocking some of our best shots.
As you can see in this ancient homemade video below, my brother Godwin—age 9 or 10 at the time—was even quite good. In the video clip he is oft referred to as "Monster" but was in fact representing every player on both teams in an imaginary game. My older brother Abiel did the sideline commentary and my dad was "supposed to be the audience and the referee." I did the filming with some sort of mini-VHS camcorder, and occasionally cheered and interjected with the score.
Considering this rich tradition of hoops growing up, it might be somewhat surprising that since middle school, not only did I not pick up a basketball for a couple decades, but even lost interest as a spectator.
"There's too much scoring and way too many games," I often rationalized when pressed about why I take much less interest in the NBA nowadays than, say, the NFL. Sure, I might tune into the NBA finals now and then, but that's been about it.
It took a global pandemic to ratchet up my interest level a bit.
First, the coronavirus had decimated all other spectator sports. Not only has there been few sporting events to watch, but the ones that were available were of the virtual variety, like the 2020 Virtual Tour de France that filled in for the postponed real Tour de France that has only begun a couple days ago. Those virtual events were such a snoozefest that I might as well have been watching someone play a video game. Or golf.
Second, it seemed that the NBA did a commendable job in commencing their season which was abruptly stopped in March when star center Rudy Gobert of the Utah Jazz started showing COVID-19 symptoms shortly after touching a bunch of reporters' microphones as a dismissive prank. All end-of-season games and now the playoffs have resumed in a "bubble"—Orlando's Disney Center, where players are tested regularly and are isolated from the potentially infectious coronavirus-carrying public. Their precautions have made it possible to have contests that appear more real than e-sports because, well, they are real.
Third, having real fans line the courts in an indoor arena that's supposed to be a bubble was obviously not going to be possible. That got me thinking about how I've never attended an NBA game before. In fact, I've only attended college basketball games before—one at Stanford and another at the University of Wyoming, because a buddy had free tickets. Prior to now I always thought I'd prefer watching games on a screen instead of in person anyhow, because you can actually see everything going on with a commentator filling in the details and showing instant replays.
Fourth, while in-person spectators were banned, the NBA announced that they were allowing fans to attend the game virtually, via Microsoft Teams. For free.
How was that going to work? The NBA left the details up to individual teams, but most instituted a lottery system where you quickly enter your contact info on a web page to indicate interest in "attending" a game, and they email you a Microsoft Teams link with login information if you are lucky enough to be selected. Then, at game time, you "mingle" with other virtual fans in a cheering section in Microsoft Teams, which is then displayed on giant TV screens lining the court of the actual NBA game.
Purportedly, the players would be able to both see and hear you, assuming you were actually cheering with your microphone unmuted.
Sounds hokey? At first, I laughed about the idea, but consider some alternatives. For example, when the NFL resumes, the Denver Broncos are merely offering the "opportunity" for fans to buy a static cardboard cutout of any person you want—presumably, within a number of guidelines; i.e., not Adolf Hitler—to sit in the stands of their home games, for $100. Uh, no thanks. Although I'm looking forward to watching the games on TV just to see what cardboard cutouts some suckers buy.
Anyhow, so I signed up for being a virtual fan at games between the Utah Jazz and Denver Nuggets in the first round of the NBA playoffs. I figured, this made the most sense since I live not too far away from Denver. The chances of a Coloradan being picked for a Los Angeles Lakers game, for example, is probably not much higher than a random fan successfully arranging a meetup with Katy Perry.
Finally, after submitting my contact info for four or five of the games, I received an email one day saying, "Congratulations! You have secured your spot for the Exclusive Virtual Fan Experience!" It was for Game 7, a "home" game for Denver—never mind that every match was being played in the same arena in Orlando. Perfect.
They requested I log in 45 minutes before game time, which I did, to allow time for navigating through Microsoft Teams from the comfort of my own couch. This was a good call because the Microsoft Teams experience wasn't quite as streamlined as, say, a Zoom teleconference.
For example, these were the six-step instructions for being a virtual fan: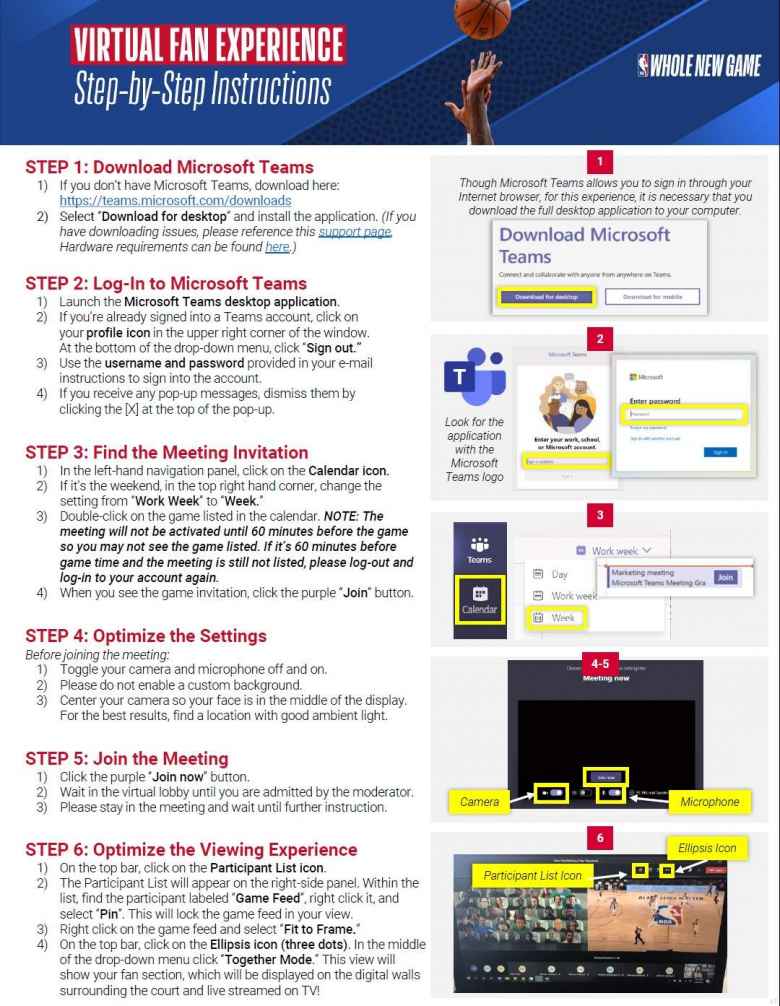 Step 6 turned out to be a stickler for several folks, including myself. This is because "Together Mode" in Microsoft Teams was not showing up. For some reason, Microsoft—the company that totally squandered their $8.5 billion dollar purchase of Skype in 2011 that should have been otherwise dominating chat apps now instead of, say, Whatsapp—just can't get video communication software working totally well. (This is coming from a would-be Microsoft fanboy.)
What was the solution? "Log out and log back in," suggested one of the volunteer moderators. That worked, but upon logging out, many of us–again, including myself—lost our virtual seats in our assigned section. Then we were relegated to an invisible cheering section—essentially a waiting list—upon logging back in because they had booked more virtual fans than seats.
Think of airlines' normal, pre-COVID practice of booking more passengers than seats and putting later-arriving passengers on stand-by. It was like that, except with the extra passengers being allowed to fly in the cargo hold until someone relinquished their seat by parachuting out of the plane.
Anyhow, despite not having a seat for a couple quarters of the game I was able to watch the game in Microsoft Teams just like the other virtual fans. My face just wasn't projected on the giant TVs inside the arena during those quarters. Fine with me. I could still chat with the other fans using the chat box in Microsoft Teams that was juxtaposed next to the game feed.
Actually, being able to "see" yourself sitting with other fans was a surprisingly big part of the experience, something I enjoyed once Microsoft Teams finally put me into a seat sometime during the third quarter. Never mind that my cheering section was kind of passive. There was basically only one raucous guy, although at one point it seemed like all he kept blurting out was "why y'all keep putting me on mute!" Maybe he was too animated for the moderators; I don't know.
I tried to do my part with high-decibel clapping, shouts of "DEEE-FENSE!" and futilely waving my arms around like a maniacal clown whenever a Jazz player was trying to sink a free throw. But the rest of the section basically was doing their best impression of the audience of a tennis match at Wimbledon.
Regarding the game, it turned out to be a doozy. Like really good. It wasn't looking to be that way ever since the Denver Nuggets pulled away from the Jazz early on in the first quarter to an eventual 19-point lead.
But first, some history.
Earlier in the round, the favored Nuggets found themselves down three games to one in this best-of-seven series. I.e., after Game 4, every game was an elimination game for them. One more loss and they're out of the playoffs.
That's when their star player, Jamal Murray, decided to take matters into his own hands in one of the greatest opening round performances in the annals of the game. As in, scoring 50 or more points in two or more games in a single playoff series. Only Michael Jordan, Allen Iverson, and one other guy had ever done that. That's not bad company to be in. Murray also did it while sinking around 75% of his shots, including behind the three-point line. That's epic.
So that's how the Nuggets even got to Game 7. And with a 19-point lead in the third quarter, it seemed like they were going to win the game and walk into the next round of the playoffs with no problem.
But then Jazz players Donavan Mitchell and Rudy Gobert started playing like the All-Stars they are. Utah went on a 12-0 run and then a 13-0 run. Lots of facepalming by me ensued. And with a few minutes left in the game, the Jazz were even leading.
Fortunately, Murray decided to take over once again after that. He scored a couple of consecutive field goals, keeping the Nuggets up by two points with half a minute to go. And that's when things went crazy.
The Jazz had the ball, but someone on the Nuggets knocked the ball out of Mitchell's hands and they could never even get a shot off. Subsequently, Denver had the ball and the shot clock on their side. All they had to do was sit on the ball for the final ten seconds and they would have won the game. Or, at least force the Jazz to foul them for some easy free throws, which also would have cemented the game.
Instead, the Nuggets went for the kill with a three-person fast break for an easy layup… and missed!
With a few seconds left, the Jazz was able to get the rebound, throw the ball upcourt, and give one of their players a good look for a three-point basket. The ball left his hands and went towards the rim in time. If the ball goes in, the Jazz win both the game and the series.
Fortunately for us Denver fans, he also missed.
After that, my section finally came alive with lots of cheering and laughter. You can see our reactions here: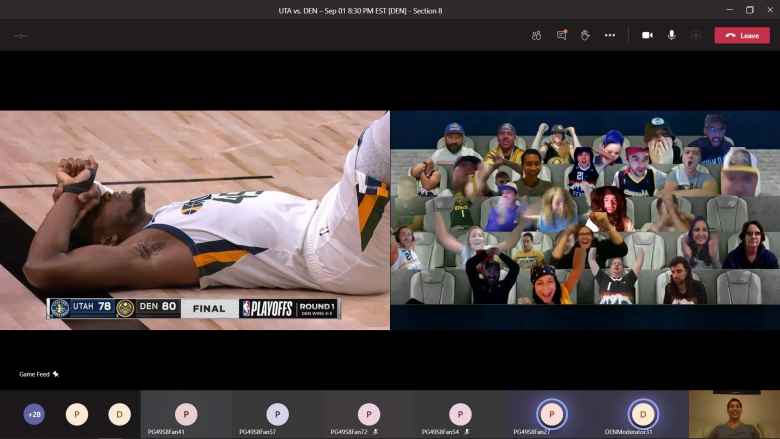 This replay of the final minutes of the game is worth watching too:
And so the first NBA game that I "attended" turned out to be a very exciting one. The virtual fan experience was also much better than expected. For sure, it beats having a cardboard cutout represent myself at a match.
It was even almost as good as watching my brother play a make-believe game against himself during his youth.