New Year's Hike/Run at Grey Rock
A couple days before the merciful end of 2020, I received a message from my Pin-pin referencing her annual New Year's hike.
"Since no one wants to catch COVID," she wrote, "our annual meet hike will be a virtual event. Share past hike photos or new updates. Or lurk."
"This is a great idea," I replied. "I will plan on going for a hike on January 1st in order to have photos to share for January 2nd."
Ultimately, I decided to do a classic route to Greyrock Mountain in the Poudre Canyon twenty miles northwest of Fort Collins, even though this required driving—something I have done very rarely since last March.
Why Greyrock? The round trip distance—6.3 to 7.2 miles, depending on whether you went out and back on the Greyrock Summit Trail or did a partial loop on the Greyrock Meadows Trail—was just right and the drive was not too far. Moreover, this was an iconic hike that I had never done in the 15 years I have lived in Fort Collins. For shame! I actually tried twice before in the Pre-Smartphone Era, but both times got semi-lost and turned back before reaching the summit.
This time, armed with technology—namely Google offline maps since cellular signals are still nearly non-existent in the Poudre Canyon—I had confidence I would not get lost. Or at least find the summit. More on that in a moment.
On the first day of 2021, there were only four other cars in the parking lot across from the Greyrock Trailhead at 9:00 a.m. I was wearing minimalist Lems shoes, long-sleeved shirt, sweatpants, gloves and a knit hat. I also carried a small Eddie Bauer backpack with water bottle, peanut butter and jelly sandwiches, and extra clothing.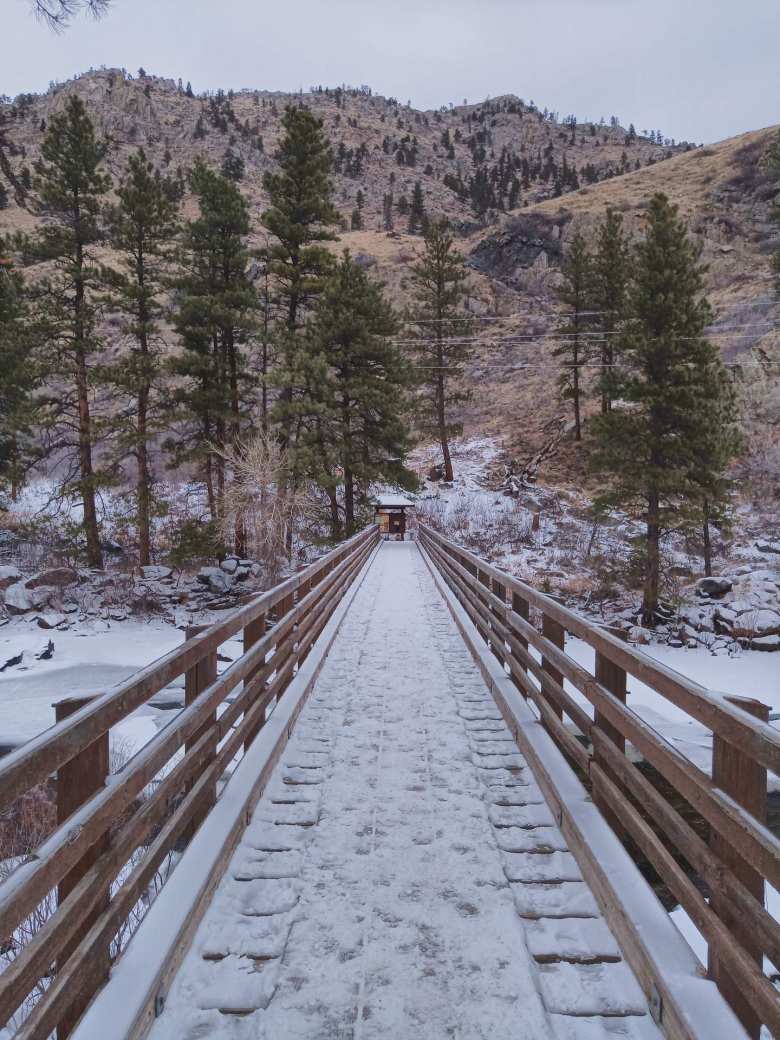 Right off the bat, the hike was slippery. The worst part was the sloping entrance to the parking lot. I made a mental note to take the stairs from the highway to the lot when returning to the car instead.
After that, I did some running where ice and roots were limited. It was particularly important to Not Take A Fall, lest I have an accident and end up increasing the burden on the hospitals which are already seriously strained due to the pandemic.
This time, I had little problems finding and reaching the summit. This is the rock; I reached the top by hiking and scrambling up the northern side opposite of that shown in this photo.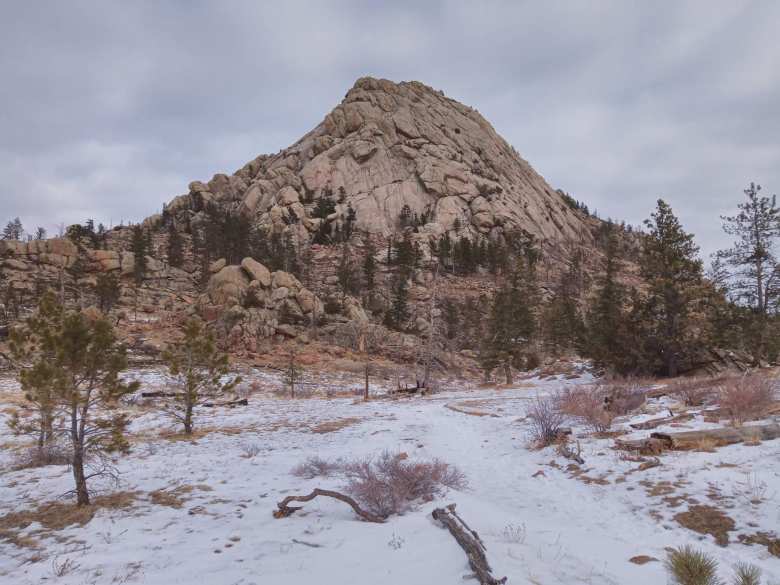 En route, I encountered only one (noisy) group of hikers on its way up and one dude on his way down. At the top, there were expansive views of what looked like hundreds of burnt matchsticks sticking out of the snow—a result of Colorado's largest wildfires in history last year. There was little wind and no other humans up here, so I took the time to enjoy a PB&J.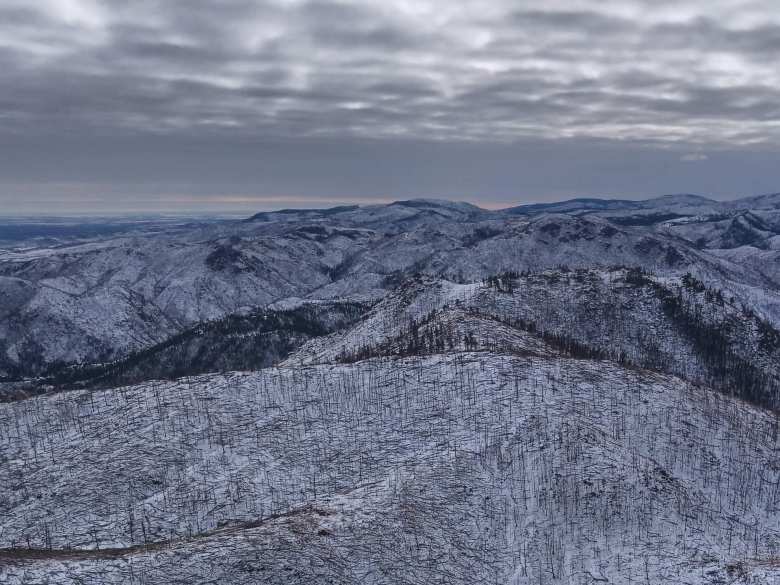 The initial plan was to simply go out and back, but I was feeling good so I decided to be more adventurous and take the Greyrock Meadows Trail back.
After a half-mile of running on this Trail, I encountered another runner going the other direction on the trail. I jumped off the trail and pulled up my facemask when I heard my name called out.
"Felix, it's me Cam," the man said. Cam is a great photographer who actually took the main cover photo on the home page of this site. It was great—if totally random—to see him out here in the middle of nowhere. We talked for about 15 minutes with about 15 feet of space between us before continuing on our separate ways.
Shortly after that… I lost the trail completely. This is the route I intended to take: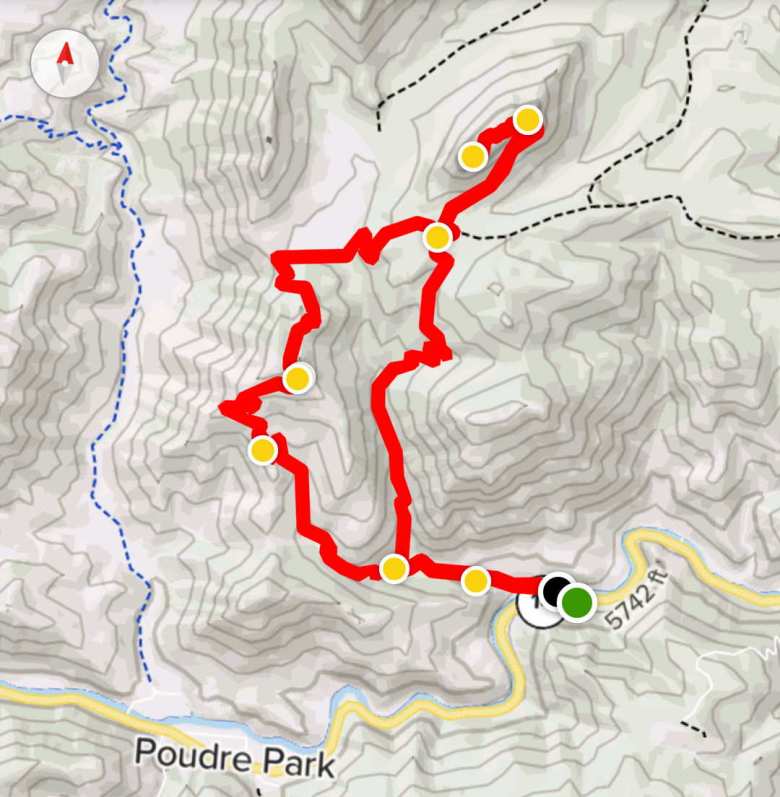 But despite having GPS, I wasn't able to find it. Plus my cell phone battery was getting low due to taking photos and inadvertently leaving the phone on in the Camera app, and Google Maps not showing the trail—only my position relative to the highway and where I parked. So at least I wasn't completely lost; I just didn't know where the Greyrock Meadows Trail was.
About a mile in the distance I could see a wide trail with a some hikers on it. So I aimed for that, which meant descending through low brush and the trees. Eventually I got there and was able to run again.
I then just had to get to the highway and the car. I ended up having to run two miles on Highway 14 and was really glad I had Google Maps to show my position, because I would not have guessed I was that far away from the car otherwise.
Ultimately, getting off-trail meant I had to do an extra 2.8 miles. Total mileage was exactly 10 miles. The final route is shown below.
Next time I do another hike like this, I'll download a GPX file of the exact route so I don't get so much off course. I'd also make sure my phone was completely charged and would bring an portable battery pack to ensure I don't run out of power in case I were to get stuck out there much longer than planned.
The next day I did a videoconference with Pin-pin and some of her friends that I haven't seen in over 15 years. It was a nice way start 2021. Happy new year, everyone!