The year 2020 started well enough. We had drinks at the Magic Rat before moseying over to Bondi Beach Bar, where we counted down the New Year and danced until 1:30 a.m. It was one of my most fun New Year's ever and it had seemingly set a nice tone for the new decade.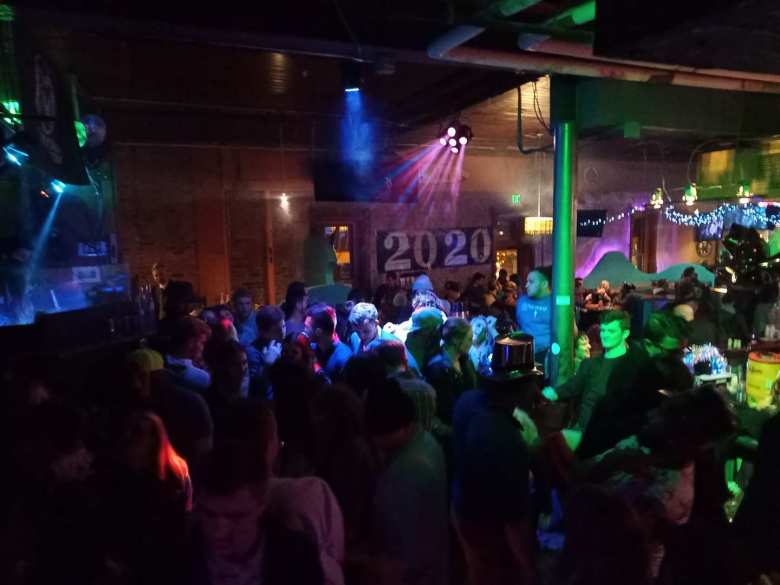 But then the novel coronavirus landed in the US and life for the rest of the year would not be the same. On one hand, virtually all the events, races, and travel I had planned on were canceled. On the other hand, not only did my net worth continue to go up significantly due to paradoxically rising markets and the lower expenses, but almost all of us had much more of the most precious of commodities: time!
I cannot claim that I always used the extra time constructively, but nevertheless managed to do some things I've never done before. As the year mercifully winds down, I'd like to remember 2020 not only for the dumpster fire of a year that it has been, but also as the most interesting year, a year of firsts.
Some Things I've Never Done Before 2020
For the first time, I:
participated in a powerlifting meet
ran an indoor marathon
watched the NFL Pro Bowl on TV, which was a complete farce considering the players weren't even allowed to tackle
did a snowshoe race
ran a marathon in Connecticut and South Carolina
incorporated hip thrusts into my weights routines, inspired by my friend Niki Veldman
stockpiled food and other supplies
successfully grew plants from seed
ate dandelion salad using dandelions from own yard
hosted weekly language virtual meetups for Spanish, French, and Mandarin Chinese on Zoom
unlocked the bootloader and flashed a custom ROM on my smartphone
held virtual piano concerts. Actually, this was the first time doing a piano concert of any sort in decades!
used HelloTalk to talk with people in foreign countries to practice Spanish, French, and Mandarin Chinese. Countries included Costa Rica, Mexico, Venezuela, Taiwan, China, France, among others.
read books using Hoopla, a free library resource
played songs on the guitar using the Yousician app
stretched hamstrings for 60 seconds every day
used mindmapping software (Freemind)
installed a laptop stand. Seven months later, I still love this ingenious gadget and use it hourly.
did a virtual Murph Challenge
watched the first manned flight into orbit (and to the International Space Station) by a private company (SpaceX)
helped a client produce a music product
saw a comet
got interviewed for an upcoming full-length documentary
learned how to read Chinese and Portuguese by completing the entire Duolingo tree for both languages
checked the air quality multiple times a day due to nearly three months of wildfires
attended an NBA game as a fan (virtually)
participated in the 22 Day Pushup Challenge for veteran's suicide prevention
attended Duocon (virtually)
learned Javascript
learned how to do many things for the first time in revamping this website (too many to list; many had to do with the code on the backend)
used a GoPro as a high-quality webcam
used bicycle tire plugs. Have not carried spare tubes or saddle bags on my road bikes since.
interviewed a Restrictive Early Action applicant for Stanford. We did it over Zoom.
did a virtual 5k
watched an NFL team play a football game without a quarterback
participated in virtual Grown-Up Music Gatherings where participants performed a piano song for each other live on Zoom. These were started by my friend Pin-pin. We managed to do five in the last three months of 2020.
saw a Great Conjunction
watched a football player rush for a record six touchdowns in a single NFL game. That player was Alvin Kamara of the New Orleans Saints versus the Minnesota Vikings on Christmas Day.
Things I Did For the First Time in a Long Time
In 2020, I also:
ran more miles than I drove since March 14. I ran over 500 miles while driving only 207 miles from that date to the end of the year.
ate 100% of my meals at home since March 13
biked more than 4000 miles for the first year since 2015, the year of the Trans Am Bike Race
ran a 1-mile race for the first time since 2014. The race, however, was really no different from the occasional one-mile time trials I do in training every year, except results were published.
watched an entire television series in Spanish for the first time since 2008, when I watched the made-for-Spanish-learners PBS program Destinos with 52 episodes. This year I actually watched two: Rubí (2004)—an iconic Mexican telenovela comprised of 126 episodes—and Rubí (2020), a modern remake with 26 episodes. I started watching the first last year on Netflix with Spanish subtitles, but after 2019 it was no longer available on that streaming service. So this year I continued watching it on YouTube sans subtitles, and was still able to understand 90% of it. Oddly, I still have not watched a whole TV series in English!
stayed in the US all year for the first time since 1998. From 1999-2019, I traveled to at least one foreign country each year, but that streak ended with the pandemic.
cut my hair myself for the first time since college
biked more miles than I drove for the first year since 1995. I biked about 4500 miles while driving only 2000 miles the whole year (2500 miles if including rental car in South and North Carolina in early March).
Duolingo's Year in Review
On December 24th, Duolingo provided these statistics on how much time I spent in its app.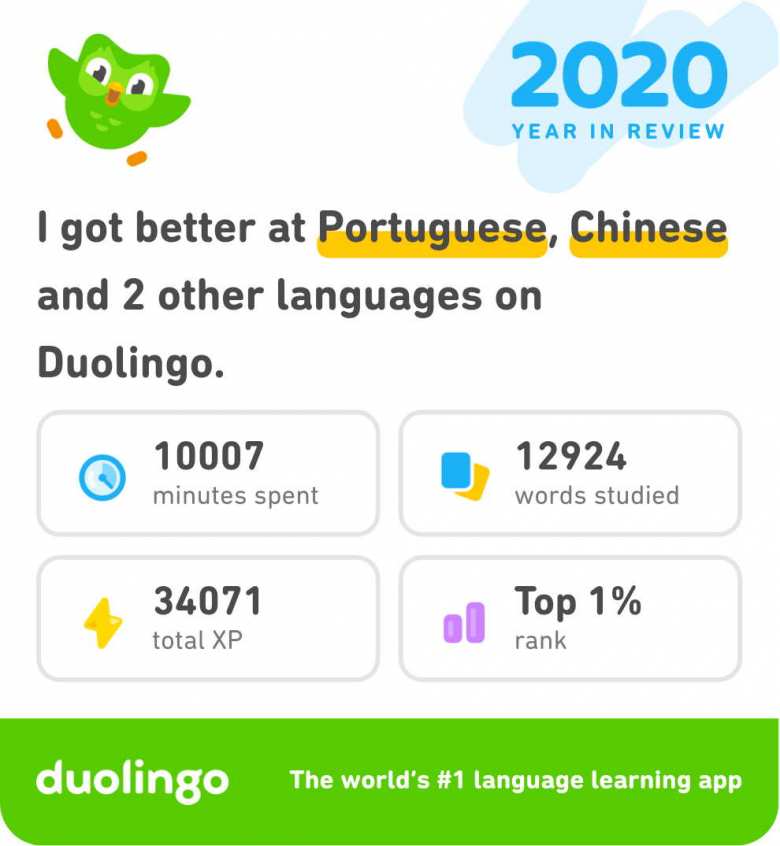 Those numbers are actually not entirely accurate because they do not include the last week of 2020 and—according to a disclaimer by Duolingo—may only be "accurate as of October 31, 2020." So the numbers should actually be higher!