Sixteen years ago when I did the Great American Road Trip through 20 states and provinces in order to decide where to move to from the Bay Area of California, I put together a list of a few dozen cities known for being great places to live. One place I didn't visit, however, was Madison, Wisconsin despite it being on Top 10 lists for livability, health, happiness, retirement, and even bicycling. The main reason was I had completely dismissed that region as being "too cold, snowy, and dark" in the winter. There was no way I could possibly enjoy living there during that season, I thought.
Fast forward to 2021 when I would run a marathon in the Badger State, one of the last states in the continental U.S. I'd have to run one in pursuit of a 50-states goal. I had to drive back a Ford Mustang Convertible rental car from Manitowoc to Minneapolis, Minnesota anyhow and had 27 hours to do so. Why not make a slight detour down to Madison, stay there for the night and check out the city?
I'm glad I did. Turned out that Madison is indeed a Very Cool Town.
Moments before turning into a Best Western hotel, three cyclists whizzed by on a green bicycle trail—one of them carrying a yoga mat. I'd see many more cyclists that evening, all of whom seemed to be commuting.
Then I went to explore downtown and the streets around the State Capital. Geographically, central Madison is very unique because it is only a mile wide and is surrounded on two sides by two large bodies of water: Lake Mendota and Lake Menona.
There were lots of restaurants here, including several ethnic ones. I went to Poke It Up off Gilman Street for a delicious poke bowl. Within the area were two other restaurants with Poke in their names and there may be a total of five restaurants offering that Hawaiian dish if you believe Google Maps.
Afterwards I went for a stroll on State Street. Lots of people of all ages were out socializing and dining. The evening air temperature was perfect for it as it followed a very warm afternoon (it seems like the whole U.S. was experiencing a heat wave this week).
After walking around and getting some Made-in-Madison ice cream at the Chocolate Shoppe Ice Cream Company, I then relocated the car closer to the University of Wisconsin. (A note on parking: street parking is scarce whereas the bicycling infrastructure is very good. I think this is one of the reasons there are so many cyclists here. But there are public garages with ample parking spaces that cost a mere $1.50 for the first hour and $0.75 for each subsequent hour.)
I meandered past Alumni Park over to the Memorial Union Terrace and was in for a treat: an orange sunset west of Lake Mendota. Wow.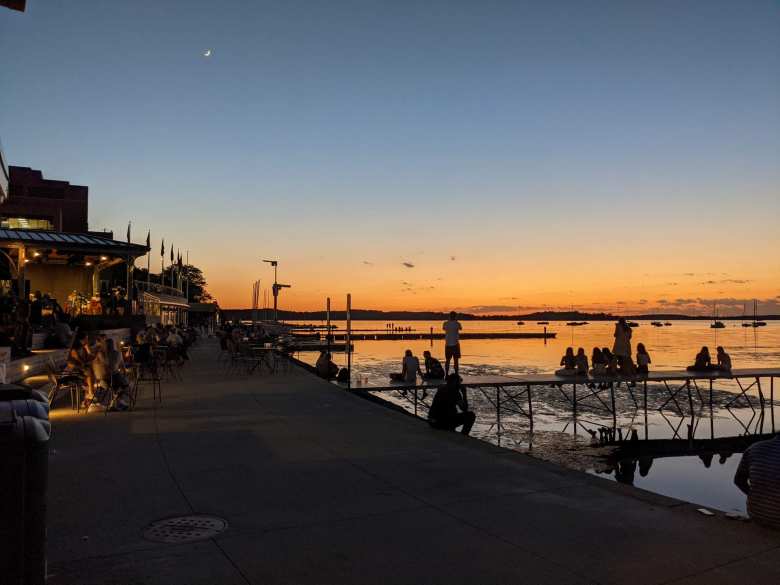 Hundreds of people were socializing here. Most were students, of course, but there were middle-aged and older folks here as well.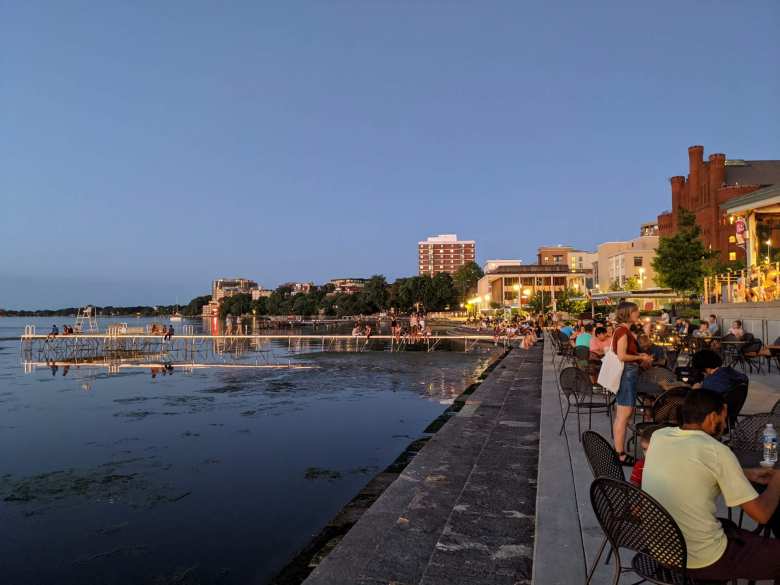 After enjoying the sundown, I walked around the campus some more before hopping into the convertible to take a cruise down Observatory Drive when it got dark.
I only got to check out the south side of the lake, but certainly a thing to do were I to ever return is to check out the other sides of Lake Mendota as well.
The next morning as I drove the black 'Stang through the lush green Wisconsin hills towards Elroy—a really small town that my favorite automotive writer, Peter Egan, grew up in—I wondered if Madison is a place I should have considered 16 years ago.
Yeah, maybe, I concluded. It turns out I can handle snow just fine, as Colorado's March snowpocalypse demonstrated. I'm pretty sure I could adapt to it, even though their reputed winters are still not what I'd consider ideal. I've lived in Fort Collins for 16 years now and enjoy the winters here despite having some snow and often chilly temperatures. But from what I gather, Wisconsin winters are much more uncomfortable, featuring lower temperatures, much higher humidity, less sun and more snow, particularly in December and January.
Apart from the winters, the quality of life in Wisconsin certainly appeared to be very high while the cost of living remains low. There also seemed to be plenty of things to see, do and enjoy in this picturesque city of 260,000 people (it felt smaller than that).
Egan, after all, returned to live in a suburb 20 miles south of Madison after more than a decade in sunny southern California, even as he continued to work for Road & Track and Cycle World for a quarter-century longer. On the flip side of the age spectrum, currently Madison is attracting more millennials than any other city in the country.
I could now see why Madison was on so many Best Places lists. It's certainly a place I would love to return to and visit a little more.