"For your birthday," I told Andrea, "I'm going to take you to Las Vegas and the Grand Canyon."
It could be a little ambitious to visit both places in one day, but fortunately, there is a section of the Grand Canyon that is less than a two-and-a-half-hour drive away from the City of Lights. It's Grand Canyon West, which is much closer than the north or south rims of the geographical wonder. It also happens to be open year-round, which cannot be said about the north rim which is closed during the wintertime due to snow.
Grand Canyon West is also distinct in that it is not part of Grand Canyon National Park. Instead, it is on the Hualapai Reservation. To see the canyon from there, you pay an entrance fee and then hop on a shuttle that takes you to potentially two viewing points: the Skywalk and Guano Point.
Many people who left reviews for Grand Canyon West on Google Maps recommended to skip the Skywalk and go directly to Guano Point. This is because:
The line to get on the Skywalk is often an hour long.
You are not allowed to take photos on the Skywalk. In fact, you are not allowed to take your phone, camera, or any miscellaneous object that could be dropped.
The views are not as good as at Guano Point, where you can walk around a lot.
The Skywalk, unlike Guano Point, was an additional charge that was not worth it due to 1-3.
It was just as well—we had limited time anyhow. So after getting on the shuttle, we got off at stop #2 (Guano Point). It was a beautiful place to hike, scramble up some boulders, and take about a hundred photos of the amazing canyon of which author Jeri Smith-Ready wrote,
"Beautiful doesn't begin to describe it. A flower is beautiful. But this is beautiful the way that a person is beautiful- terrifying with its jagged edges, yet seductive with its crevices that hide so many secrets."

-Jeri Smith-Ready
After the Grand Canyon, we returned to Las Vegas. But we stopped in the desert to take some photos of our very cool 5.7-liter HEMI V8-powered Dodge Challenger R/T rental car: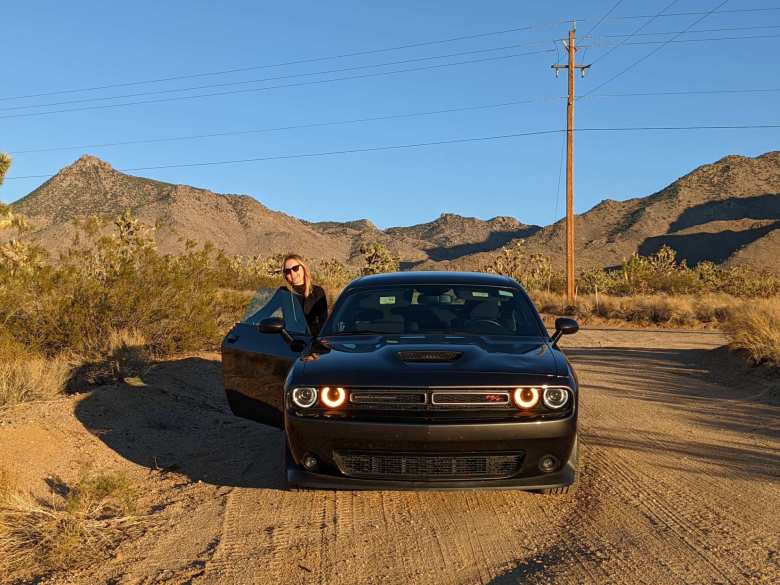 and in Dolan Springs, Arizona, to find some food.
At first, we stopped at a store that had banners for jerky, because Andrea—who is from Spain—had never tried dehydrated, salted strips of meat before.
That store turned out to be closed, but next door was a place called Hot Diggity Dogs that had hot dogs—another American food that Andrea had never tried.
We went there, ordered a couple of tasty beef hot dogs, and ate them outside.
While this happened, a cow came over to visit. It seemed to want a piece of Andrea's hot dog.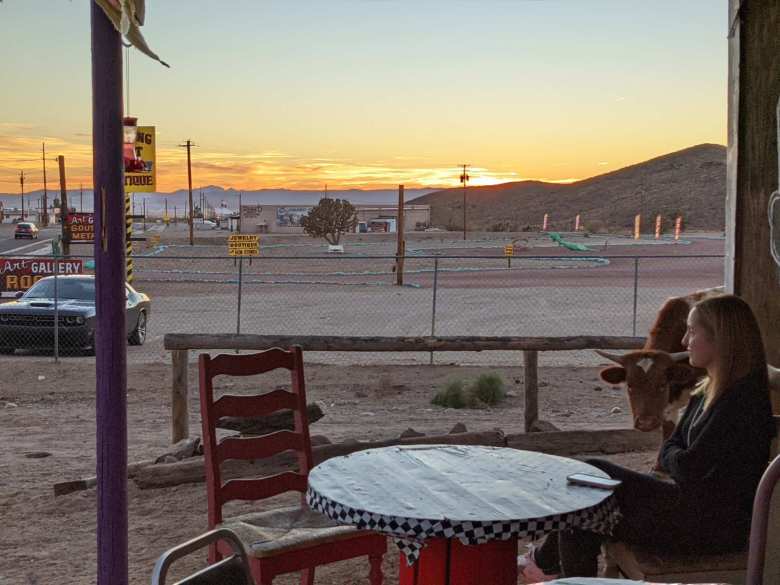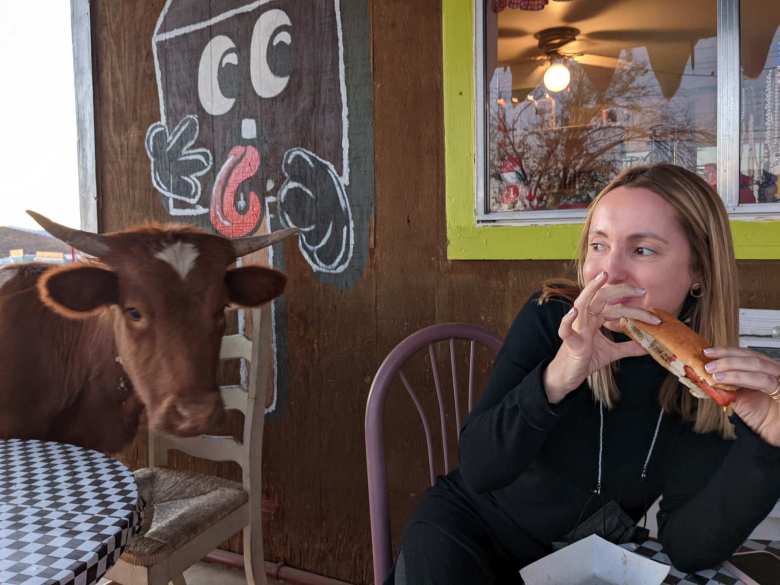 "That's cannibalism," I exclaimed. "A cow wanting to eat beef!"
Soon its friends came over too, including one named Big Texas that had big horns.
We escaped unscathed and then headed back into the Pacific Time Zone to the Vegas Strip.