One of the first things I did after landing in Las Vegas and retrieving our rental car was book lodging. I quickly scored a five-star hotel on the Strip on Hotwire—which lets you choose the general location but does not tell you what the hotel is until after you have booked the last-minute, often very good deal—and then learned that we'd be staying in the Trump International Hotel. I laughed, knowing how toxic the Trump name is in some circles.
The hotel ended up being a wonderful place to rest in. Not only were the staff very friendly and professional, but our room was both huge and very elegant. On the desk of the room was a piece of paper explaining all the COVID protocols, assuring guests that the coronavirus was taken seriously here. Furthermore, this must be one of the only hotels near the Strip that does not have a casino!
It also was a mere five-minute place from a good starting point of the Strip. It was Andrea's birthday, so the first place I took her to was Maggiano's, an elegant Italian restaurant north of Treasure Island (the hotel).
At Maggiano's, a nice guy wearing a tuxedo named Ty Lemly serenaded Andrea on the guitar. We had a delicious dinner with wine.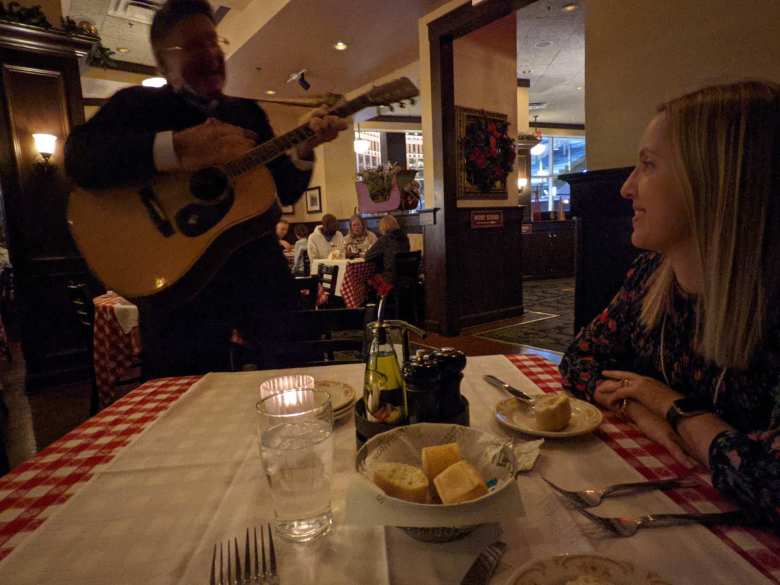 Afterwards, we did the traditional walk up and down the strip. The sun goes down so early in winter, and the City of Lights is a fun place to be at that time.
We returned to the hotel afterwards. It felt marvelous after a long, fun day at the Hoover Dam, Grand Canyon West, Arizona desert and the Las Vegas Strip.