I was thrilled when Andrea asked me if we could go to a car fair that her sister-in-law had organized.
"¡Claro que sí!" I replied. Her question was like asking a sugar-addicted kid whether he wanted to eat ice cream.
Also, the last new car expo I attended was the Denver Auto Show a year before the COVID-19 pandemic. That was over 1150 days ago. Imagine not eating ice cream for that long.
She warned not to get excited because "there will only be normal cars there." E.g., no Ferraris, no McLarens.
Fine with me. Even everyday European cars have an exotic quality to me since so many are forbidden fruit to Americans across the Atlantic.
I saw what Andrea meant when we strolled through the Recinto Ferial de Fexdega of Vilagarcía de Arosa. Here was the 8th annual salón Arosa Motor. There were no sports cars. Also, many marques were not represented, such as Chevrolet, Dacia, DS, FIAT, Honda, Jaguar, Jeep, KIA, Land Rover, Lexus, Mazda, Nissan, MG, Opel, Peugeot, Polestar, Porsche, Renault, Skoda, Subaru, Tesla, and Volvo.
It would be easier to list which car brands were here. They included:
Audi
BMW
Citroën
Cupra
Ford
Hyundai
Mercedes-Benz
MINI
SEAT
Smart
SsangYong
Suzuki
Toyota
Volkswagen
I was surprised to see SsangYong–a Korean manufacturer–there. Ditto for Suzuki. I had no idea Suzuki was still producing several models instead of throwing in the towel like Saab or Saturn.
Toyota's contemporary models look nothing like they did even five years ago. For the first fifteen years of the 21st century, Toyota arguably made the most Plain Jane vehicles of any marque from a stylistic perspective. Nowadays, however, the company is taking more risks. Check out this Aygo, for example: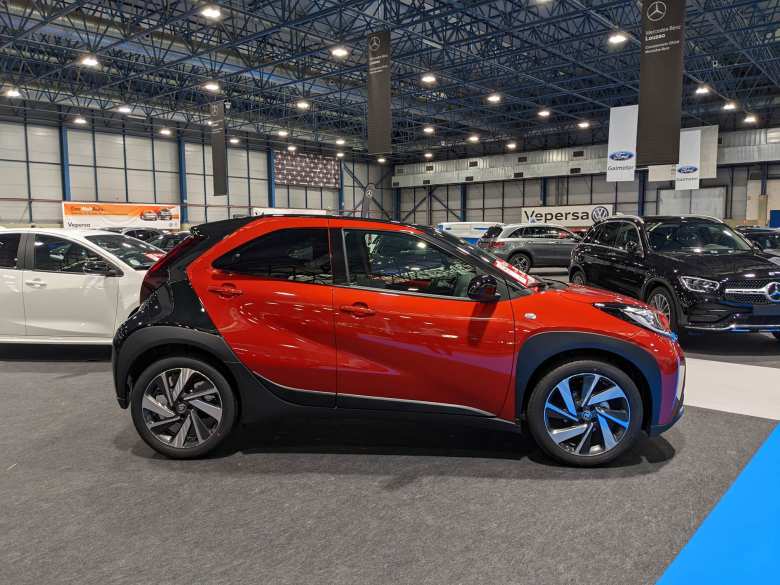 While I wouldn't call it good-looking, at least the word boring doesn't apply.
The most handsome lineup, in my opinion, was Audi's. So maybe it shouldn't be a surprise that my favorite car at the fair was a white Audi A5 with a red convertible top. I did enough double-takes on it that a representative unlocked the car so I could sit in it. He also lowered the roof.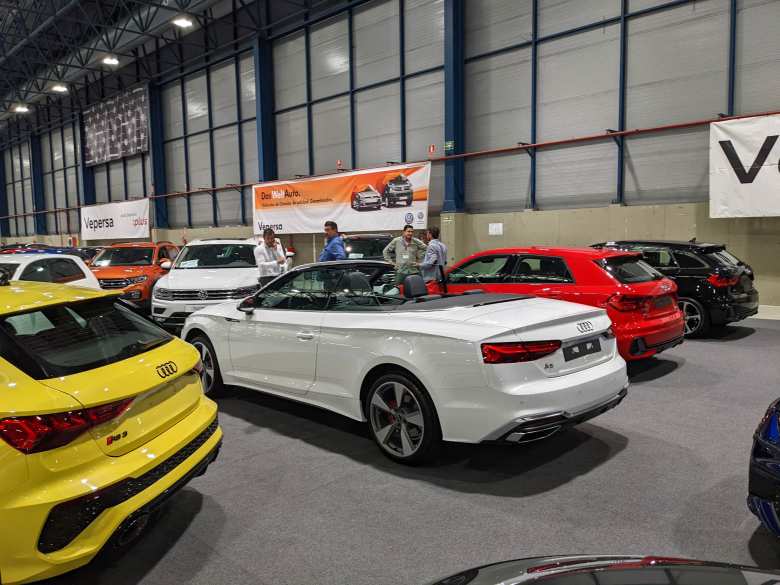 After thanking him, I told him I had the car's cousin, an Audi TT.
"You could trade it in for this one," he replied in Spanish. Andrea laughed and explained to him that Teeter was in the States.
"Well, you could have a convertible in both countries," he said. Sounds good to me.
I also liked the other cars shown below or thought they were intriguing. All of the vehicles at this fair were either 2021 or 2022 models.
We did, however, see this classic Renault 8 in the parking lot outside: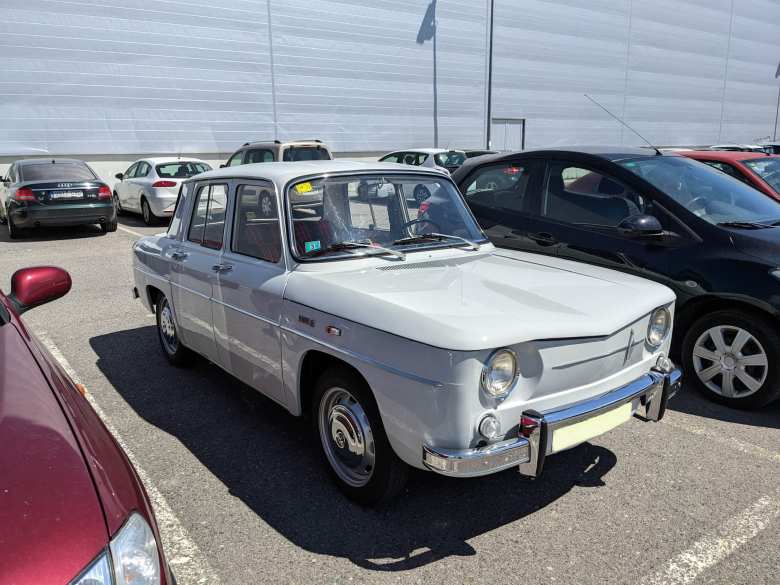 FASA-Renault España fabricated the car in the 1960s with a rear engine and four-wheel disc brakes. The grille-less front reminds me of many electric vehicles today, such as the Tesla Model 3.
This particular example had a plaid interior. According to this article, FASA claimed it consumed only 6.6 liters of fuel every 100 kilometers. That is equivalent to 35.6 MPG. I assume that is strictly highway driving. But even so, its fuel consumption is comparable to compact crossover SUVs that are 55 years newer.
Also outside the fair were these Hyundai electric vehicles. Representatives were offering test drives.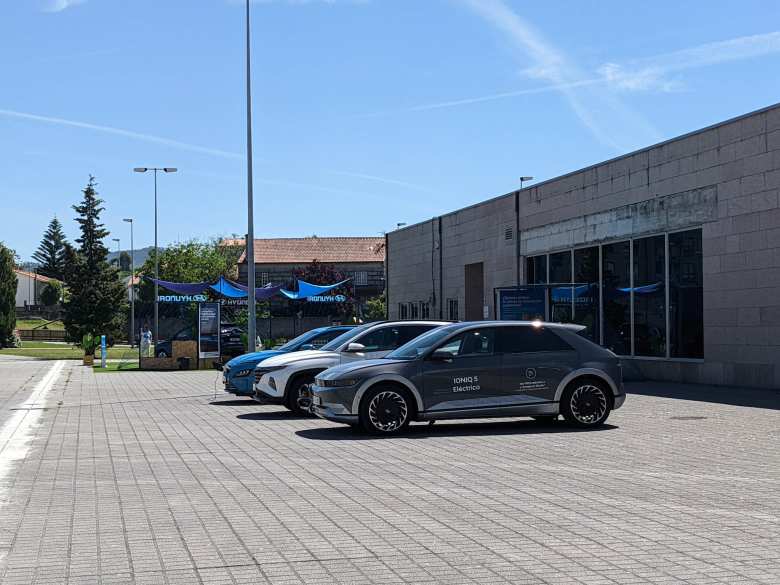 I would have loved to have tried out the Ioniq 5 on Spanish streets. Alas, I had left both my Colorado driver's license and International Driving Permit at home. That was a missed opportunity for sure.