"I'll be gone this Saturday for a training ride," I told a friend a few days before the 2003 Climb to Kaiser event, "but should be back by Sunday."
Ah, yes, a "training ride"… this is what the Climb to Kaiser had somehow become in the year where the upcoming 15th Annual Paris-Brest-Paris race was the primary focus of my cycling season. Never mind that the Climb to Kaiser, or C2K as it is sometimes referred to, was ranked by Bicycling Magazine as one of the nation's Top 10 Most Challenging Rides, notorious not only for the steepness of some of its grades, but also the brutal Fresno heat.
I had first heard of this obscure event in 1999 while riding the Terrible Two. It seemed like every time I went up a steep climb in the TT, be it the Geigers, or Skaggs, etc., there would be a rider remarking to others, "well at least this isn't as bad as Big Creek in the Climb to Kaiser!" Or words to that effect. But somehow I never had an opportunity to do the ride until this year. Actually, I almost passed it up, having traveled so much for events in recent weeks (e.g., Idaho for Ironman Coeur d'Alene; Oregon and Washington for the Seattle-to-Portland Classic)… but deep in my heart I knew that this would be a great training ride for Paris-Brest-Paris. Fairly long (155 miles), intense (13,500 feet of climbing, with some 15-20% grades)… and still a few weeks out from P-B-P to give me time to recover and taper. So C2K was a go!
For this ride, I did things a little differently than I did in the past for other rides. If you have followed these ride reports, you probably noticed that I have a tendency to drive up to the location of a cycling event the night before, and then sleep a few hours in my car. This time however, I decided none of that crazy stuff: I was going to sleep in a real bed! So the night before the ride I went to bed at 9:00 p.m., AT HOME, woke up at 1:00 a.m., and then drove over to Fresno from 1:30-4:30 a.m. Much saner, huh? 😉
Ahem! Unfortunately though I went to bed at 9:00 p.m., I could only fall asleep at 11:00 p.m.! Meaning that I only got 2 hours of sleep. Still, that is more than the sleep I got before all of the double centuries I did in 1997, combined! As I would tell my friend Adam Paul during the actual ride, "Well the sleep the night before a ride doesn't count anyhow, yes?"
Anyways, so here's the report for the ride itself.
Climbing Statistics
(Courtesy of The Fresno Cycling Club)
| | | | | | | | |
| --- | --- | --- | --- | --- | --- | --- | --- |
| Climb | Start Mile | End Mile | Climb Distance | Average Grade | Worst 1/2 Mile Grade | Steepest Grade | Elevation Gain |
| Wildcat Grade | 20.5 | 24.5 | 4 | 5% | 12% | 16% | 900′ |
| Burrough Grade | 28.5 | 31 | 2.5 | 5% | 7% | 10% | 900′ |
| Tollhouse Grade | 37 | 45 | 8 | 7% | 13% | 19% | 2700′ |
| Pine Ridge Grade | 45 | 49 | 4 | 6% | 9% | 11% | 1400′ |
| Big Creek Grade | 61.5 | 66 | 4.5 | 10% | 15% | 20% | 2000′ |
| Kaiser Pass | 72 | 79.5 | 7.5 | 7% | 12% | 18% | 2300′ |
| Tamarack Ridge | 87 | 96 | 9 | 5% | 7% | 8% | 1300′ |
The Ride
Miles 0-20: Prologue of Suspense
200 of us cyclists gathered for a 5:30 a.m. mass start. I couldn't help notice the contrast between the riders here and those from the Seattle-to-Portland Classic a couple of weeks ago: everyone here was obviously fit and slim, whereas in the STP (which is more like a big party on wheels), it seemed like half of the riders had a big belly. So formulaicly, rides with 90% small bellies = 1 Tough Ride coming up…
As in the Ironman, I went way to the back of all of these cyclists, thinking that if I start out last, I'll be forced to start off slower, and would be passing people rather than the other way around (good psychologically for a long ride). Indeed, at around Mile 10 or so, I couldn't help but notice that I was the Very Last person on the course!
But the first 15 miles were entirely flat and I was far from alone. I sat up, trying to enjoy the scenery from this part of the world: fertile farmland, sometimes lined with wooden fences, often dotted by near-mansions and dilapidated barns. Orchards of cherry trees here, some vineyards there… and aromas of livestock and pesticides? A pretty sunset lit the backdrop of the Sierras, which is where we headed towards.
At Mile 15 I chatted briefly with a lady. She had done part of the ride last year, and informed me that the heat really isn't horrendous until the second half, as during the climbing, we'll be much higher in altitude where the temperatures are a little lower. That's good news, I thought!
And speaking of climbing, shortly thereafter came the first little hills, though nothing significant, more like bumps in the road. For the most part, the first 20 miles is like a long prologue to a play, keeping you in suspense for the main plot, and of course, later on, the climax. And indeed, after the first 20 miles I was off the edge of my seat for the next act to get rolling.
Wildcat Grade
May the climbing begin.
Almost immediately with the first climb, the peloton became fragmented and I started to make my way towards the front. (Emphasis on "towards" and not "front", as there were some people so far off the front by this point that there would be no way I'd ever be able to catch them.) Remaining in the saddle and spinning fairly easily, I stayed within myself at a very steady rhythm. The climb was just 4 miles long, of an average of just a 5% grade, but the route sheet warned us of a section that approximated 16%. The anticipation of such kept my pace under control at this point, not to mention the knowledge of there were 6 additional major climbs on the way!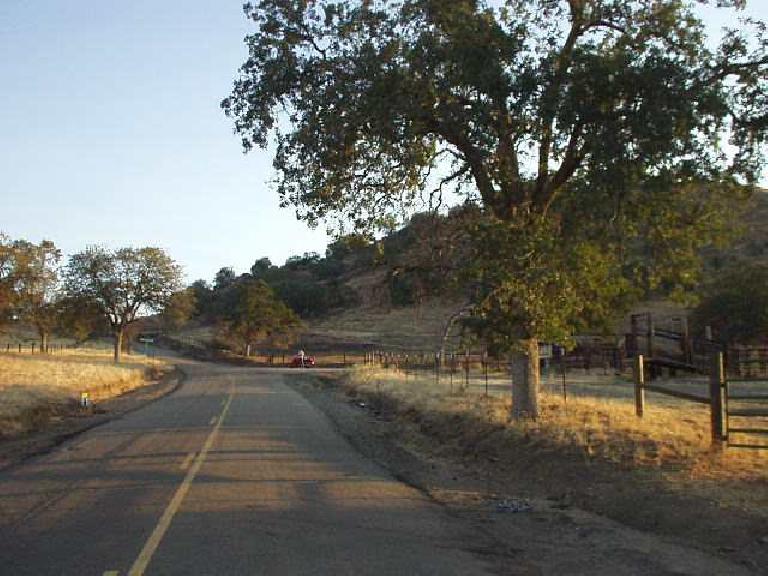 After a few miles up this I caught up to my friend Adam Paul. He had told me in correspondence before the ride of his concern for his knees, which had been giving him enough problems much of the year to prevent him from completing some of the hillier doubles. We chatted for a little bit after which I wished him well. Later on in the ride I would think of him and couldn't help but wonder just how his knees were doing on some of the brutal climbs.
Shortly after came the 16% grade… one could tell because a prominent "16%!" was spraypainted on the pavement. I downshifted and was still able to remain seated; 16% didn't feel quite so bad.
Maybe a mile later… the first rest stop! I didn't want to stay long and intended to just fill up my water bottles and grab a couple of cookies, but then I noticed another cycling wearing an SF triathlon Club jersey. "Hey, do you know my friend Lisa Z.?" I inquired. "Yes," the guy replied, "I'm a good friend of her boyfriend Terry!" Small world. We chatted a little more and I'd find out his name was John. The day after the ride I'd ask Lisa about him to which she replied, "Yah, John is a really good cyclist!"
Burrough Grade
After the chat I took off for the next leg which would include a 2.5-mile ascent up Burrough Grade. As the steepest grade was just 10%, this really felt like cake, and after the climb was a fairly flat 6-mile stretch all the way to the next climb, Tollhouse Rd.
Before the start of significant climbing on Tollhouse was another rest stop, though… this one at Sierra Elementary School. I filled up my water bottles, chucked down some cookies, and in a few minutes, was on the road again!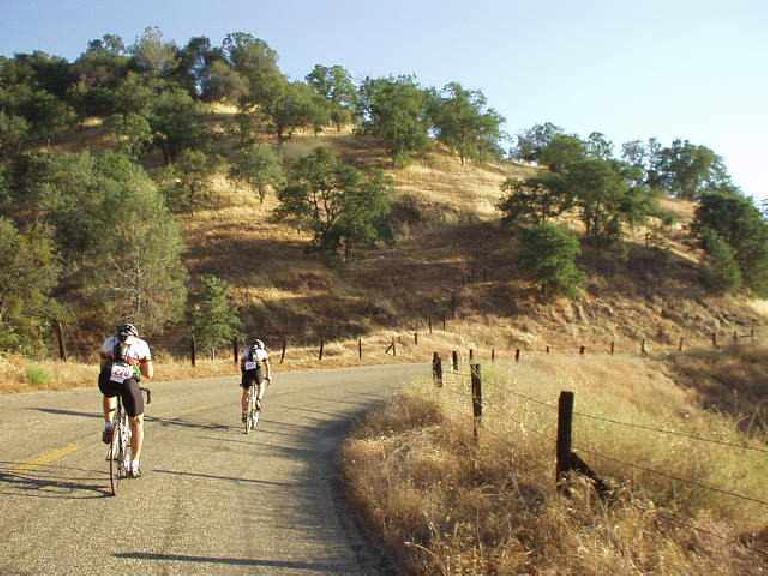 Encouragingly, I was still feeling very strong. Somewhere up here I rejoined up with John who had spent less time at the Sierra Elementary School than I did, and we rode within 100 feet of each other most of the way up. It was on this climb we would be passing several dozen people. The air temperature was very comfortable and I thought it was a fun climb.
After just 7.5 miles after the last rest stop was a water stop, where John and I dismounted our bikes to fill up on water, take some pictures, and chat for a moment. "Longest climb of the day over," I cheerfully remarked, "Just 4 more to go!" John grimaced a little, and I think he resolved to take it a little easier since after the water stop, I never saw him again. We might have ridden up Tollhouse too hard. It remained to be seen how my own legs would hold up on the next few climbs.
Pine Ridge Grade
Pine Ridge Grade (Highway 168) was aptly named; a moderately ascending ridge wending between towering pine trees which shielded us cyclists from the sweltering sun. Motorists too–this would be the first time all day where we'd encounter semi-significant car traffic.
The surroundings were otherwise peaceful and I was still thoroughly enjoying myself. There were noticeably less cyclists up here, though a cyclist who sticks out in my mind was one who was spiritly climbing out of the saddle… on a mountain bike. He'd pass me just about 1/4-mile before the next rest stop at the Shaver Lake Church of Christ.
I was very impressed! And at the rest stop, after I used a port-o-jet and filled up my water bottles, the guy, perhaps in his 40s, came over to talk with me.
"Hey, you're Felix Wong!" he exclaimed. "I recognized your bike from your website." We talked a little bit and I found out his name was Jim Morehead. He was hoping to do the California triple Crown one of these years, and the way he was riding today, I have no doubt that the CTC would not be a problem for him. It was a pleasure to meet you, Jim!
On both of our minds was the climb coming up… Big Creek Grade. This was supposed to be the most difficult climb of the day–harder than Tollhouse Rd. Excitedly, I took off, eager to find out just hard it could possibly be.
Big Creek Grade
Big Creek Rd. can be divided into two parts: the first 6 miles is either rolling or a gradual climb up to the Big Creek General Store; the second 6 miles, the real challenge! The 2nd part is so hard that the Fresno Cycling Club even had a water stop at the General Store, but I completely bypassed this.
So the fun began on Big Creek Rd. Almost immediately, how steep it is becomes visually apparent: just check out the photos below!
Not only were these stretches of Big Creek Rd. steep (averaging 15% for significant stretches at some points), but were entirely exposed to the sun's rays. Somewhere in the section depicted by the above-right photo, I glanced down at the thermometer I had mounted on Canny's handlebar stem the night before. "It's already 90 degrees," I remarked to another rider as I passed on his left, "but somehow it feels a little bit cooler than that." "Yah," the rider agreed, "the breeze is helping us out quite a bit here!"
But for others, the breeze would not be enough. Soon after, I encountered the first cyclist I saw walking a bicycle up the hill. This would not be the last.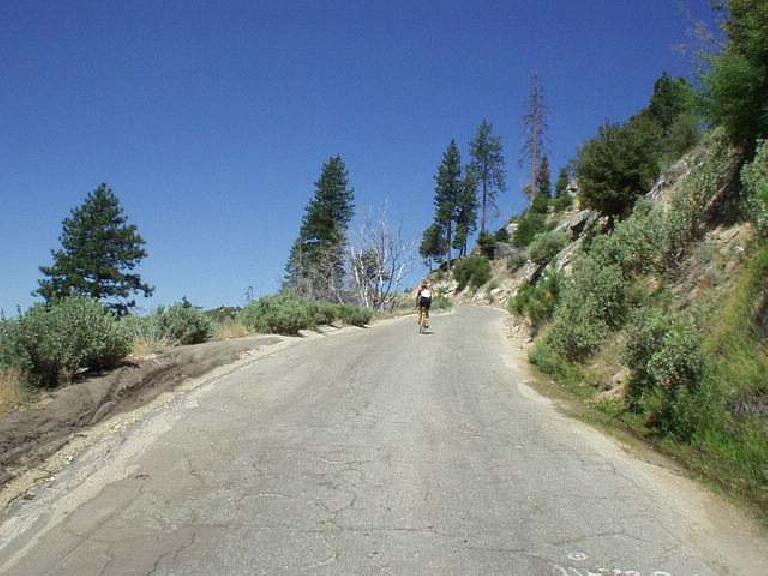 I remained seated most of the way, though, and stayed well within myself until there was only about 2 miles to go. I then pushed a little harder to lunch. This is great, I thought! Still feeling amazingly well!
Lunchstop (Mile 67)
The lunchstop was in a cove of towering pines providing sanctuary for the volunteers and Big Creek Grade survivors alike. The backdrop was the deep blue Huntington Lake, with some motorboat enthusiasts easing their vessels through the otherwise placid open water. In such a setting, the boatsmen looked like they were having a wonderful time, and so did the chipper C2K volunteers. The note among the cyclists was decidedly more somber.
Indeed, at times it was eerily quiet as cyclists plopped themselves over in white plastic chairs with filled waterbottles and plates of food in hand. Others were leaning against trees or contorting their bodies in yoga-ish positions, attempting to work out any tightness in their legs caused by Big Creek Grade. An amazing number were chucking down Advil or salt capsules!
I eagerly paced over to the food table for a little bit of curly pasta and a ham and cheese sandwich, which a volunteer cheerily made for me. "How are you doing?" she inquired. "You seem pretty happy!"
"Yes," I replied. "That felt pretty good, the Big Creek Climb. And even better to be done with it!"
She smiled as she handed me the sandwich. I then found an empty seat next to a couple of cyclists having a discussion about what was coming up next.
"The next section," informed one of them, "starts out with a little downhill or is flat. Then you make a left onto Kaiser Pass, which isn't too bad until you start getting close to the top."
"There is a top??" quipped the other rider, incredulously.
I couldn't help but laugh out loud at that remark! Indeed, the amount of climbing we had done up to this point was so consistent, for so many hours, that one could only help but wonder when it was ever going to end. But what goes up must go down, eventually!
Kaiser Pass
Unfortunately, "eventually" could not come soon enough. Kaiser Pass Rd. was when I first saw some of the faster riders coming down the mountain, but it was also the first time all day, I started to feel significant signs of weakness.
The first part of Kaiser Pass was not particularly steep, nor was it hot. In fact, as I'd remark to another rider 2/3rds of the way up, "never did I imagine that I'd actually be slightly chilly up here!" It was actually quite comfortable, in the low 70's, cooler than what we'd experienced all day.
On the other hand… I was becoming very drowsy! Perhaps I had eaten too much during the lunchstop, or maybe it was the combination of eating too much protein with carbohydrates (if you follow the Food Combining principles). Probably getting only 2 hours of sleep the night before didn't help, either. In any case, I was getting sleepy enough that I briefly considered pulling over to the side of the road just to take a little nap
Fortunately, about 45 minutes later, the food coma was wearing off and I was again wide awake… just in time for the last couple of miles to the very top of Kaiser. This section was not insignificant; indeed, I think Kaiser's steep section of 18% was somewhere around here. Unlike in the earlier climbs of the day, I was routinely getting dropped.
I had cracked.
But it was just 2 miles. While digging deep, I was egged on by another friendly dude who kept yelling "good job!" to the cyclists now on their way down in the opposite lane. In my case, he complimented me on my "perfectly shaped calves". Funny, I never thought of them in that way… but it was a nice thing to say!
Closer to the top some of the descending riders were also offering encouragement. "You're basically there!" exclaimed a female cyclist, "just 90 seconds!" And so I counted…30 seconds, one minute, two minutes, three minutes… where's the top? Whoops, bad estimate!
But at last!–the banner for the top of the Climb to Kaiser. So there actually was a top to this ride after all!
Tamarack Grade
I hung out at the top for about 10 minutes, enjoying the good food and service courtesy of the Fresno Cycling Club. (There was even "valet service" for our bicycles… much appreciated!)
I was eager to get the last climb of the day–Tamarack Pass–over with, however, so it was back on my bike, descending down Kaiser Pass. This gave my legs some time to recover. Amazing how it took just a quarter of the time to descend Kaiser Pass than to go up it in the first place.
Tamarack Pass is 9 miles long , so I was prepared for another long grind a la Tollhouse Rd. What didn't really register in my mind, however, was that in these 9 miles, there was just 1300′ of climbing (which might seem like a lot of climbing, but not really over 9 miles). Indeed, there did not seem to be a single long continuous climb in these 9 miles. The road would go up… and then down. Repeat that about a dozen times.
I have to say, though, this was a nice surprise.
With that over with, there was no more long climbs worth mentioning, or at least not to the Fresno Cycling Club. The impression one gets from the pre-ride literature is that after Tamarack Grade is a pleasant, leisurely coasting exercise down the roads to Clovis. This was not quite the way it turned out to be.
Miles 96-155: Descent into an Inferno
Despite cracking on Kaiser Pass, I had been making good time all day. Soon I'd realize there was one downside to this: getting down to the valley too soon while the sun was casting its most intense rays of light and warmth. It was really hot!
On top of that, there was a strong wind coming in from the southwest. This, unfortunately, was a headwind most of the time, retarding my forward progress that otherwise could have been achieved my mere coasting. My friend Adam reported that this wind (and heat) was gone by the time he had gotten to these points, a couple hours later. It was something I had to reckon with, though.
In fact, the closer I got to the finish, the more intense the heat got! I glanced down at my thermometer at one point, at 5:00 p.m., I think. 105 degrees! I stopped looking at the thermometer after that. I usually do fine in hot weather, having done several rides where temps were >90 degrees (e.g., the Terrible Two, the 1997 Davis Double, the 1997 Foxy Fall Classic, etc.)… but this has to be the most uncomfortable hot I've ever been. I resorted to squirting my neck and legs with water from my water bottles (which was actually hot water by this point, but the evaporative effects helped!)… which was only feasible because there was, thankfully, a water stop at Mile 128 in Auberry and at Mile 138 at the Millerton Store.
I couldn't help but wonder how bad it would have been if there actually were some tough climbs during these last few sections. As it was, though, the course stayed either mostly downhill or flat (with the persistent headwind, though), and it was just a matter of hanging in there.
So ironically, then, by far the most uncomfortable parts of C2K for me were not on the steep climbs–which, being at higher elevations, stayed acceptably cool–but rather, the last 40 or so miles which were downhill or flat but had the heat and wind from hell! I'd only be smiling again when I encountered the finish line in Clovis, in front of an air-conditioned auditorium where drinks-on-ice awaited.
Conclusion
Inside the air-conditioned auditorium of the Clovis Veteran's Hall, there was more joy to be reaped. Colossal trays of salad, garlic bread, beans, and roast beef awaited our engorgement, and news of Lance Armstrong's lock on his 5th consecutive Tour de France victory (in which the decisive Stage 20 had been taped and replayed by the Fresno Cycling Club) was being spread around. But the best part of the day was summarily stated by a fellow cyclist who had plopped down onto the bench across from me, saying:
"The best part is that that CRAZY ride we just did is OVER!! Never again!"
"Oh, you'll be back," responded another rider. We then tried to assure him that he'll not only forget about all the pain in a few days, but be like, "oh, let me try again next year!"
"Oh yeah?" the guy replied. "Okay, so I admit that that happened several times on the Surf to Summit ride in Southern California, which I ended up doing, um, six times.
"But this time I mean it! NEVER AGAIN!"
It would be a question I'd too ponder while retreating from the Fresno inferno and drove back to Fremont, to the cool, comfortable sanctuary I lovingly call "home." It would be a question unresolved as I relaxed 3 hours later on the couch in my living room with a nice cold glass of ice-water.
Epilogue
I report with sadness that a cyclist was killed during this ride for the first time in the event's 29-year history. According to a Fresno Bee, Anthony Fitzpatrick, 52, of Ukraine veered into an oncoming car during the steep and technical descent of Big Creek Rd. in the second half of the ride. Heartfelt condolences to his family… and to everyone else, please be careful out there.
Ride Data
155 miles
Total Climbing: 13,500 feet
Moving Average Speed: 12.7 mph
Overall Average Speed: 11.6 mph (5:30 a.m. – 6:54 p.m.)
Max Speed: >40 mph (forgot to check cyclometer!)
Rating
(5=best)
Scenery: 4- Would have been a 5 were it not were the lackluster last 30-40 miles.
Support/Organization: 5+ So many checkpoints; so many helpful volunteers!
Food: 5- Aside from the 2nd checkpoint in which the breadtruck had not arrived by the time I got there, couldn't ask for anything more.
Weather: 2. Would have been a 4… were it not for the 105 degree heat and headwinds in the last 30-40 miles.
Relative Difficulty: 5
Overall Rating: 4
Route Sheet (PDF)